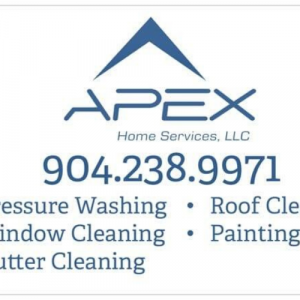 131 8th Avenue S Jacksonville Beach, FL 32250
Apex Home Services offers all your home care needs at an affordable price with the highest quality. We are a family run business that offers pressure washing, window cleaning, gutter cleaning and roof cleaning. Come schedule a free estimate today!
Apex Home Service LLC. Jacksonville, FL
We have used this company 3 times now and have been very happy with their services. We've had the exterior of the home pressure washed, driveway, sidewalk and pavers pressure washed and even had the interior and exterior of all our windows washed! The team seems to work well together, they move the furniture, plants, etc. put them back when they are done with the job. They pay attention to detail and if they see something that needs attention they say something. They even cleaned out our gutters (we had no idea they were filled with leaves)! The price is great for the service they provide. We highly recommend them.
You must login to post comments