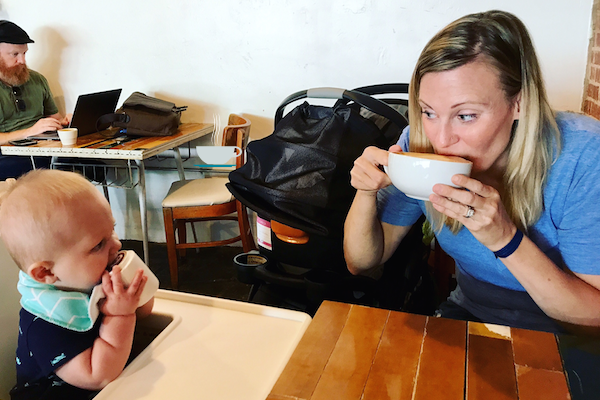 Starbucks can be a much-needed pitstop when you're making a Target run, but sometimes, a mom needs a pick-me-up with a little more flavor. Local flavor. A place where mamas can feel at home, grab a cup o' joe just how they like it, and not have to wash the dishes afterward.
More of an iced coffee or latte girl myself, I couldn't tell you the difference between Costa Rican beans or an Ethiopian blend, but I do consider myself a bit of a coffee shop connoisseur. Meaning, if there's a coffee shop within a 25-mile radius, I've either been there, or I know about it. (Hey, some moms prefer a glass of rosé; my daily ritual involves a nitro cold brew sweetened with a splash of cream.) Before I had my babies, my happy place as a freelance writer was a local spot with my laptop, a pastry, an Instagram-worthy latte, and a window seat — the cozier, the better. While those solo visits are now few and far between (thanks, motherhood), I scoured a few local joints with some mom friends for your sipping pleasure — all in the name of research, of course.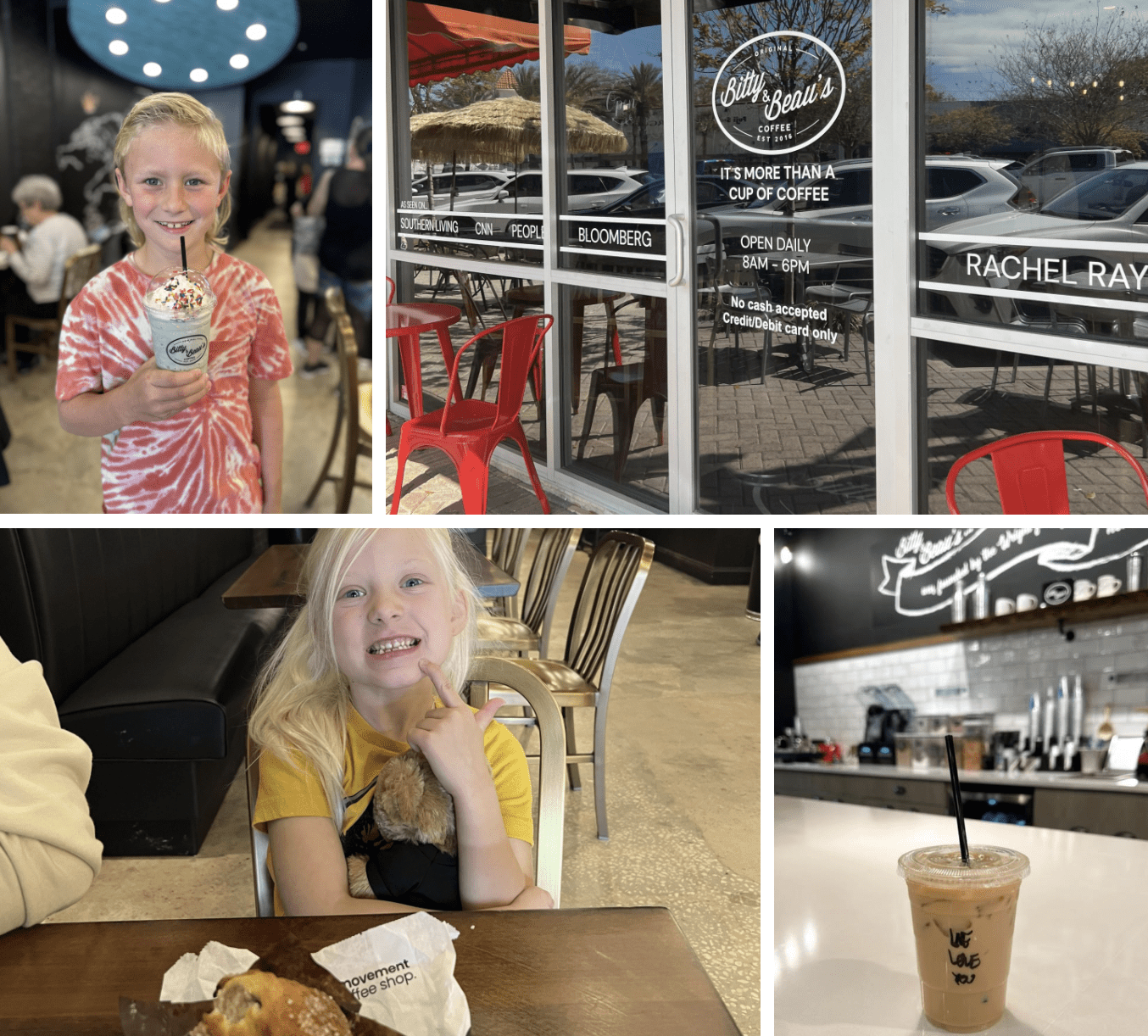 Bitty & Beau's Coffee
Where: San Marco | Drive-Thru: No | Highchairs: Yes | Changing Table: Yes | My Order: Iced spiced brown sugar latte, blueberry muffin
For a truly unique and uplifting coffee experience, try Bitty & Beau's Coffee! This upbeat coffee chain advocates for the value, acceptance, and inclusion of people with intellectual and developmental disabilities. Come experience the love, the coffee, and the shop's amazing vibe for yourself at their new San Marco location. One mama's recent experience? "Seriously, if you need a mood boost, go to Bitty & Beau's! Rich was writing sweet messages on cups and was a great conversationalist. At the end of his shift, they broke out a speaker and played 'Thriller' while he did the dance in the middle of the coffee shop!" Where else can you see the baristas dance to "Thriller," just sayin'!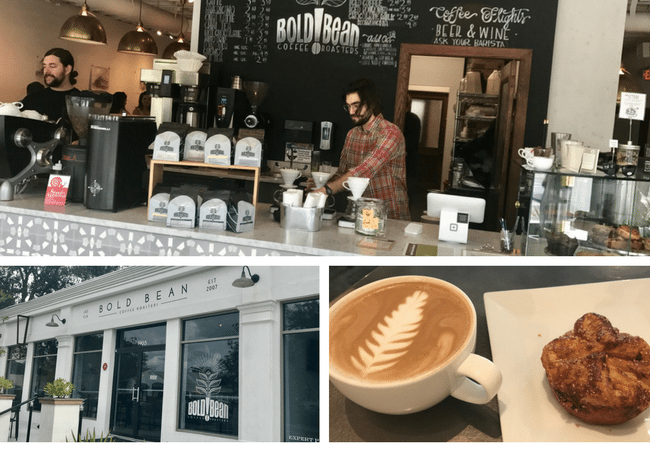 Bold Bean Coffee Roasters
Where: Riverside, Jax Beach | Drive-Thru: No | Highchairs: Yes | Changing Table: Yes | My Order: Spicy chocolate mocha, coffee cream-filled pastry
Bold Bean is about as local as it gets, as they source their own coffee beans and roast them locally at their own facility in Murray Hill. Offering several single origins and blends, coffee lovers can purchase their beans wholesale or retail online or at one of their two citywide locations. The pair of diverse Bold Bean cafés also make their own syrups in-house (current seasonal offerings are curry and ginger — no pumpkin spice here) and serve a variety of beer, wine, and tea, as well as homemade pastries, danishes, and pretzel bagels. While the local chain's Riverside location is spacious enough for mommy-and-me hangouts, the Jacksonville Beach café is on the smaller side.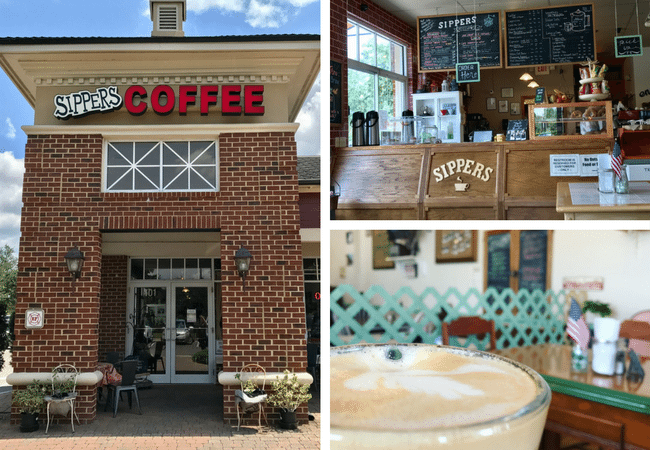 Sippers Coffeehouse
Where: Near St. John's Town Center | Drive-Thru: Yes | Highchairs: No | Changing Table: Yes | My Order: Vanilla latte, homemade cinnamon roll
Considered by many to be a hidden gem near the hustle and bustle of the Town Center mall, Sippers offers an eclectic, communal vibe with mismatched, vintage-inspired décor and furniture, as well as several board games and books for entertainment seekers. Breakfast sandwiches, baked goods, and wraps are served up while classics like Leave It To Beaver play on the lone television. Medium-roast and dark-roast drip coffee are always on hand, along with a variety of espresso drinks and Italian sodas. The latte flavors are endless and include gingerbread, pumpkin, ginger, white chocolate, and cheesecake. The best part? Forget about lugging that car seat inside to get your java fix, because there's a drive-thru.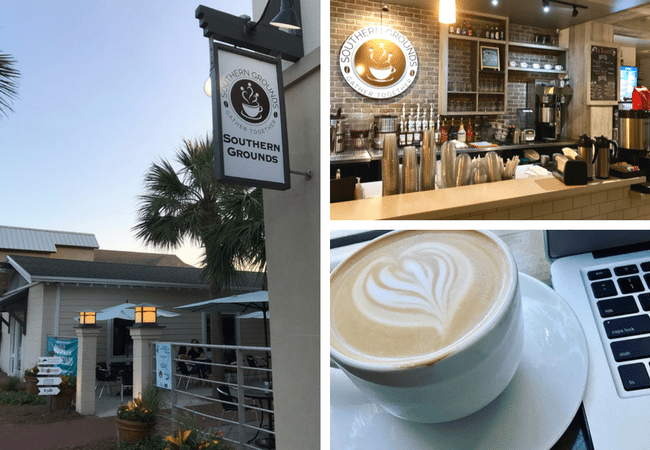 Southern Grounds Co.
Where: Neptune Beach, San Marco, Avondale, JAX Airport | Drive-Thru: No | Highchairs: Yes | Changing Table: Yes | My Order: Iced choffee (nitro cold brew with chocolate), avocado toast
With its flagship shop in the heart of Neptune Beach mere blocks from the Atlantic, Southern Grounds brews and sells Intelligentsia coffee (artisan direct trade), along with local craft beers and wine on tap. The usual suspects are present (cappuccinos, chai lattes, cold brew, French press, etc.) while flavorings include toffee nut, maple spice, caramel, and pumpkin spice (seasonal), to name a few. This chef-driven coffee shop introduces new menu offerings every few weeks, with the ever-present pastries, cakes, breakfast options, salads, sandwiches, and kids' menu all handcrafted in-house. With extensive seating both indoors and outdoors, SoGro is a must for mom dates, solo dates, or actual dates, as you can often catch live music in the courtyard.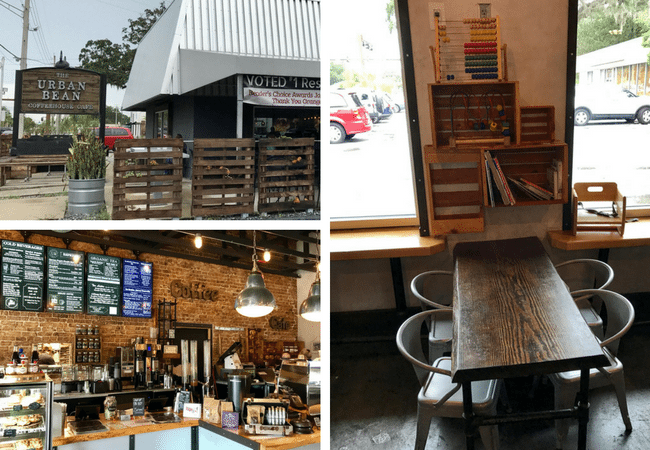 The Urban Bean Coffeehouse Cafe
Where: Orange Park | Drive-Thru: Yes | Highchairs: Yes | Changing Table: Yes | My Order: Pumpkin spice latte, fruity pot
Tucked away in Orange Park, Urban Bean is a family-owned establishment that serves Counter Culture coffee (small-batch roastery) and a massive menu of kitchen offerings made from scratch. Omelets, waffle boats, sandwiches, flatbreads, and assorted pastries (including house-made doughnuts) are just a few edibles offered at this spacious coffeehouse. Seasonal syrups include maple, peppermint mocha, ginger pumpkin, and pumpkin spice, crafted from pumpkins roasted in-house. Extremely family-friendly, Urban Bean also offers a kids' table, complete with pint-sized chairs and toddler-approved toys. Patrons can sit indoors or outdoors and enjoy live music on weekends or get their java to go via the convenient drive-thru.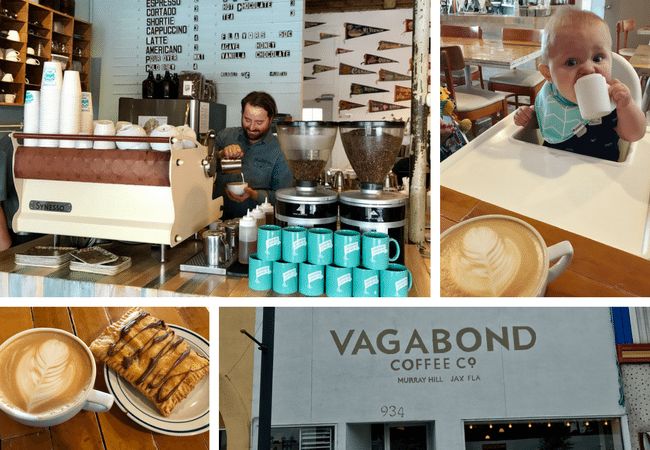 Vagabond Coffee Co.
Where: Murray Hill | Drive-Thru: No | Highchairs: Yes | Changing Table: No | My Order: Honey latte, homemade Nutella pop-tart
Vagabond recently morphed from serving cups of coffee out of a vintage camper in downtown Jacksonville to a real brick-and-mortar coffeehouse in Murray Hill. You can find their java (roasted in-house) at the popular downtown doughnut delicatessen, Good Dough, and even occasionally find Good Dough's pastries at Vagabond — talk about a mutually beneficial partnership. Decorated with old-school team pennants and rustic furnishings, the shop also offers an array of pastries, quiche, muffins, and homemade pop-tarts, as well as seasonal syrups and pies (place your Thanksgiving pie orders early — yes, they take orders). For those in need of entertainment, Vagabond also has several board games on hand, as well as a few toys for the kiddos, including my son's personal favorite, an adorable wooden coffeemaker, complete with miniature coffee cups.
More-Than-Honorable Mentions
There are only so many hours in the day for this mama, and I admit, I have yet to visit every single java joint in Jax. But these are definitely on my coffee shop bucket list!
Brass Tacks Coffee (Southside): This hip Southside coffee shop is well known for roasting their own coffee beans and also serves up espresso, tea, wine, and local beers on tap. Bonus: Yes, they have a drive-thru!
Breezy Coffee Shop Wine Bar (Jacksonville Beach): Intimate coffee shop and café serving light breakfast and lunch fare, as well as specialty coffee drinks, beer, and wine. Located in Jacksonville Beach.
Brew Five Points (downtown): Craft beer and espresso bar serving up (you guessed it) beer and coffee, as well as baked goods and artisan toast in historic Five Points. Check out their Facebook events for more info on ladies' nights and featured art openings.
The Brick Coffee House (downtown): This cozy, brick-walled coffeehouse serves espresso drinks, sandwiches, and breakfast items.
The Coffee Grinder (Southside): Southside hot spot serving Panache coffee, as well as beer and wine, all to the tune of progressive house and trance music spun by live DJs.
Foxtail Coffee Co. (San Marco, Ponte Vedra Beach): Delicious coffee drinks served in a cozy, welcoming atmosphere… what more could you want? Bonus: Some of their locations also serve up Kelly's Ice Cream!
Good Dough (downtown): It ain't your mama's Dunkin'. This downtown doughnut spot features artisan doughnuts handmade from scratch and brews coffee courtesy of the nearby Vagabond.
Ink Factory Brewing (Jacksonville Beach): This brewery, taproom, and espresso bar serves up Florida vibes and good times… and delish coffee bevs.
Le Petit Paris (Atlantic Beach): Enjoy a full menu of French-inspired eats, freshly baked croissants, and a wide variety of coffee drinks in an adorable Atlantic Beach setting. Reminiscent of the outdoor cafes you might find in Paris!
Light On the Sugar Bakery Café (St. Johns Town Center): Located in St. Johns Town Center, this new family-owned bakery and coffee shop is known for its amazing iced coffees and créme puff pastries. Plus, it's adorable inside!
Lucky Goat Coffee (Beach & Kernan): With a few locations throughout Florida, Lucky Goat is known for its expertly roasted, artfully prepared coffee. Their seasonal drinks and pastries can't be missed, and don't leave without taking home a gallon of their Cold Brew Luckyccino! Visit the Jax location on Beach and Kernan.
The Mini Bar (St. Johns Town Center): Tiny donuts made fresh to order? Sign us up! Located on Gate Parkway, the Mini Bar boasts itty-bitty bites and has partnered with Bold Bean to serve a variety of coffee and espresso bevs.
Noah's Agape Cafe (Julington Creek): Near the Julington Creek bridge, this community coffee shop partners with the Down Syndrome Association of Jacksonville, Best Buddies Association of North Florida, and Noah's school, North Florida School of Special Education (NFSSE), to train and employ those with special needs.
Pour Mike's Coffee House (St. Johns): Located on 210 in St. Johns, Pour Mike's serves up a variety of classic coffee shop fare, including The Kookaburra Coffee — ethically sourced, single origin, direct trade coffee that is locally roasted in St. Augustine. Also, be sure to check their Instagram to see if your name earns you a free drink!
Pura Bean Coffee Company (Intracoastal): Small-batch, artisan coffee company, and café located near the Intracoastal Waterway with single-origin and blended offerings.
Round Bird (Jacksonville Beach): This South African-inspired coffee shop and wine bar is located right in the heart of Jacksonville Beach. Enjoy a rotating menu of eats and drinks in a cozy, welcoming environment.
Sago Coffee (Jacksonville Beach): This new Jacksonville Beach establishment fosters a sense of community where conversation and coffee can meet, while also benefiting a different local nonprofit each quarter.
Scooter's Coffee (Intracoastal, Orange Park): This beloved drive-thru spot features a bevy of coffee drinks both hot and cold. Try their trademark Carmelicious!
7 Brew Drive-Thru Coffee (Intracoastal): Their vast menu of coffee drinks, energy drinks, and fizzes has become a new Jacksonville favorite! Try the Blondie breve.
Show Pigeon Coffee (Atlantic Beach): Located in the Hotel Palms in Atlantic Beach, the seasonal menu of this cute little coffee bar is a must!
Smilies Coffee (Westside): This drive thru-only coffee shop located in the Westside is worth a stop — and the cups alone will make you smile.
Social Grounds (Springfield): Veteran-owned and operated establishment in Springfield employs and empowers homeless veterans through the City of Jacksonville Service Providers. Sources and roasts single-origin beans in-house and offer a variety of beverages and baked goods.
Spring Park Coffee (Green Cove Springs): Charming Green Cove Springs location brews beans from its sister company, Brass Tacks Coffee Co., and serves up specialty coffees, pastries, waffles, and breakfast sandwiches. Also features the occasional open mic night and a rotating name-of-the-day special, where you get a free coffee if your name is featured on the outdoor sign.
Sunrise Brew Coffee (St. Augustine): This new family-owned coffee truck in St. Augustine features a drive-thru service and a full menu of Bold Bean espresso drinks and sweet treats.
Tetherball Coffee (Mandarin): With fun names like Hopscotch (vanilla caramel latte) and Double Dutch (mega chocolate mocha), this java spot in Mandarin offers high-caliber coffee in a bright, cheery, sunlit environment.
Zap Cat Espresso Bar (Atlantic Beach): This eclectic coffee bar located right inside the Atlantic Theatres building is kooky, quirky, and completely worth a visit! With rotating coffee roasters and delicious seasonal flavors, there's always something exciting happening. Plus, they offer ample tables and seating, including a few cozy couches.
For more, visit 10 Places to Get Your Clay County Coffee Fix.
See More Jacksonville Coffee Shops Below