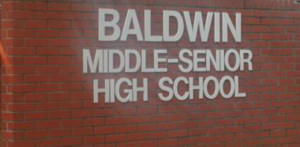 291 Mill Street West Baldwin, FL 32234
Mission: Baldwin Middle-Senior High School is dedicated to providing high-quality educational opportunities for all students. Students are engaged in learning across the curriculum and every child is expected to graduate on time with a career choice in mind. We are preparing a well-rounded, literate, character-filled cohort of American Citizens who have the knowledge and skills needed to succeed in a global economy and diverse population.
Vision: All students at Baldwin Middle-Senior High School will graduate with the knowledge and skills necessary to be successful in their post-secondary education and the workforce.
AP Capstone (9-12)
Digital Communication Magnet (6-12)
Dual Enrollment (9-12)
Aeronautical Robotics Academy (7-11)