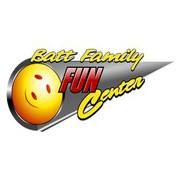 1838 Cassat Ave, Jacksonville, FL 32210, United States
Batt Family Fun Center is a great place to have fun times with family and friends. At Batt Family Fun Center you can have a great time at prices that won't break your family's budget. We have plenty of bumper bowling lanes just for kids! Bumpers are great to keep the bowling balls out of the gutters and smiles on the faces of your small children.
We haven't been here with our kids yet, but we definitely plan to — we had a blast! On our visit, we did some bowling and then the glow-in-the-dark mini golf, and we had SO much fun. We also took note of the little kids-friendly mini bowling alley inside the arcade area, as well as laser tag and pool tables. And there were TONS of bowling options. In addition to the mini-alley for kids, there was also a big bowling alley which, the night we went, had cosmic bowling, and then a smaller, quieter bowling alley. The glow-in-the-dark mini golf had us laughing the entire time. It was a great night and it'll be so much fun taking our kids!
You must login to post comments