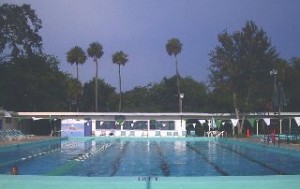 297 Aquatic Drive, Atlantic Beach, Florida 32233, United States
Beaches Aquatic Pool has been serving the Northeast Florida community since 1963. The 220,000 gallon pool is gas heated and maintained at 82 degrees for year round swimming comfort. The facility provides a center for recreational and competitive swimming. We offer swim lessons for children and aqua-fitness classes for adults.
I thought this might be a nice place for my mom to take the kids over the summer. As it turns out, the only entry is a chair lift and a vertical ladder. Not really safe for older people with little kids. I requested a refund within 24 hours of joining. The office manager initially refused, then demanded a note from my mother's doctor, that I pay their bank fees and wait 3 weeks for their "board" to discuss the request. When I sent a certified letter and complained to the BBB, they did issue the refund but it took weeks for me to get the check. I had requested that they simply refund it to my card but they refused. The board is the office manager as president, his wife as the treasurer and one other person but the office manager pretends to be only a volunteer at the pool.
You must login to post comments