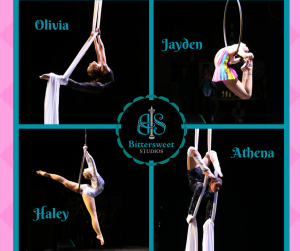 3738 Southside Blvd, Jacksonville, FL 32216, USA
Bittersweet Studios is the first co-ed alternative aerial arts fitness studio in Jacksonville that serves clients of all ages and sizes. We offer a range of fitness options in strength training, cardio, dance and specialized instruction in aerial arts. Our aerial arts programs consist of pole fitness, aerial silks, aerial hammock yoga, lyra/hoop, acrobatics and bungee fitness. We host many specialized workshops each year with professionals in the industry and also host a summer camp each year for our young aerialist. Bittersweet is also home to the only aerial arts performance and entertainment group in Jacksonville, BSweet Entertainment.
The studio offers over 4200 square feet of poles, aerial silks, aerial lyra/hoop/yoga/bungee/acro and dance training space. We are able to offer a unique experience with intimate classes for personalized fitness needs.