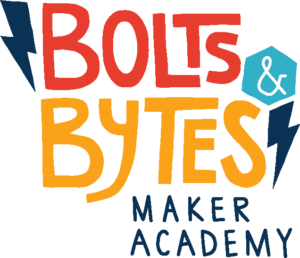 937 11th Ave S, Jacksonville Beach, Florida 32250, USA
Bolts & Bytes encourages students to learn critical 21st-century skills in the fields of science, technology, engineering, and math (STEM) with programs that provide hands-on learning, help with critical thinking skills and even boost self-confidence.
3D Printing & Design
Coding
Robotics
Video Game Design
LEGO
MakerLab Series
Bolts & Bytes Maker Academy offers year-round classes, including homeschool, after-school, and weekend workshops!
Want to learn more? Visit our website at boltsandbytes.club.
Bolts & Bytes is amazing!
Alicia Slater

reviewed 3 years ago
last edited 3 years ago
My daughter has been taking classes at Bolts & Bytes for over a year and she has loved every single one! The teachers are so kind and really foster an environment of fun, all while learning high-level skills and concepts. The projects that my daughter has brought home have blown our minds and I'm so impressed by their course offerings. We highly recommend it!
You must login to post comments
My son has taken two sessions of bolts & bytes and absolutely loves it. He is currently signed up for 3D printing and is learning so much. The staff is very knowledgable and Mr. B, the owner, let's the kids' visions come to life. He fosters a love of learning in my son and that is priceless. I expect my son to continue on at Bolts & Bytes into his teen years, as it is a great preparation for college.
You must login to post comments