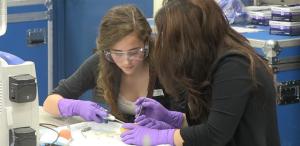 1701 North Davis Street, Jacksonville, FL 32209, United States
Darnell-Cookman Middle/High School, the School of the Medical Arts, provides high performing students an advanced academic curriculum with an overview of the professional medical fields by equipping them with the academic skills and experiences to support their future success in college as an undergraduate who intends to pursue advanced degrees.
The curriculum of our program is college preparatory. Our students are expected to develop a personal vision and plan for a four-year college/university degree with the intent to pursue an advanced degree. The curriculum is advanced, honors and Advanced Placement based. Students at Darnell-Cookman Middle/High School will work closely with faculty members, their peers, and community partners to create an environment that supports creative and independent thinkers through the exploration of real-world connections in the fields of medical practice and is fully grounded in the liberal arts. Students will be prepared for their undergraduate college or university study in any chosen field.