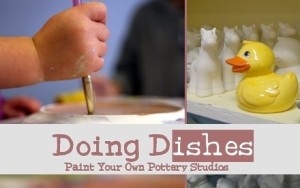 2220 CR-210 W Suite 309 Saint Johns, Fl 32259
5619 San Jose Blvd. Jacksonville FL 32207 United States
At Doing Dishes Pottery Studios, we believe that painting pottery and fusing glass should be fun and relaxing. We are very family friendly studios with a warm atmosphere and a welcoming smile.
We have over three hundred pieces of bisque to choose from and plenty of stamps, stencils, and idea books to help you create your perfect, personal design. Once you complete your piece, it will be dipped in a clear glaze and fired in one of our on-site kilns. Your pieces will be ready to pick up in 1 week.
You do not need a class or a reservation! It's that easy!