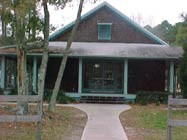 2072 George Street, Atlantic Beach, FL 32233, United States
Donner Park, located in the Marsh Oaks area at the corner of Dutton Island Dr. West and George Street, consists of over 5 acres of park land. Activities include a full basketball court, a softball field, tennis courts, and a large sand playground area and the Gail Baker Community Center.
Beautifully shaded by oak and pecan trees, Donner Park is home to many of the City's community activities, including outdoor summer movies, fall festival, flag football, baseball, and tennis. Outdoor bathrooms are open during week days.