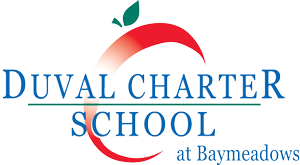 7510 Baymeadows Way, Jacksonville, FL 32256, United States
Duval Charter School at Baymeadows is a tuition-free public charter school proud to serve students in grades K-8. Named a School of Excellence by the Florida Department of Education, DCSB has received recognition for being an "A" graded school since its inception in 2011. DCSB is also among the highest-scoring charter schools in Duval County. We offer a rigorous curriculum with an individualized approach to learning and community-centered academic programs that equip your child to meet today's challenges. These programs include Cambridge advanced classes and Gifted program, K-5 After school clubs and activities that include Robotics, Art, Music, Book Club, Harry Potter Club, Girls on the Run, and Playball, Band option for 5th graders. MS Athletics (football, cheer, cross country, soccer, basketball, track, baseball/softball, bowling, ultimate Frisbee), MS After school clubs that include National Junior Honors Society, Robotics, Student Government, Jr. Thespians, and more! Uniform school with a dress code enforced.
Duval Charter High School is a tuition-free public charter school educating students in grades 9-12. DCHS offers a robust, ​advanced curriculum ​(only AICE and honors courses available) that meets the needs of lifelong learners who enjoy coming to school every day. We offer a safe environment for students and incorporate Social Emotional Learning into the high school coursework. Student/Teacher relationships are important to student growth and comfort. We have a low student to teacher ratio which allows our students to engage with their teachers and each other. We have a school culture program where all students are assigned to a Hero Team. Students engage in Team Community Meetings and competitions. Students can earn rewards for themselves as well as their team when they show their Panther Spirit in word or deed. DCHS highlights include AICE, AP & Dual Enrollment, Honors Classes, National Honors Society, After school clubs and activities, and men and women's athletic program. Graduation rate 98%-100% yearly, with 98% entering post-secondary education, trade school, or military. Uniform school with a dress code enforced.
DCSB is a hidden gem! I love the passion, dedication, and commitment to excellence that our administrative team, teachers, and staff members demonstrate each and every day. DCSB has a wonderful community of students and families that I am grateful to be a part of. My two students have never enjoyed school more than they have this year!
You must login to post comments