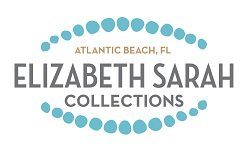 237 5th Ave S, Jacksonville Beach, FL, USA
Every piece of jewelry at Elizabeth Sarah Collections is one of a kind or done in extremely small batches, which makes us proud when our necklaces find their "forever" home. Founded in 2006, Elizabeth makes jewelry for dynamic, boldly creative women. Defined by Elizabeth's playful take on modern accessories, her collection is rooted in the ease of casual sophistication, with a focus on quality, craftsmanship, and unique designs.
Shop Elizabeth Sarah Collections: Online and in select retail shops, based out of Atlantic Beach, FL.
JM Reader Discount: 10% off purchase of $150 or more. Code: JAXMOMS