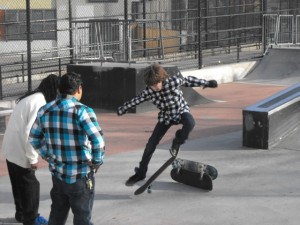 Jacksonville, FL, United States
Are you having problems learning how to skateboard? Be taught all of the fundamentals of skateboarding fast in a one-week camp. We will teach you the basics of skateboarding such as how to balance, push, turn, proper foot placement, and how to stop. Irrespective, of where you are at.. you can benefit from individualized instruction to meet your current skill level.
How to Start:
Equipment: We recommend a board and a full set of safety gear. This includes: a helmet, elbow pads, knee pads, and wrist guards. Rental equipment is available.
Location: We can do lessons in your driveway, in your garage, or at the Jacksonville skate park.
What you will learn:
Safety Techniques
Proper Stance
How to Ride and Push
How to Turn
How to Remain Steady Going Down Hills
How to Ride Ramps
How to do Tricks
Who we Serve:
Ages: 4 through 104
Ability: Beginner through Competition-Style Advanced.