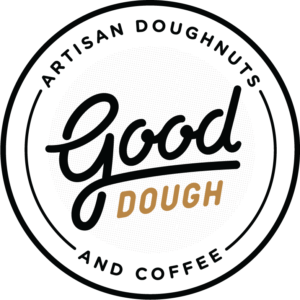 1636 Hendricks Ave Jacksonville, Florida
10281 Midtown Pkwy Unit 197 Jacksonville, FL 32246
Our doughnuts and glazes are all handmade from scratch in small batches throughout the day so your doughnut is delicious and fresh whenever you stop in.  And we use only the best ingredients–real, high quality butter, eggs, milk–you get the idea. We also seek out local partners who can offer exceptional ingredients.
We have about a dozen different rotating doughnuts on our menu plus doughnut sandwiches we lovingly call "doughwiches."  We serve raised/yeast doughnuts, old-fashioneds, chocolate old-fashioneds and cake doughnuts. Our goal is to highlight seasonal and exciting flavors our baking team dreams up.
We now offer vegan doughnuts on Friday until sell out. Why only on Fridays you ask? Well, our kitchen space is limited and we want to make sure our vegan doughnuts are not just called vegan but are truly being made vegan. Only offering them on Fridays ensures there will not be any non vegan menu items fried in the oil before them. So come in on Friday and let us know what you think!