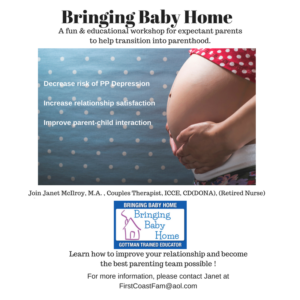 I am nationally certified as a childbirth educator with ICEA, also with the Gottman Institute as a "Bringing Baby Home" Educator. I offer the following classes:
1) "Pre-Conception" – for couples hoping for a baby
2) "Early Pregnancy" – for women in the first trimester
3) Preparation for Childbirth – for couples in the third trimester
4) "Bringing Baby Home" – for new or expectant parents. Research shows that women who take this class experienced a 46% reduction in the risk and severity of PPD and other PP mood disorders. Couples report improved relationships and more positive parenting skills.