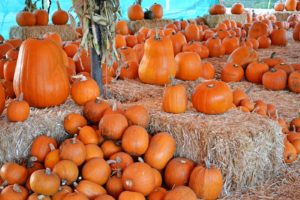 276 N Roscoe Blvd., Ponte Vedra Beach, Fl, 32082
We are known for our annual Pumpkin Patch in which the field in front of the sanctuary is covered with pumpkins. We receive them from a Navajo Indian farmer. This year, the proceeds, after paying for the pumpkins, will go to support our building campaign to help support the costs associated with our new climate-controlled sanctuary!
In prior years, we have given our proceeds to a local charity – past recipients have included Lutheran Social Services of Jacksonville, K9 for Warriors and BEAM. People come out to help us turn the pumpkins in the patch to make sure none develop soft spots from the earth and last year we had a beautiful selection of white and grey ones among the orange.
Don't forget about our amazing #pumpkin #pies that are baked with pumpkins from the patch! Talk about fresh! Put in your order starting in September, by emailing us. We have a heavy demand for these truly delicious pies.