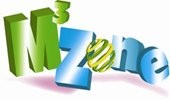 Jacksonville, FL, United States
M3Zone … Motivating Maximum Movement! This unique after school program places a special emphasis on combating childhood obesity. It's focus is keeping kids active and encouraging healthy eating habits. Education, social and art components round out the program, making it a great experience for kids.
M3Zone offers activities for ages 5 through 12.
M3Zone activities are underway now at select locations and coincide with the Duval County Public Schools calendar. Daily activities are offered from 3:30 to 6 p.m. Monday through Friday during the school year.
Check website for locations!!