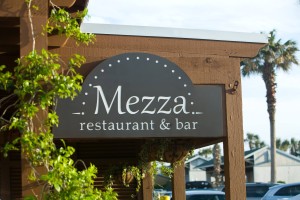 110 1st Street, Neptune Beach, Florida, United States
Mezza Restaurant and Bar is a neighborhood restaurant located in the Beaches Town Center in Neptune Beach. If you've been around Jacksonville for awhile, you may have known it as Mezza Luna, which has been a fixture of the beaches for more than 25 years. Owners, Niall and Nancy Falloon were partners in Mezza Luna before becoming sole owners in 2007. Last year, they changed the name to Mezza Restaurant and Bar to more accurately reflect the menu, which features contemporary American fare.
The lounge at Mezza Restaurant and Bar is where the wood fired oven is located, and every night from 5:00-6:30 pm they offer children 10 and under the opportunity to make their own pizzas. After putting on their own toppings, they get to see their pizza put right in to the oven. The lounge also features daily drink specials,
Had the pleasure of dining here for a girls night and absolutely loved it!! The watermelon cocktails were delicious! I also enjoyed the rainbow trout! It was plated beautifully and the portions were just right! Can't wait to come back with my son so here can make his own pizza!!
You must login to post comments
My husband and I have been going to Mezza for years! We love sitting on the patio and ordering appetizers and wine. LOVE the tuna tartar and scallops! The bar area is a great for the kids too and they love making pizza!
You must login to post comments