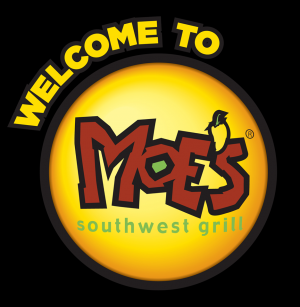 Jacksonville, FL, United States
Welcome to the best southwestern food you've ever put in your face. Welcome to an atmosphere that says 'you be you, we're cool with that…' Find out more about us, our menu, locations and catering at http://www.moes.com.
Kids Eat Free on Tuesday at most all Jacksonville locations! Always call ahead to confirm!
Locations:
Oakleaf
904-777-3667
9620 Applecross Rd, Jacksonville, FL 32222
Mandarin
904-262-5299
11105 San Jose Blvd, Suite 1105B, Jacksonville, FL 32223
Avenues
904-519-9099
9960 Southside Blvd, Jacksonville, FL 32256
Regency
904-727-9299
9301 Atlantic Blvd, Jacksonville, FL 32225
Queens Harbor
904-220-9090
12959 Atlantic Blvd, Jacksonville, FL 32225
Avenue Mall
904-854-8099
10300 Southside Blvd, Jacksonville, FL 32256
Roosevelt
904-389-5299
4403 Roosevelt Blvd, Suite 102, Jacksonville, FL 32210
Jax Beach
904-249-3299
2400-107 South 3rd St, Jacksonville Beach, FL 32250
Fruit Cove
904-287-2799
445 State Road 13 North, Suite 1, Jacksonville, FL 32259
Tinseltown
904-620-8436
9700-3 Deer Lake Ct, Jacksonville, FL 32246
Fleming Island
904-637-0080
1544 County Rd 220, Suite 104, Orange Park, FL 32003
Who doesn't love Moe's?? I know that other fast casual burrito place (wink, wink) tends to be more popular, but Moe's will always have my heart! I especially love that they've added burrito bowls that I can love up with tons of veggies. My kids love the HUGE bags of chips they get and the quesadillas.
You must login to post comments
I love tacos! I also love free stuff! Moe's combines my love for tacos and my love for free stuff because on Tuesdays my kid (all kids) eat FREE!! Pretty spectacular! I know Tuesdays will be a hassle free meal for my picky eater because who doesn't love a quesadilla!?! "Welcome to Moe's" is music to this mom's ears!!!
You must login to post comments