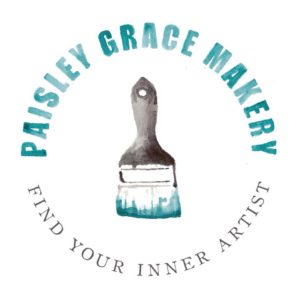 96537 Parliament Dr, Fernandina Beach, Florida, United States
PAISLEY GRACE MAKERY: A DIY STUDIO AND CUSTOM GIFTS
·
Guided by the belief that everyone has an inner artist, Paisley Grace Makery exists to serve aspiring creatives by providing DIY Workshops that help them comfortably create artwork for their lives so they feel confident in trusting their own creativity.
Paisley Grace Makery was founded on the belief that people are made to be makers and can find satisfaction in turning raw materials into their vision.
We are Family
Our staff and our customers are our family and are the backbone of Paisley Grace Makery. Since we are all wonderfully-created beings, each with our own unique gifts, experiences and needs, we always want people to feel important, loved and cherished at every touch-point with our company. No one will ever feel like "just a number" when they walk through our doors. Instead, they should feel like welcome friends to our safe zone of happiness and creativity.
Everyone is Created to Create
We believe that all people are creative in some way, shape or form – sometimes they just need someone to light the path to help them discover that and get over their fear of creating. When customers get comfortable, they try new things, think outside the box, they feel empowered and gain confidence to get their hands dirty and put their unique stamp on the world.