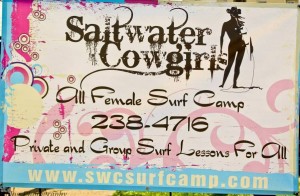 931 3rd St N, Jacksonville Beach, FL 32250, United States
Saltwater Cowgirls offers private and group lessons for all, male and female. Private lessons provide a focused, one-on-one type of learning experience. This is a great way to personalize your training and receive dedicated attention and feedback from an experienced Saltwater Cowgirl instructor.
Private lessons are available to students of all ages and skill levels. Whether you've been surfing for years or are hitting the waves for the first time, Saltwater Cowgirls instruction will provide the guidance you're looking for. Lessons are offered all year and will be scheduled according to favorable surf conditions. Lessons are available Monday – Saturday. We take Sundays off and do not offer lessons.
Group Surf Lessons are great opportunities for birthdays, bachelorette parties, corporate outings and family fun in the sun.
Please Note:
Surfboards and wetsuits (if needed) are provided for each lesson. Students may use their own board. All students MUST know how to swim prior to the lesson.