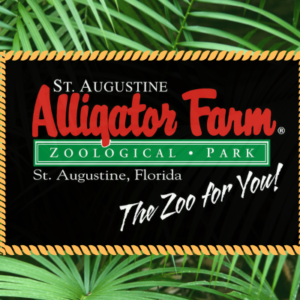 999 Anastasia Blvd, St. Augustine, FL 32080, United States
The St. Augustine Alligator Farm Zoological Park is one of Florida's oldest continuously running attractions, having opened on May 20, 1893. Not only does it have 23 species of crocodilians, but also a variety of other reptiles, mammals, and birds, as well as exhibits, animal performances and educational demonstrations.
Great spot to take kids to
Sarah Grace

reviewed 2 years ago
last edited 2 years ago
We loved it! Great shows and interesting animals.
You must login to post comments
alligators, alligators and more alligators
If you are in the St. Augustine area the alligator farm is definitely worth checking out! My kids loved walking around and looking at all the different alligators. Their favorite part was when they were allowed to feed them! Bring change for the food dispensers. Don't worry it's just pellets like you would feed ducks. My favorite part was the snack and beverage area. Kids could play on the play structure and I could enjoy a nice cold adult beverage.
You must login to post comments