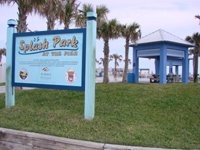 350 Beach Street, St Augustine Beach, Florida, United States
Head on down to the St. Augustine Pier where kids can splash in the water at the splash pad and also enjoy a sandy playground directly connected to it.
We love the St. Augustine Pier Splash Pad. It's a great place to let the kids cool off during the summer. There's a sandy playground for them to dig in and the splash area is large with lots of water spray. Go on Wednesday and there's a farmers market in the parking lot.
You must login to post comments