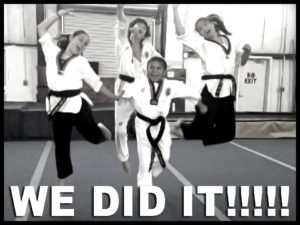 7111 Davis Creek Rd, Jacksonville, FL 32256
"WHO WE ARE" St Johns Taekwondo is a certified Olympic Taekwondo Training Center. Club #7283 with USA Taekwondo the governing body for the Olympic Taekwondo games in the United States under the (WTF) World Taekwondo Federation. We're also a registered school and in good standing with the Kukkiwon, the World Taekwondo Headquarters in Seoul, Korea. Our Taekwondo program focuses on quality over quantity.
"WHAT WE DO" St Johns Taekwondo is passionate about seeing students grow through martial arts training. Our program is a South Korean based Taekwondo system used by the South Korean Military and the South Korean Presidential Body Guards. Taekwondo is known for devastating kicks but make no mistake it has many weapons in its arsenal. The hand techniques are practiced and conditioned by breaking objects such as boards, roof tiles and cement blocks. All the techniques from kicks, strikes, down to blocks were developed to maximize damage with every blow. We also practice Taegeuk "Poomse" meaning forms or patterns. These are pre-arranged fight sequences that are practiced to develop hand-eye coordination, timing, balance, power, speed, discipline and overall body structure.
"WHY WE DO IT" St Johns Taekwondo is headed up by Master Joe Gaines a 20 year veteran of the martial arts community. Master Gaines is currently a 4th Dan Kukkiwon Black Belt and has an Associate Level Coaches certification through USA Taekwondo. Master Gaines has taught thousands of people throughout his career and has certified over 70 Black Belts. Some of Master Gaines' past success stories have been professionals such as Doctors, Lawyers, Judges, Police, Swat, Fire, EMT, Nurses, Army Rangers, Teachers, Moms, Dads, and Kids! Master Gaines' life long dream is to make the world a better place one Black Belt at a time.