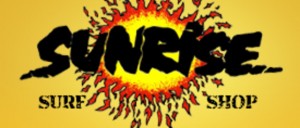 834 Beach Blvd. Jax Beach, FL United States
Sunrise Surf Shop – All your Surfing and Skating needs since'76
Sunrise Surf Shop has been supporting Northeast Florida's surf scene since 1975. Owned and operated by surfers Sunrise is an avid sponsor of up-and-coming talents, Sunrise has yet to lose sight of what's most important… the local surf community. This philosophy is what's kept Sunrise Surf Shop labeled as Northeast Florida's favorite surf shop.
At Sunrise Surf Shop we offer private and small group lessons for surfers at any skill level. All of our instructors are experienced surfers and are licensed and insured. Lessons can be scheduled by calling the shop at 904.241.0822 and speaking with someone in the boardroom. Lessons are $60 dollars an hour or $100 dollars for two hours including the board. At Sunrise we provide the most professional lessons at the beach and we also provide you with the board if need be. Call us today to schedule your lesson.