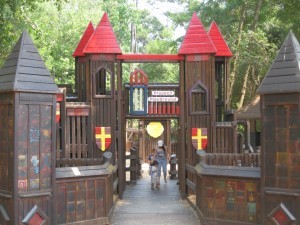 1047 Kingsley Ave, Orange Park, FL 32073, United States
The Clarke House is a shaded wooden castle playground beneath a canopy of live oak trees, a covered pavilion, walking trails, butterfly garden. There is a giant wooden airplane, a wooden ship for kids to climb on and a puppet theater with a separate area for young children. There is a walking trail through the woods about 1/2 mile long.
Frances

reviewed 1 year ago
last edited 11 months ago
The park must have been updated bc it's not as described. It's our first visit here. But it is so much fun. Reminds me of Palm Coast's Holland Park w the ziplines and rope climbing adventures. Lots of space for a birthday or picnic. A definite must.
This park was everything kids want and more, my 5 year old and my 1 year old were equally able to find things they related to, she loved the castle, he loved the sandbox. We are def coming back.
This may be one of the best parks in all of the Jacksonville area. The castle playground is INCREDIBLE, complete with a puppet theater, and there are walking trails and covered picnic tables too. It's worth the drive to Orange Park!!