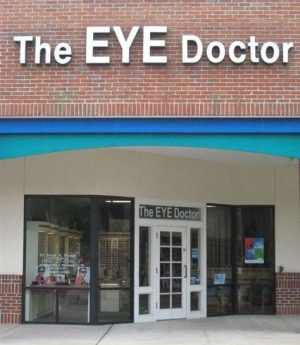 13170 Atlantic Blvd Ste 53 Jacksonville, FL 32225
At The EYE Doctor, P.A., we specialize in comprehensive eye exams, contact lens services (including extended wear, toric, and multifocal lenses), fitting of eye glasses, treatment of eye infections and injuries, pre and post-op services for Lasik and cataract surgeries.
Dr. Frank Houser, founder of The EYE Doctor, is a native of Wilber, Nebraska and has practiced in Jacksonville since 1991. Dr. Houser received his Bachelor of Science degree from the University of Nebraska in 1975. He attended Southern College of Optometry in Memphis, Tennessee, receiving his doctorate in 1980. To further his optometric training, Dr. Houser completed an externship at the Navajo Indian Reservation in Fort DeFiance Arizona. While in school he was awarded a scholarship from the U.S. Navy. He served for eight years as an optometrist, performing eye examinations and treating diseases of the eye, and assisted in the training resident ophthalmologists in the area of eye examinations.