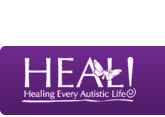 P.O. Box 140 Ponte Vedra Beach, FL 32004
The HEAL Foundation is a local non-profit organization in Northeast Florida. HEAL serves individuals and families living with Autism Spectrum Disorders. The Foundation serves as an outreach organization providing, educational programs and camps tailored to the needs of our Autism Community.
Over the past five years, HEAL is proud to have awarded over one million dollars to provide:
Grants to support camps, education, community programs
Classroom enhancements for local schools through grants
Educational seminars for parents, teachers and therapists
Fun recreational and social events for families
Autism Spectrum Disorders are characterized, in varying degrees, by difficulties in social interaction, verbal and nonverbal communication, and repetitive behaviors. The CDC reports that 1 in 50 individuals are diagnosed with Autism Spectrum Disorder. The recent sharp rise in numbers of Autism has been described as an epidemic among children. Many with Autism also suffer from a constellation of illnesses, intestinal disorders and autoimmune diseases. The cause of Autism is a heavily debated subject; scientific researchers are looking into genetics and environmental causes.
We invite you to browse our website to see what's happening in our community, watch videos of our camps, and find ways to become involved with HEAL.