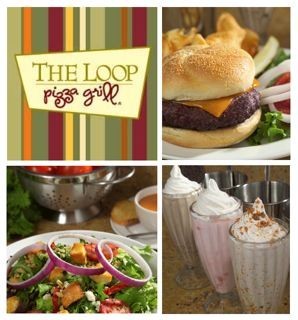 4413 Town Center Parkway, Jacksonville, FL 32246
Check out the newest LOOP Restaurant in the St. Johns Town Center N. We are located right next to Total Wine. The concept was born of a partnership between Loop Restaurants' Terry Schneider and daughter Hillary Tuttle, owner of Stellers Gallery Ponte Vedra. Seeking to merge the local arts and business connection in the newest Loop Restaurant, the two developed a creative design plan with members of the local art and design community. The interior design prototype was created by Rebecca Davisson of Designminds, LLC; Matthew Stidham, a new young artist and photographer, created etchings of favorite Loop menu items; and the blank canvas of the warehouse-style space were then filled with huge, industrial design-minded murals by local artist Steve Williams and his assistant Kyle Cannon. The result is a funky burger brasserie sure to delight LOOP patrons who love their favorite Loop salads, burgers, pizzas & shakes.
Kids Day Monday, Wednesday, and Friday. $1.99 Kids Meals with purchase of an adult meal!