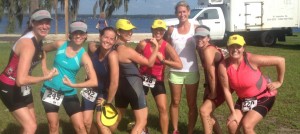 Neptune Beach, FL, United States
IF YOU CAN SWIM A LAP, RIDE A BIKE AND RUN A MILE… YOU CAN BE A TRIATHLETE!
Tri with Skye is a week-by-week triathlon training program designed for time-crunched mothers and inspirational women athletes. The sessions include swim, bike and run clinics led by local experts like Planet Swim and Jacksonville Running Company. Weekly group runs and rides plus 24/7 support by Ironman Skye Johnson. Triathletes will get a discounted membership at LA Fitness, BFAS race entry and have a lot of fun together!