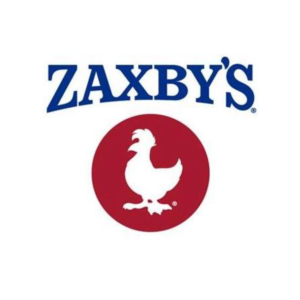 Zaxby's is a fast-casual chicken restaurant chain headquartered in Athens, Georgia. The first restaurant opened in Statesboro, Georgia., in March 1990. Zaxby's currently operates more than 670 locations in 16 states, including Alabama, Arkansas, Florida, Georgia, Indiana, Kentucky, Louisiana, Mississippi, Missouri, North Carolina, Oklahoma, South Carolina, Tennessee, Texas, Utah and Virginia.
Kids Eat Free with the purchase of an adult meal. Please confirm times with individual locations.
Locations:
Hodges
Thursdays
904-821-4211
13972 Beach Blvd. Jacksonville, FL 32224
University
Saturdays
904-683-5995
4210 University Blvd. Jacksonville, FL 32216
Fernandina Beach
Mondays
904-277-7171
1905 S 14th St Fernandina Beach, FL 32034
Middleburg
Wednesdays
904-512-1100
2524 Blanding Blvd. Middleburg, FL 32068
Yulee
Tuesdays
904-474-0380
463769 Fl-200 Yulee, FL 32097
Orange Park
Mondays
904-269-2911
1525 County Road 220 Orange Park, FL 32003
Bartram Park
Saturdays
904-527-8173
13973 Village Lake Cir Jacksonville, FL 32258
Oakleaf
Tuesdays
904-778-3013
9710 Applecross Rd Jacksonville, FL 32222
Mandarin
Mondays
904-260-9550
12301 San Jose Blvd Jacksonville, FL 32223
Mandarin
Wednesdays
904-379-3027
9612 San Jose Blvd Jacksonville, FL 32257
Town Center
Saturdays
904-641-3150
4875 Gate Pkwy Jacksonville, FL 32246
Southside
Mondays
904-720-0443
9569 N Regency Square Blvd Jacksonville, FL 32225
Not your typical fast food
Zaxby's may be a fast food restaurant, but it's not your average fast food place. It's definitely better. The crinkle fries are really good, there are tons of wing sauce options, and really good salads too. It takes longer to get your food, because everything is made to order, but it's worth the wait!
You must login to post comments