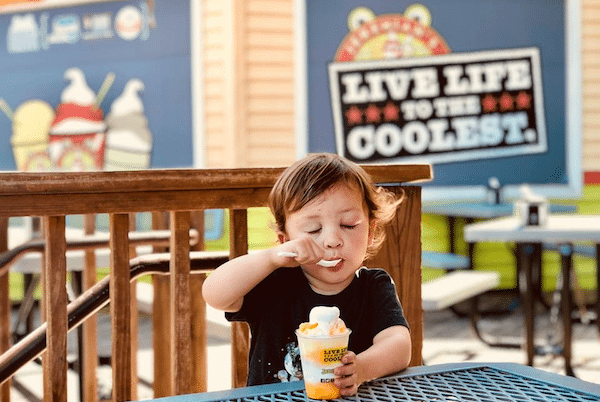 Need a tried-and-true way to beat the Florida heat? Scoop up your kiddos and cool off with a frozen sweet treat! With so many mom-and-pop ice cream shops out there, grabbing a cone or a sundae is a great way to foster a sense of community and also meet up with other mamas in the area. Below are a few of my favorite ice cream shops (not in any particular order) with my son, Lincoln, along with a few classic favorites.
Jeremiah's Italian Ice (Mandarin, Orange Park)
I first heard about Jeremiah's when my local YMCA was giving out free samples. I forgot what flavor I had, but my son and I loved it! We decided to give it a try and checked out the one in Mandarin. They had a long list of different flavors, and it's a good thing they offer free samples all day long. After our fifth tasting, I settled on the Pina Colada gelati, which is a mixture of Italian ice and ice cream twirled together for a slice of Heaven in your mouth. My son loves anything mango, so he went for that one. The best part? Jeremiah's has kid-size gelatis just for your little ones!
Bambino Scoops Inc (Arlington)
Bambino Scoops is relatively new to Jax, and I'm glad I decided to make the trek just to check out this gelato shop! The owner is of European descent, and she makes these lovely foreign cookies, which are also for sale. After much contemplation on whether to get the Pink Guava or Watermelon, I went for the Pink Guava gelato. It was so good! Be sure to eat it right away and skip the Instagram snap if you're going to eat outside because it will melt fast! The indoor seating is nice as well, as there is a small area for the kids to color. They also host fun events including the occasional storytime — follow them on Facebook to stay in the loop, and be sure to leave a kind post-it note before you head out and stick it on their wall.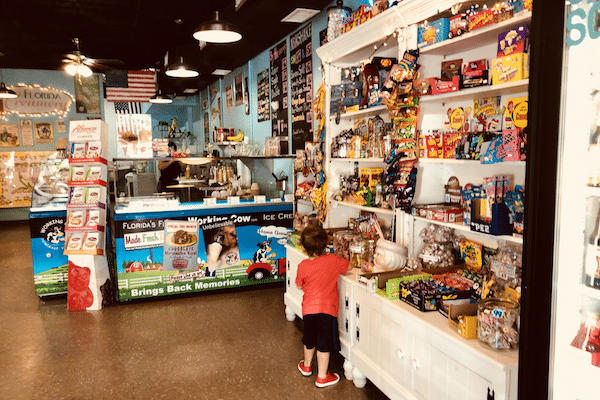 The Florida Creamery (Avondale)
I lived six minutes away from the Florida Creamery for 12 years, and every time I passed by it, I thought it was just another ice cream shop with pretty décor. I stand corrected because when I walked in with Lincoln, I found out this place also sells hot dogs for lunch! There's also a big wall of candies and toys for sale. You know my toddler went straight to it, but his eyes got even bigger when he saw an alligator statue. He wanted to pet it, thinking it was real. I personally liked the old-school arcade games they had in the shop; yes, they work! Have a blast eating your teal "Jacksonville Roar" ice cream as you battle the enemy aliens in a game of Galaga.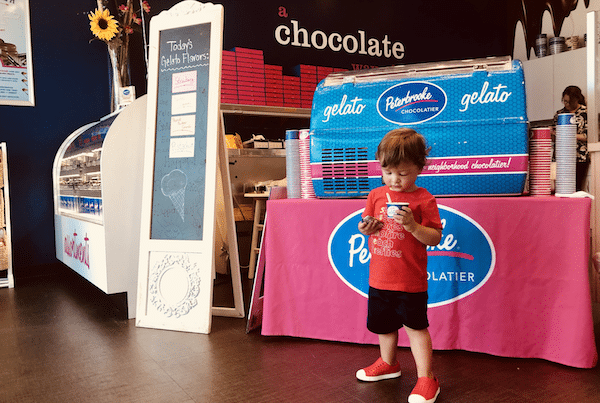 Peterbrooke Chocolatier (throughout Northeast Florida)
When I think of Peterbrooke, I think of chocolate-covered popcorn and other gourmet chocolate cookies. Apparently, they recently started offering gelato, which has been a hit among mamas and kiddos alike. Way to go, Peterbrooke — my son and I truly enjoyed your pistachio-flavored gelato!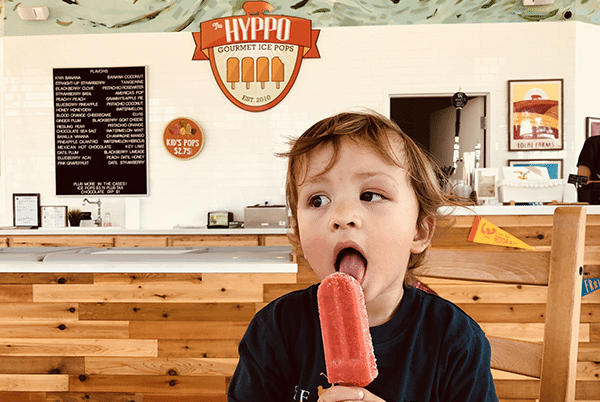 The Hyppo (San Marco, Riverside, St Johns Town Center)
Are popsicles even ice cream? In my vocabulary, yes — especially if they're from Hyppo! My son refers to any popsicles he sees as "Hippo!" I have no shame that we eat these gourmet popsicles often. They are so good, and bravo to them for coming up with a kid-size popsicle made perfectly for little hands and little bellies! They only offer Chocolate, Mango, and Strawberry for the kids, but I'm sure those are enough for their tiny palate. I love all of the flavors, so I don't have a specific favorite, but you can't go wrong with "Elvis" if you love peanut butter, banana and honey!
Bruster's Real Ice Cream (Oakleaf, Arlington, Mandarin)
Bruster's Real Ice Cream may be a national chain, but I love the one near Oakleaf Plantation! The workers are so nice and cheerful every time we go. My son is currently obsessed with anything dinosaur, so their Dino ice cream was a natural fit, which just consists of a scoop of vanilla or chocolate ice cream with sprinkles and a dinosaur cookie on top.
Thaice (Arlington/Southside)
Thaice is a rolled ice cream store–you get to choose your batter and pick 3 toppings if you want to make your own creation or choose from some of their favorite combos off the menu! They will roll out your ice cream on a cold plate and then scrape it up into rolls. Fun for the kids to watch! Jacksonville Moms Blog co-founder, Megan, enjoyed her s'mores off the menu, and her daughter created her own with Oreos and caramel sauce! Yum! I think Thaice's gorgeously unique presentation of their ice cream is what sets this place apart from the rest.
More-Than-Honorable Mentions
Here are a few more ice cream shops in town that I still need to check out with Lincoln, but if you get here first, let me know your favorite flavor!
Snowgenix (Southside): Taiwanese shaved ice cream, including many Asian flavors such as Leche. Bonus: The fruity puffs in the cool Dragon Breath flavor is totally crunchy and kid-approved!
Le Macaron (Avondale, The Avenues Mall): Word on the street is that they just started offering French gelatos!
Freddy's Frozen Custard & Steakburgers (Southside, Orange Park): Get your burger and frozen treat fix with this delicious retro-style chain restaurant!
Maggie Moos (Orange Park Mall): Gourmet ice cream, plus fresh-baked cookies? Yes, please.
Magic Sweethouse (Riverside): A Thai ice cream roll? Say no more!
Sweet Pete's (Downtown): This local legend is known for its gourmet chocolate, caramel, and candy, but they also have a full-size ice cream parlor! Be sure to check out their sweet classes, too.
Marble Slab Creamery (San Marco): Serving up fresh homemade ice cream since 1983!
The Cow in a Cone (Northside): Scooping up unique creamery creations in the form of ice cream and shakes.
Smallcakes Cupcakery and Creamery (Northside): Fresh-baked cupcakes and delicious homemade ice cream… sign us up!
Chilled Flavors (Ponte Vedra): Offering something for everyone, including nut-free, gluten-free and dairy-free sweet treats.
Cold Stone Creamery (Southside, Northside): Sometimes a yummy creamery chain just hits the sweet spot.
Be sure to check out our previous ice cream post for more local ice cream favorites! According to the International Dairy Foods Association, "Ice cream has historically been a key feature of American communities." So go out there and support your local ice cream shop!