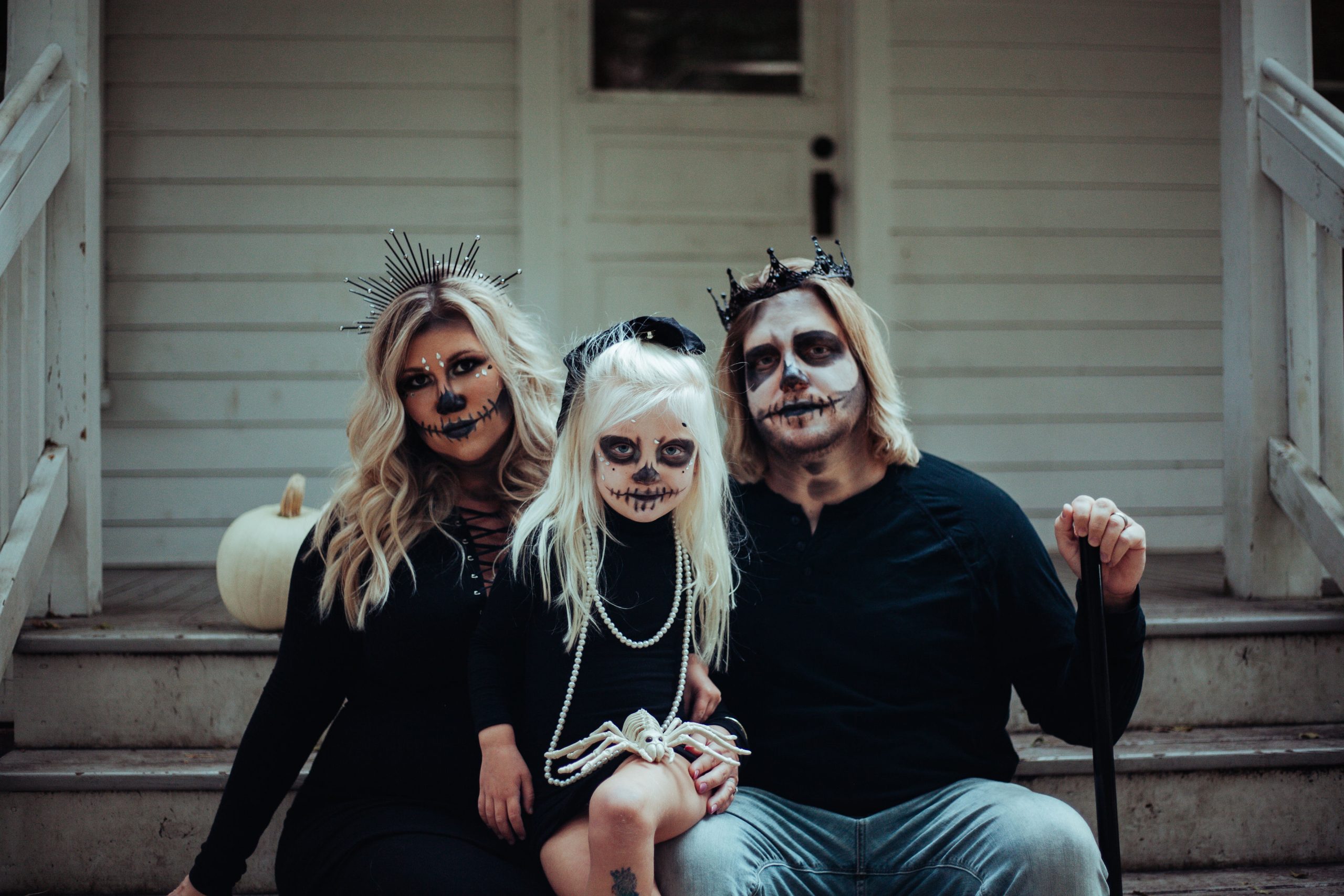 It's spooky season, and I LIVE for this time of year. The festivities, the weather, the food and drinks, the creativity… it's everything my fall-loving heart could want! It's my absolute favorite. You can pretty much find me or my kids in costume, themed clothes, or wearing costume makeup almost every day during the month of October. And one Halloween costume? Forget it! We have at least five every year. (Commitment issues or psychotic, you pick.) I'm also that mom who loves matching or coordinating with her kids every chance possible, so it's no surprise that I love family costumes.
I get it honest. My mom and dad were always big on the holiday growing up, throwing or attending extravagant Halloween parties and dressing to the nines, having the best-decorated house in the neighborhood, making all the spooky crafts and snacks with us, making sure Halloween celebrations started the moment we woke up on October 31 until we went to bed way too late, and my mom almost always made our Halloween costumes from scratch. I've been excited about the month of October for as long as I can remember, and now that I have kids to celebrate it with it's even more fun!
So I am deeming myself the Halloween Queen and sharing with you a few of my top tips for *killing* the Halloween game this year with your own crew, along with a few costume ideas at the end!
Tips for Easy Family Halloween Costumes
Let the kids pick their character or theme, and go from there. This is what we do, and it's my favorite way to allow my daughter to be what she wants while still being able to coordinate with the whole family. For example, last year she wanted to be "a spooky kid" and chose Wednesday Addams, so we went as the Addams Family. The year before, she wanted to be a ghost, so my husband and I were Ghostbusters chasing after our little ghost all night. Can't wait for y'all to see what she picked for us this year. Hint: It's magical.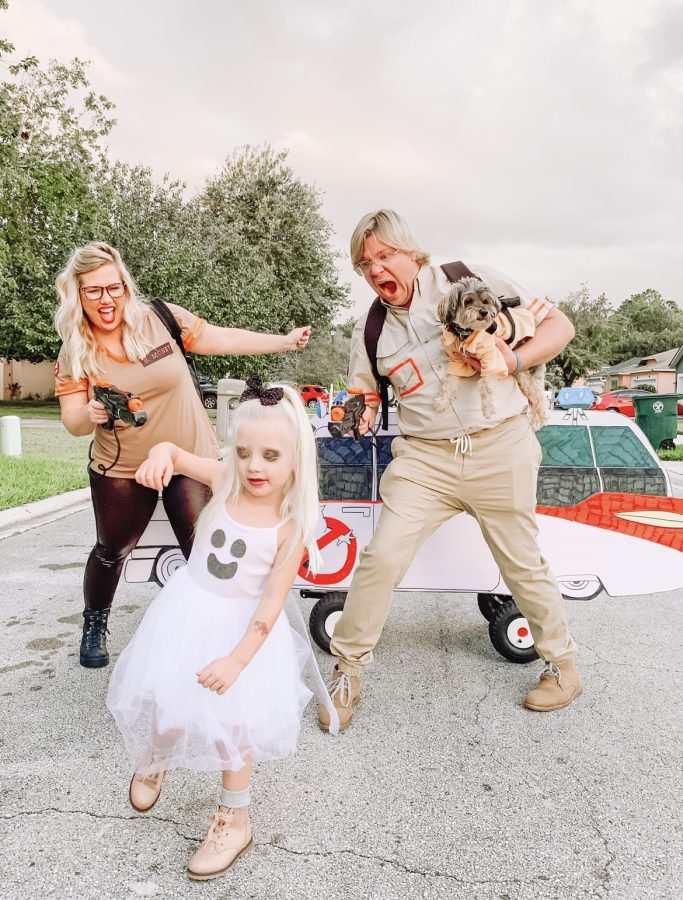 DIY. Make it yourself! Yes, you can do it, I promise — even if you're not crafty. Pinterest, TikTok, and YouTube are FULL of easy tutorials. All you have to have is the idea and Google. It's fun and addictive — be warned! Can't sew? Hot glue and no-sew iron-on adhesive tape will be your best friends.
Use their name or features as a theme (if you can). My oldest daughter's name is Daisy… so guess what she was for her first Halloween? I made her costume from scratch and turned her into an Anne Geddes-style flower baby. I was a gardener and my husband was a bumble bee. Now I have to find a way to turn my 9-month-old Poppy into a poppy flower…. or a Pillsbury Dough Baby because ROLLS!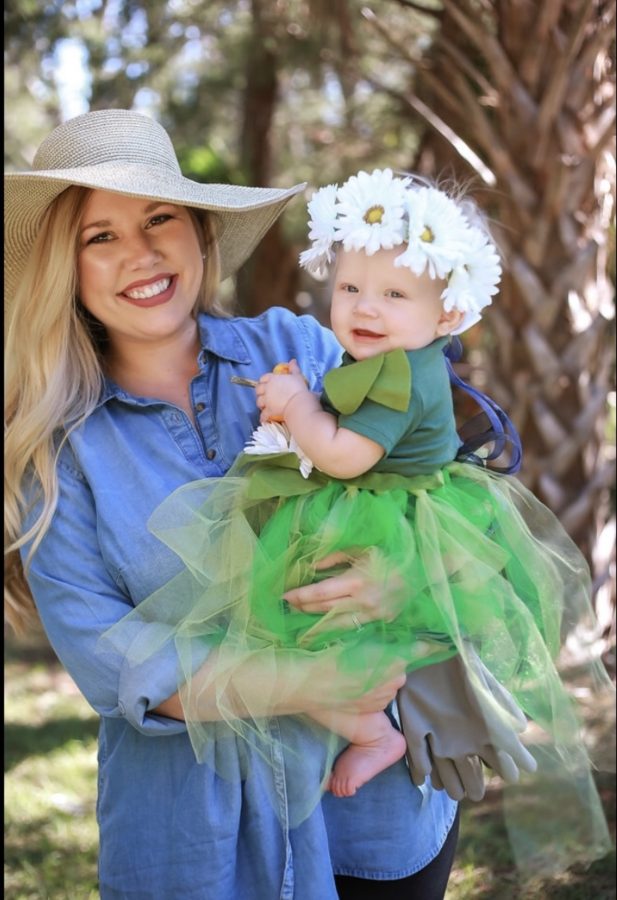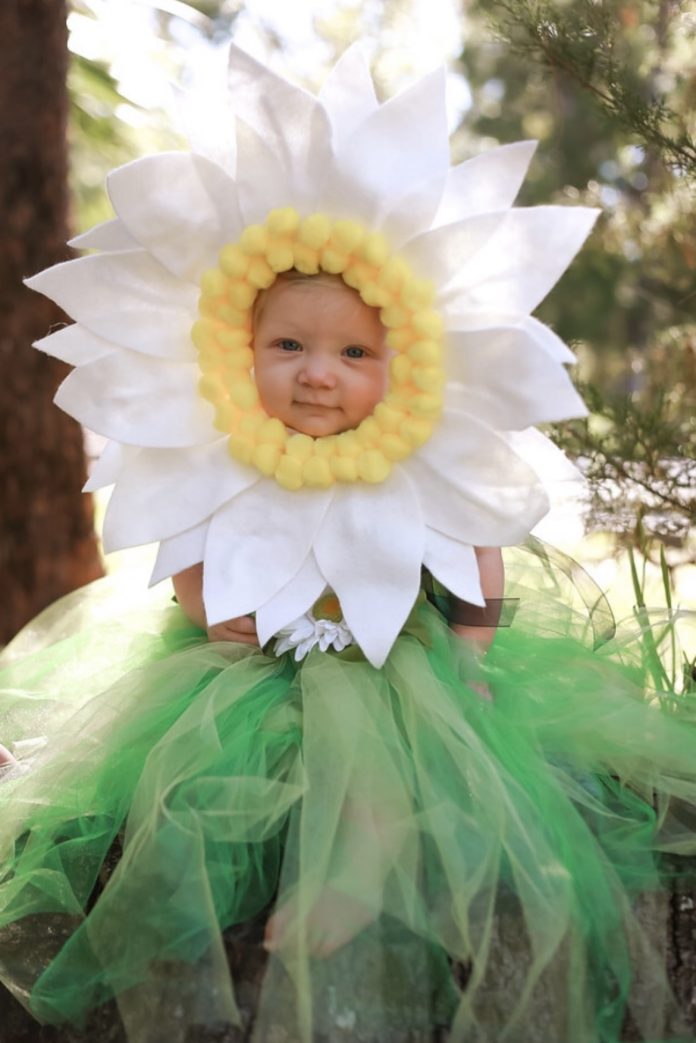 Swap costumes with family friends. If you typically trick-or-treat with another family or have friends with same-aged kids, swap last year's costumes! Another great way to repurpose and save money, and bring out the creativity. You can even make a fun, friendly competition of it to see who wears them better!
Shop your closets. Use things you already own to create your costumes. You'd be surprised at how many items you already own can easily turn into a costume. It's fun, allows you to get creative, is resourceful and less wasteful, sets your original costume apart from the rest, and saves you money. You could even let the kids get involved by pulling pieces from their closets and helping put together their Halloween look!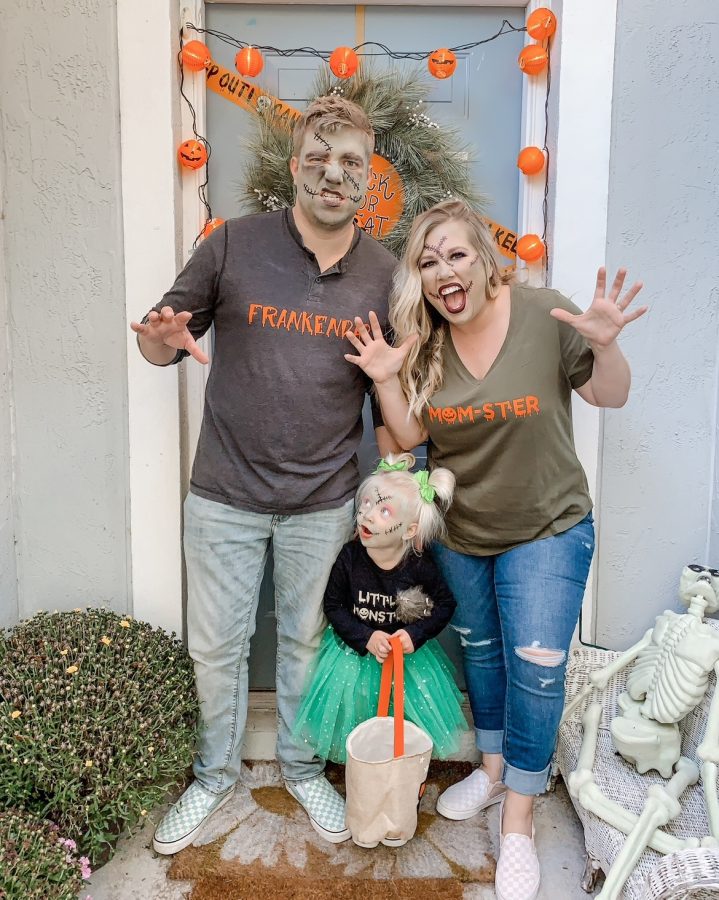 Go with what's popular. You may be one of dozens of Elevens or Encanto characters, but at least everything you need for your costume will be easy to find, and there are usually several variations to choose from.
Think outside the box. Get creative! Just take a stroll through Michael's craft store or Jo-Ann Fabric, and you're sure to find immediate inspiration, as well as almost everything you could need to whip up your own costume.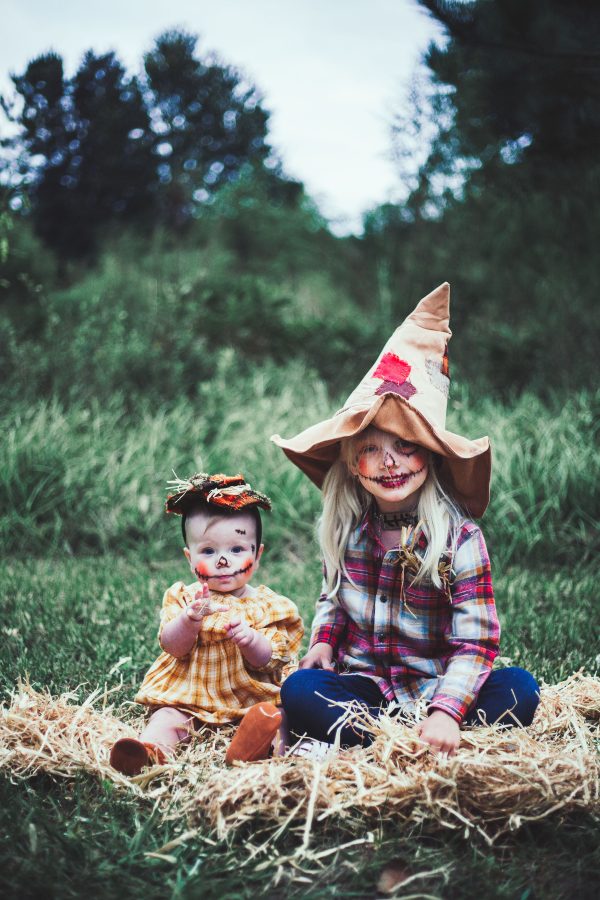 Turn to makeup as the hero. You can become pretty much anyone or anything with makeup. This is a great way to dress up your own clothes or stand apart from others who bought the same costume at Spirit Halloween. Dress as a family of skeletons wearing all black with spooky skull makeup (you can even get glow-in-the-dark makeup), or a bunch of wild animals with animal-print clothes and some makeup or face paint. Again, YouTube will be your best friend for this (or you could always hire a makeup artist)! Tip: Use eye shadow and a blush brush to color hair instead of spray — it is less messy, keeps hair soft for easy styling and brushing, and washes out easier.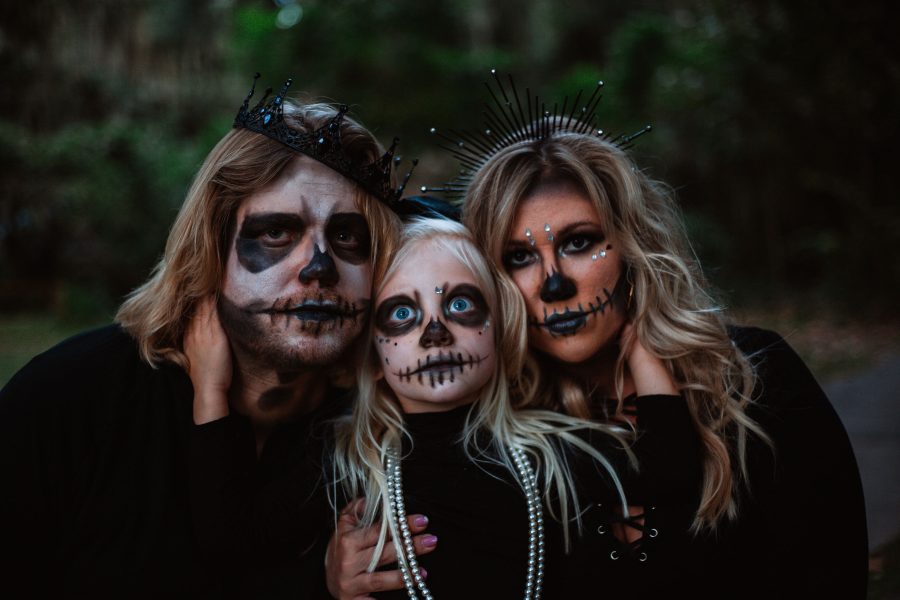 Reuse costumes from a previous year but put a twist on them. Rotate who was who (sibling or even spouse costume swap), add some paint or glitter to zhuzh it up, or become a dirty, "dead" or bloody version of it with makeup, liquid latex, and paint.
Use non-Halloween items to create your costumes for ease and affordability. Halloween costumes can run you anywhere from $30 to $60 (or more) per person, and you only wear it one night a year. Skip on the Halloween store and shop for items that you'll be able to wear again. Use those clothes to help turn into your costume or character, then add accessories as needed. (See below for examples of how we did this.)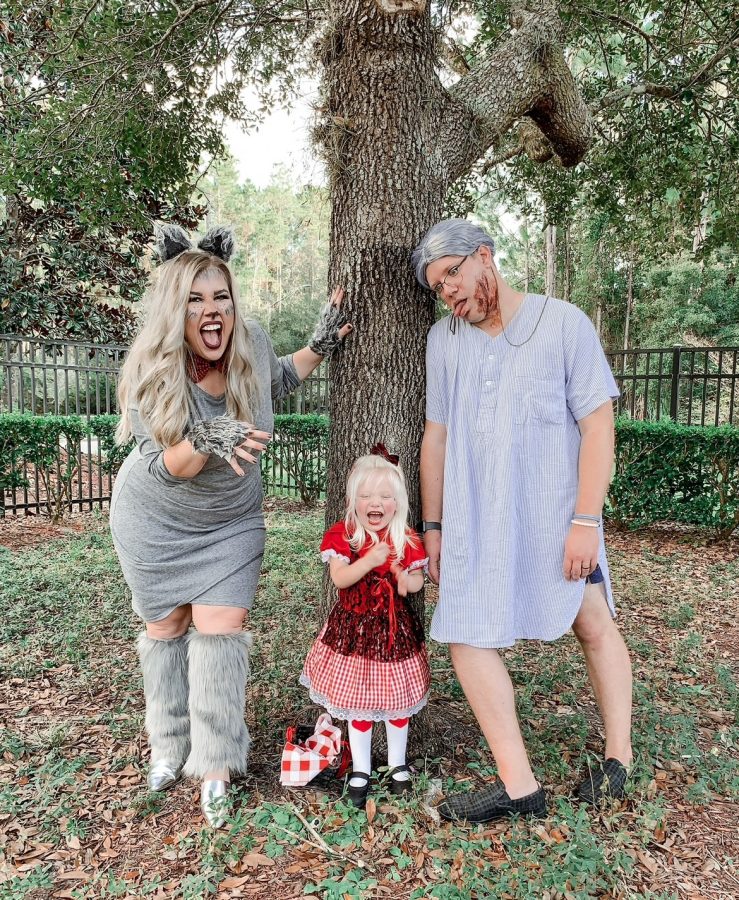 Need some more inspiration? Here are a few other costumes we've dressed in over the past few years.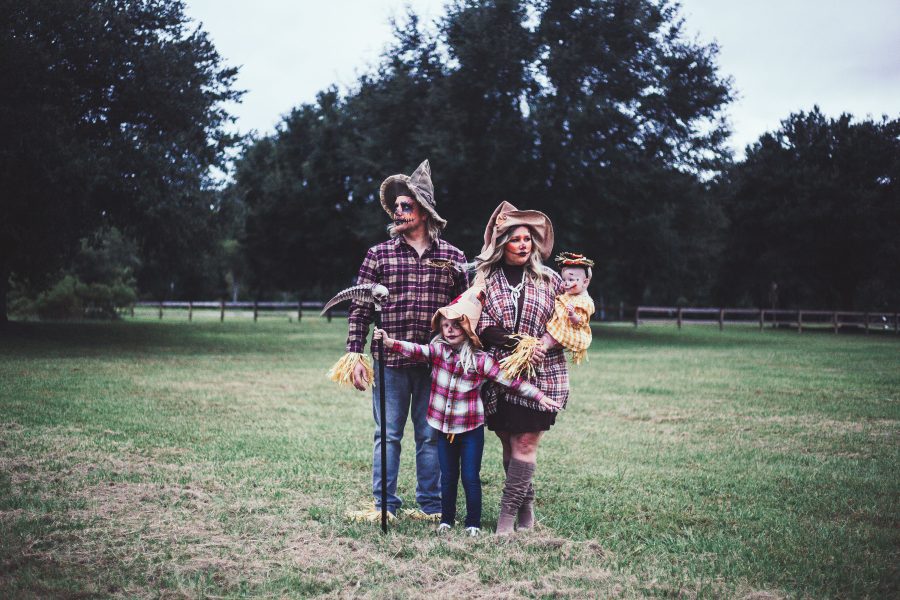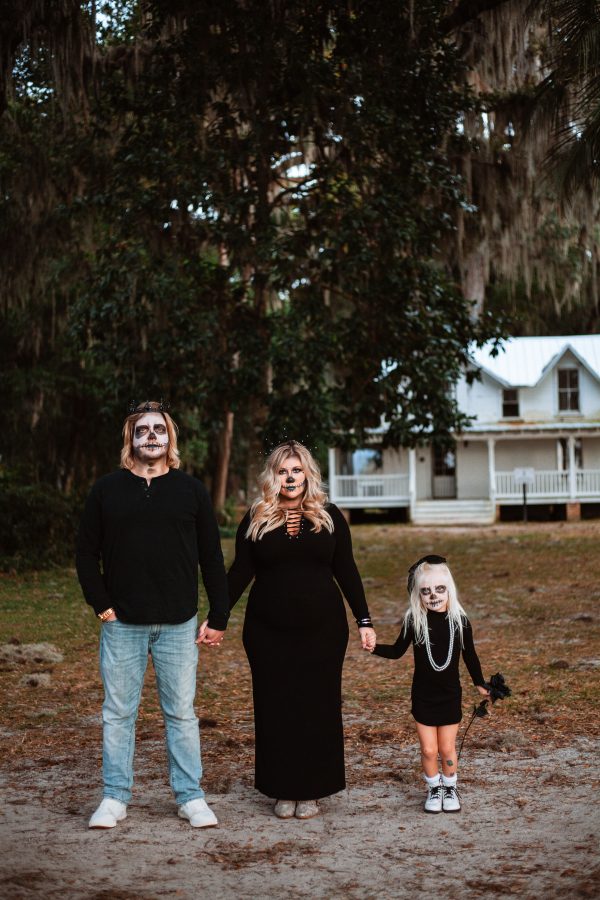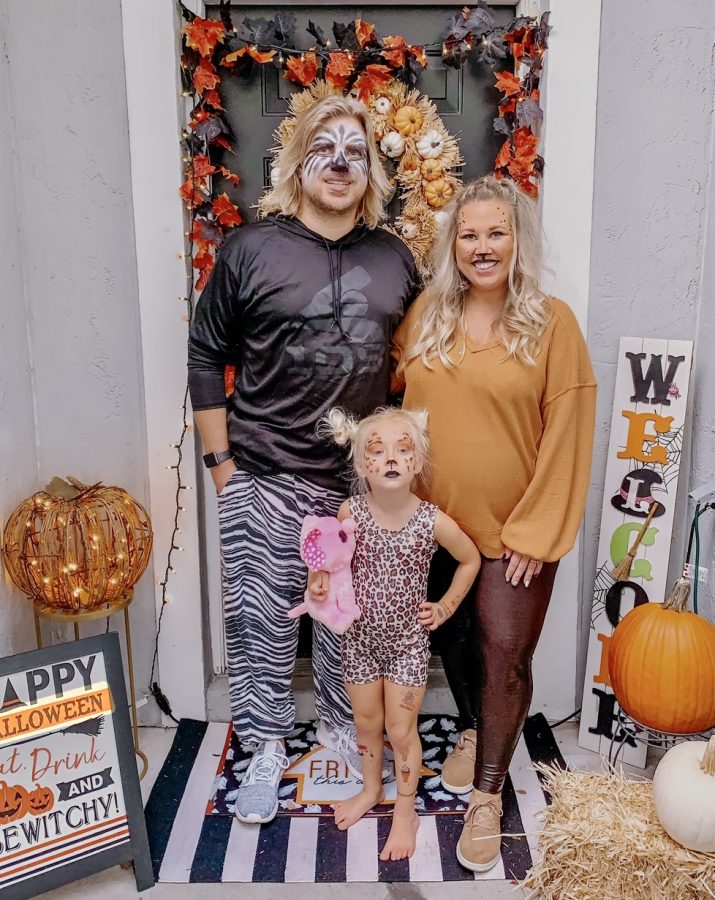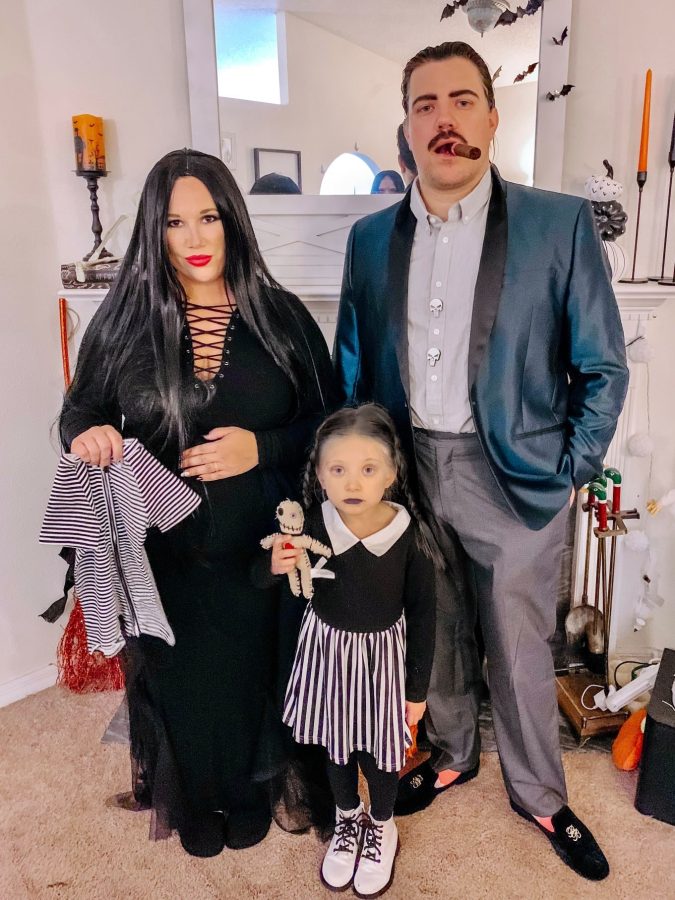 I hope you found this helpful and can draw some inspiration or ideas. Would love to hear what you and your family have dressed as or are dressing as this year in the comments!
Happy haunting! I mean, happy Halloween.