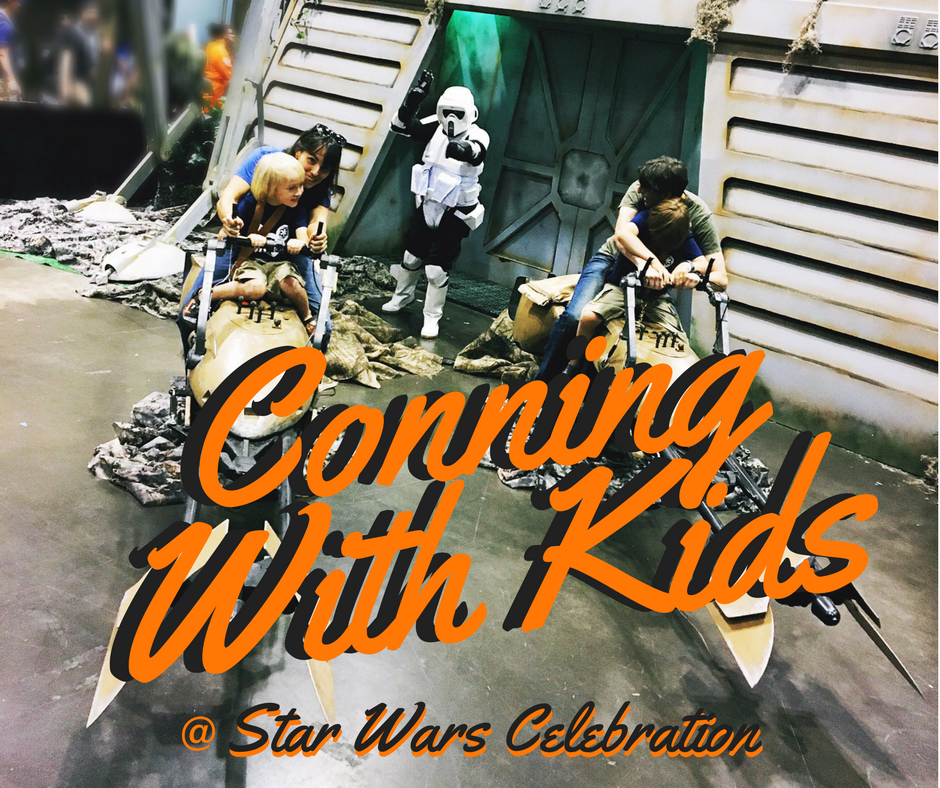 When we heard that the Star Wars Celebration Conference was going to be in Orlando this year, we knew we wanted to go and take the kids. If you have never experienced a Comic-Con style event, well, they are massive, crowded, and can be overwhelming. They are also thrilling. On the surface, it's not the kind of event that screams "family-friendly," but with a little planning and managing your own expectations, cons are an opportunity for your children to meet amazingly talented people and share in an experience unlike any other. My little ones love Star Wars, like their father and mother before them. I knew they would have fun, but I was still worried because big cons like Celebration are crowded, and you spend a lot of time in lines for panels and such. Nevertheless, there are just so many reasons that they are can't-miss events.
The photo opps are epic. Seriously, from amazing cosplayers to prop masters, there are endless super-cool photo opportunities. We had so much fun exploring and meeting and talking to people who turn everyday objects into costumes and props that give movie studios a run for their money. The attention to detail is incredible, and watching the children learn about how these things are made is fantastic. Meeting master builders, designers, and enthusiasts opens up new worlds of possibility. I mean, where else can you hop on a speeder bike and try to escape Endor?


The lines for panels and such were long, but we planned for them. We only picked panels we knew would be interesting to our littles and that were not the most sought-after. I packed a bag of distractions that would amuse the kiddos while we waited. The funny thing is that they hardly used them. They mostly just played and made friends with the people we were in line with and people-watched. There are so many interesting and talented people at these events.
During the event there are also scheduled exhibits and shows. These moments are so much more fun than I imagined. Whether it is a cosplay show or stunt show, there is nothing quite like watching people put their hearts and souls into an artistic endeavor and showcase their skills. It's spectacular, and they do it all simply for the love of doing it. That's pretty cool. We were all highly entertained, learned lots, and were inspired.
The lego builds are AWESOME! Yes, I am singing "Everything is Awesome" as I am typing this. One of our favorite experiences at Celebration was touring the lego builds. We got to see amazing recreations of scenes. Some of these were box sets, but some were original builds. The children had a chance to meet and talk to the people that designed them and put them together. Then we had the opportunity to help build a giant millennium falcon with the rest of the con-goers. And we got to make a super-cute mini-falcon to take home. The play that these booths have inspired has lasted long past the event.


One of the things that I am really glad we did was pack snacks. Because of our food allergies, I always make sure to have some sustenance on board for any journey. It relieves the stress if we can't find a safe eating option in close proximity. Nothing could have prepared me for the massive nature of the hall. Yes, there were food vendors, but getting to them was not easy and the lines were very long. Having our own snacks on board helped us to keep moving quickly and prevented anyone from getting "hangry" or loosing steam.
I'm so glad I didn't let my concerns for the size and scale of the event deter our trip. We all left inspired in different ways. It was a great opportunity to connect with fellow Star Wars fans and artists. Our experience at Star Wars Celebration was fantastic and has inspired me to want to con more with the kids. Happily, there are plenty of opportunities happening in and around our community to con with your kids. If you are interested in conning with your kids here in Jacksonville check out the public library calendar for upcoming con events. "May the Fourth" be with you.