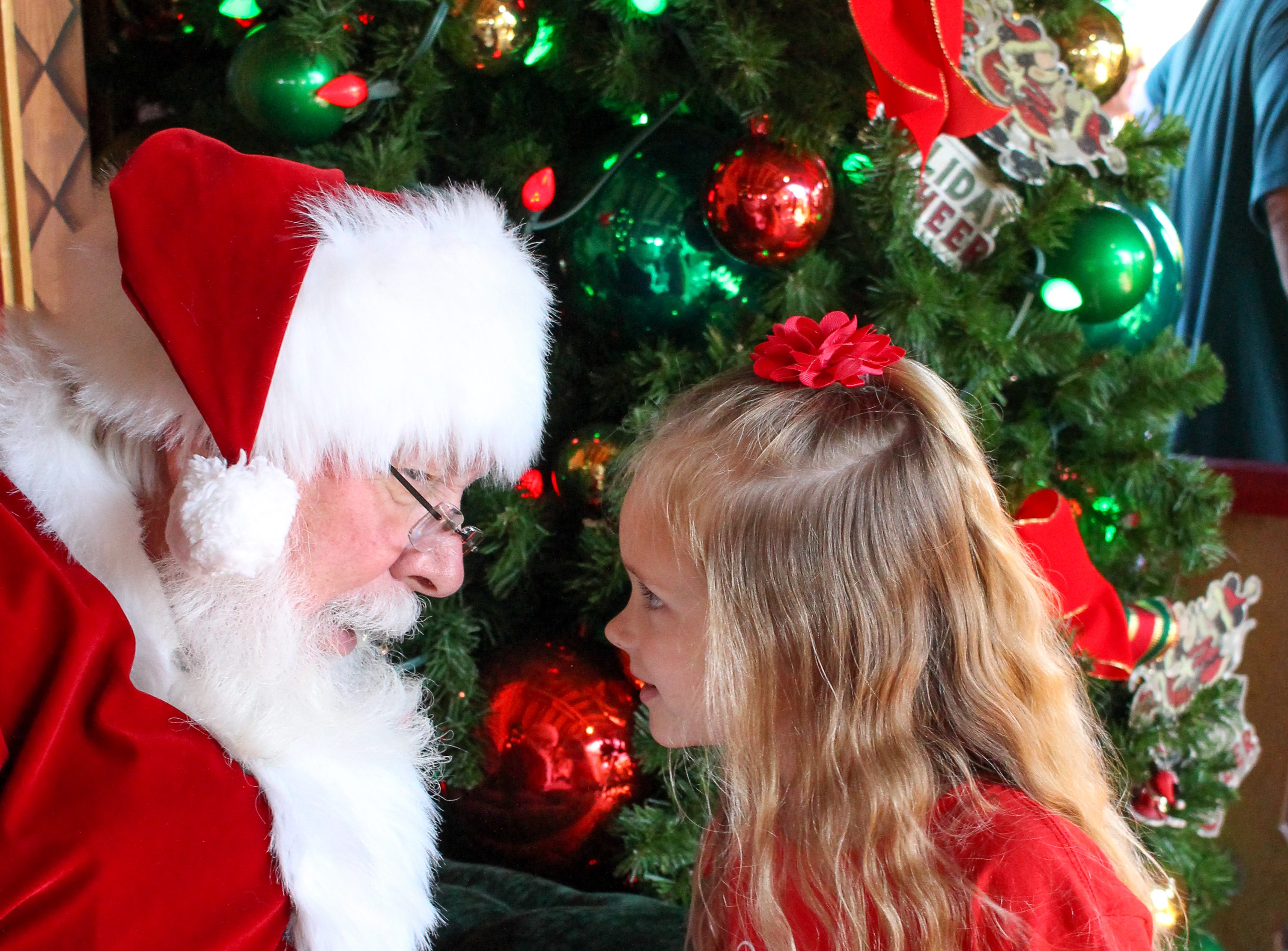 I admit it, we usually hold off until the weekend of Thanksgiving to put up our Christmas tree, but after going to Disney in early November, I couldn't help but be in a festive, Christmas mood.
We all know Disney can be very expensive, but if you want to experience the Disney holiday magic for FREE, check out these fun activities you can enjoy from now until January 5 in the Walt Disney World area.
Disney Springs
If you aren't familiar with it, Disney Springs is the go-to place in Disney World for shopping, dining, and entertainment (other than the theme parks, of course). There's a movie theater, bowling alley, the new NBA experience, Cirque du Soleil, a carousel and train for little ones, and TONS of delicious food and dessert options (including some yummy food trucks). For now let's focus on the seasonal events they have going on, which are centered mostly in the Marketplace section of Disney Springs. I recommend parking in the Lime Garage. There is no charge for parking at Disney Springs unless you choose to valet or use preferred parking.
Christmas Tree Trail
First on our Disney Free tour is an amazing event called the Disney Springs Christmas Tree Trail, open daily at 11 a.m. This is truly a winter wonderland (yes, there is snow to be found!) filled with songs of the season, specialty treats (you do have to pay for the food), a gift shop and 23 fully decorated trees. Each tree is themed after a Disney movie or character. There are too many spectacular ones for me to choose a favorite, but you'll have to let me know which ones you love! In addition to the trees, there are fun posters lining the fences of the event, which I found to be fun to look at and figure out which movie they correspond with.
Meet Santa
Another free and festive option at Disney Springs is to meet Jolly Old St. Nick! He can be found in the middle of the Christmas Tree Trail starting at 11 a.m. When you walk up to the entrance, there will be a small kiosk set up where you will want to check in to be put on the waiting list to meet Santa. You are then free to check out the trees, grab a bite to eat or even shop while you wait for your "time to meet Santa" text (they give you a few minutes to report back). Santa was very authentic and took the time to read my daughter's Christmas list she had written. He even answered her question that was on the back of her list, "How do you deliver all the gifts in one night?" Just a heads up, he has a special place for all the lists kids give to him, so you may want to snap a quick pic of yours before handing them over to the big guy! There are Disney professional photographers there to take pictures on your own device or via Memory Maker and your MagicBand.
Stitch's Holiday Gift Hunt
Once you have had your fill of snow, trees, and Santa, grab a booklet and find everyone's favorite little alien hidden around the stores at Disney Springs (one is on a tree at the Christmas Tree Trail, so you may want to pick up your booklet before heading there). When you find Stitch in a store, place the corresponding sticker (found in the center of the booklet) on the correct page. When you find all 12 Stitches, show your book to a cast member at a participating store and collect your completion prize. My kids are VERY into scavenger hunts right now, so this was a LOT of fun. I found it to be simpler than the ones in the parks — even my 3-year-old found a few of them!
Booklets can be picked up at:
Amorette's Patisserie
Basin
Christmas Tree Trail
Disney Chase VISA Kiosk
Disney's Wonderful World of Memories
MAC Cosmetics
Marketplace Co-op
Once Upon a Toy
Rainforest Café
Sperry
Superhero Headquarters
Wolfgang Puck Express (in the Marketplace area)
You can get your completion prize at:
Amorette's Patisserie
Christmas Tree Trail
Disney's Wonderful World of Memories
Marketplace Co-op
Once Upon a Toy
Superhero Headquarters
Tip: Look through your booklet ahead of time, as there are several stores that offer discounts if you show them the book.  We saved 20% on our lunch at Wolfgang Puck Express, which, by the way, we definitely recommend!    
Disney Resorts
Once you have had your fill of Disney Springs, the holiday fun doesn't have to stop! Many Disney resorts have holiday displays, and for several resorts, that means gingerbread! When we did our tour of the three resorts on the monorail line (The Contemporary, The Polynesian and The Grand Floridian) only two of the three resorts had displays up, but they were gingerbread ones that smelled delicious and looked gorgeous. In the few days since we went, many more resorts have been fully decorated. I would guess that all resorts will be completely gussied up by Thanksgiving.
To get to the resorts, you can either use Disney's transportation or drive your own car. Please note that Disney buses go to and from Disney Springs to resorts and theme parks, but buses do not take you from resort to resort.
We used Disney's transportation and went from Disney Springs, taking the bus to Disney's Contemporary Resort. After seeing their Cinderella Castle gingerbread display, we hopped on the monorail to check out the Polynesian Resort, and then the Grand Floridian Resort and Spa. Kids love the monorail, so it's all very exciting!
Contemporary Resort
After you get off the bus, head inside to the lobby. We spent a few minutes at the kids' TV area and grabbed some complimentary water to cool off before heading up to see the display. Before you go upstairs, take a short walk all the way through the lobby and back outside (towards Bay Lake) to view the resort's massively tall Christmas tree. Then head to the fourth floor to spot the Cinderella Castle Gingerbread display.  You will most likely smell it before you see it! All pieces for the castle were baked at the resort — it took the team 10 days to assemble and includes 10 hidden symbols from Frozen and "It's a Small World," as well as nine hidden Mickeys. Next to the display is a treat shop set up with many gingerbread desserts and various treats.
Polynesian Resort
After feeling sprinkled with Fairy Godmother's magical dust, we headed through security (also on the fourth floor) and up the escalator to wait for the monorail. We rode it one stop to the Polynesian Resort. At the time of our visit, there were no holiday decorations yet, but the kids enjoyed running around and playing tag in the "yard." This is also a great place to pick up Disney's famous Dole Whip treat!
Grand Floridian Resort
After the kids burned off some energy, we headed back to the monorail for our final stop on our tour: the Grand Floridian!  Inside the lobby is a GIANT gingerbread house. It's so large that they actually sell treats from inside it. And there are plenty of places to take pictures all around the perimeter of the house.
Here's the list of gingerbread displays at the Disney resorts:
Contemporary (Cinderella's Castle)
Grand Floridian (Gingerbread House)
Fort Wilderness Lodge (Gingerbread Cabin, new this year)
Beach Club (Carousel)
Boardwalk (Gingerbread Display)
Additional Tips and Tricks
At Disney resorts, self-parking is free, and everyone is invited to walk around, eat and enjoy the resorts. The exception to this rule can be during the holiday season, especially at the monorail resorts. One way to avoid being rebuffed at the guard shacks is to make a dining reservation via the Disney app, or by going to mydisneyexperience.com , making a Disney account and then securing a reservation that way. Please note that if you cancel your reservation within 24 hours of your time, you will be charged a $10 fee per person. You must use a credit card to reserve your reservation. One way around the fee if you are within 24 hours is to modify the reservation via the app (choose a date more than 24 hours away) or website and then cancel it after you modify it. You can also call and ask nicely to cancel your reservation. We love the Wave Restaurant at the Contemporary Resort, the Grand Floridian Café, and the Kona Café at the Polynesian. The other way to avoid parking stress is to take buses from Disney Springs, like we did.
Strollers and wheelchairs can be rolled right on to monorails, but not buses.
Please know that if you use the bus system as we did, you are at the mercy of Disney. When we were ready to leave the Grand Floridian to head back to Disney Springs, we waited quite a while (about 35-40 minutes) before the bus came. You can always use Lyft, Uber or the Minnie Van service, which is through the Lyft app. Minnie Vans include up to two car seats if needed. Buses are supposed to come at least every 20 minutes, but sometimes things happen!
Get to Disney Springs right at 10 a.m. when they open for the best parking options. During the holiday season, it will fill up quicker than normal. You can always come earlier than 10 a.m., as a few restaurants serve breakfast, and there are many great places for some pictures, as well.
Drink lots of water! While it's not a theme park, you can cover quite a bit of ground if you do all the free activities listed.
All the Disney resorts decorate for Christmas. If you have kids who like Cars, The Lion King, Finding Nemo, and The Little Mermaid, the Art of Animation Resort is a fun one to visit. There are TONS of photo ops all around the resort. There is a food court, gift shop and arcade there, as well.
You can take a free boat to and from the Contemporary to Fort Wilderness Lodge to see their Christmas décor and new gingerbread cabin. I have heard it's one of the most beautiful!
The Boardwalk area of Disney is a great place to explore — there's an old-time feeling to it that is unique. You can park for free for three hours while you explore shops, restaurants and of course, go see the gingerbread display at the Boardwalk Resort.