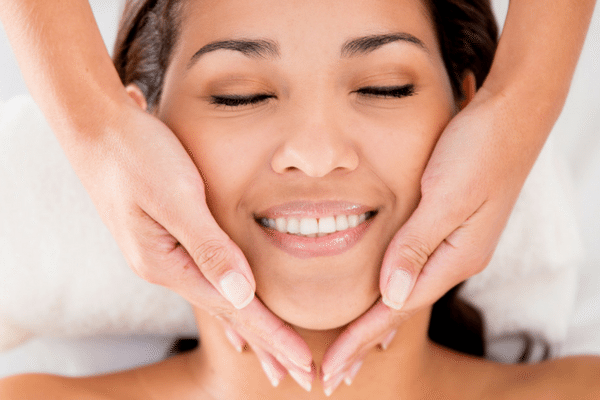 I turned 45 a couple of weeks ago — New Year's Eve to be exact. It was wonderful! I didn't dread officially becoming "mid-40s" in the least. I also looked forward to and loved celebrating my 40th birthday. It's a strange, quiet confidence that has accompanied being in my 40s. I don't mind sharing my age at all, in fact, I probably find a way to tell people my age, because I always get the same response. "What?!!! YOU are 45? I would have guessed you were only in your 30s!"
Um, 39 is still considered in your 30s, right? Regardless, I flippin' love it. LUUUUUUV IT.
At the same time, I wouldn't mind if people thought I looked 45. I've earned my age. I've done a lot to get here, and I wouldn't change anything as to how I have arrived at what may be my midway point. But, I am THRILLED most don't think I am my real age. With all that being said about how much I love being 45, I have certainly taken a few measures to keep my skin looking as youthful as possible.
Before I was a stay at home mom, I worked in medical sales for over 10 years. While living in Boston, I was the Business Development Manager at Allergan Facial Aesthetics, calling on Plastic Surgeons and Cosmetic Dermatologists. Yep, I was the Botox rep. Yep, it was AWESOME. But this article isn't about the magical powers of Botox. (Even though it IS magical.) More on that at a later date.
My biggest takeaway from working in aesthetics for nearly a half-decade are two steps that all cosmetic dermatologists agree on how to maintain youthful skin. Why it isn't shouted from every rooftop, and why every woman isn't sharing it with all of her friends, I am unsure. I scream this information to anyone who will listen. Just in the last week alone, I have shared this powerful 1-2 punch of youth preservation with two friends and both ladies are hell-bent on getting what they need from their dermatologist or plastic surgeon.
First and foremost, use a sunscreen every day.
Duuuh. Do I really need to regurgitate all the reasons why we ALL need to wear SPF on our faces? Just do it. Wear it. Protect your mug shot. Especially when you incorporate step 2, SPF is essential.
Here's the no. 2 punch — vitamin A.
Boom! Whether it be in the form of an over-the-counter drug store retinol or a prescription retinoid, get vitamin A on your skin every night! Vitamin A is proven to boost collagen which reduces wrinkles and prevents fine lines, increases cell turnover that results in brighter skin and unclog pores which minimizes acne breakouts and makes pores appear smaller. I mean, who wouldn't want to slather themselves in this stuff? The good news is that you don't have to slather yourselves in this miracle cream. It only takes a pea-sized amount on your entire face. More is just wasted product in this case. And once your skin becomes acclimated to this powerful anti-ager, it will glow with a dewy freshness like you just had a glorious facial. Every morning. It glows.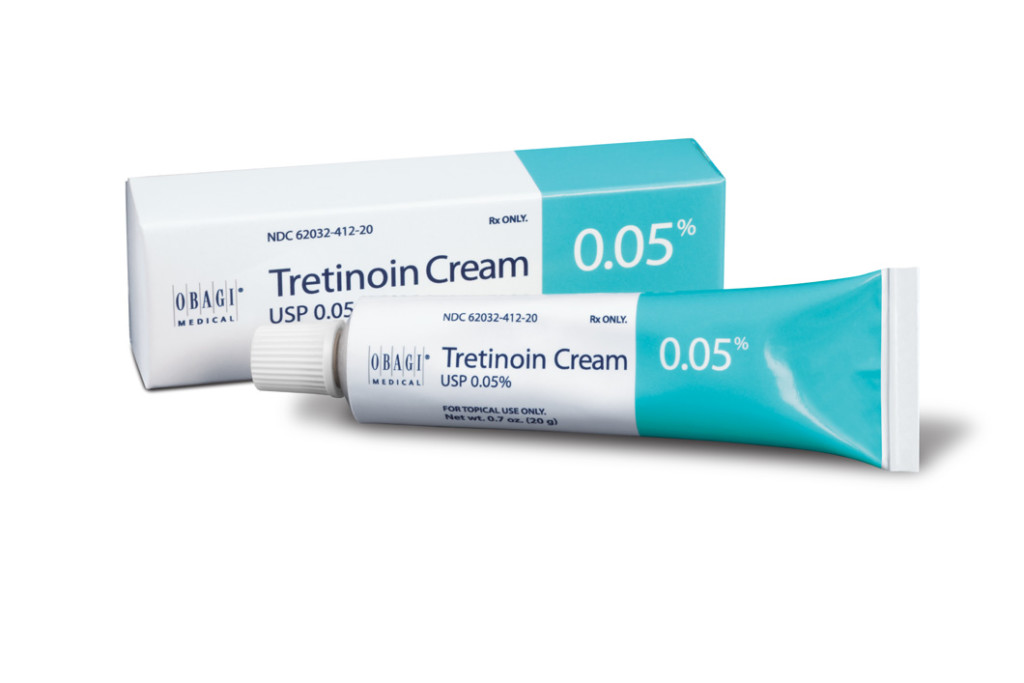 As many times as I have touted the benefits of tretinoin (my chosen vitamin A, as there are several forms), I have heard the complaints about using it. "It makes my skin red and flaky!" "My skin becomes tight, and my nose/chin peels like crazy!" "I'm scared it makes my skin thin and will contribute to more wrinkles!" I get it. There can definitely be an ugly phase when you are trying to acclimate your skin to vitamin A, but I think I have found a way to enjoy the benefits immediately by minimizing side effects.
You could start with a less potent over-the-counter retinol product, especially if you have sensitive skin. OTC retinol is far less concentrated than the lowest dose prescription vitamin A and could be an excellent way to titrate up to the desired dose. I actually began with a retinol product before I transitioned to prescription tretinoin. However, knowing what I know now, I would recommend jumping right in with Rx tretinoin for myself, even though I have sensitive skin, and here's why: Tretinoin comes in a few doses: .025%, .05%, 1.0%. I think I know only one person actually on the 1%, but she has been on tretinoin since her 20s. Granted, she is 45 and still has the skin of a 20-year-old; she figured out this secret way before anyone else. I have yet to scold her for not sharing the secret with me, as I only figured it out in my late 30s.
Most plastic surgery and cosmetic dermatology offices dispense and sell prescription vitamin A products directly from their office. I have yet to find one that keeps the lowest dose, .025% on hand. All practices I have encountered to date carry the .05% to dispense to patients because it is the most used of all the doses. I suggest starting on the .025% tretinoin. It will provide immediate benefit of boosting your collagen, unclogging your pores and speeding cell turnover while minimizing side effects at this dose, as opposed to starting immediately on the .05%.
Ask your dermatologist or plastic surgeon to actually write you a prescription to take to a pharmacy to fill. Download the Good Rx app onto your smartphone and enter the prescription information. GoodRx will tell you where you can fill the prescription for the least amount closest to you. I paid $45 for a 45g tube (that's the large tube) of .05% tretinoin at Walmart. Had I gone to my neighborhood Publix, it would have cost me $173. Use the app. Save money!!!
Here is how simple it is to use tretinoin while hopefully minimizing potential side effects like redness and dryness: Wash your face at night, and dry it completely. I recently learned that tretinoin works best when your face is completely dry. After you've washed your face, and it has dried completely, apply a pea-sized amount to your face. Start using tretinoin sparingly during the week to acclimate your skin, maybe two times a week. Once you wake up without any redness or dryness, which may not happen at all in the beginning, then move to three times a week. Keep that same system in place as you move towards applying it every night. If you are wanting to keep side effects at bay, then be patient, as you are titrating up to using it every night. It may take a couple of months of use before you reach a point using it every night. After you have acclimated your skin, then bump up your dose, at your doctor's discretion of course, to the .05%. You may have to go back to using it more sparingly as your skin gets used to the higher dose. Just remember, the goal is to get your skin used to applying tretinoin every night and waking up in the morning with no redness or dryness. The goal is to wake up looking dewy, fresh and glowing! You will get there.
There are some products that aren't recommended to be mixed with vitamin A at night, like glycolic acid and vitamin C topicals, so make sure you talk to your doctor about the complete and proper use of vitamin A.
Remember, tretinoin is to be used at night only. It makes your skin more sensitive to the sun, and the sun actually makes tretinoin less effective if you used it in the morning as it breaks down in sunlight. And you MUST wear an SPF during the day. Protect what you correct!!!
My only regret with tretinoin is that I didn't start using it sooner. I wish I would have started in my early 30s. Heck! In my 20s like my 40-something friend who still looks in her 20s! Although I didn't start using prescription tretinoin until I was 40, I notice major improvements in my skin due to my diligent use. My skin has been retexturized and has improved from oily/combination skin to normal skin. I used to apply step after step of all kinds of skincare. I bought into all the lotions and potions. After being in the aesthetic industry, soaking in every piece of anti-aging information from global thought leaders in skincare, trying so many different brands of skincare, injectables, lasers, and makeup, I have now evolved into a "less is more" approach. My evening skincare routine consists of cleanser and tretinoin. My morning routine is rinsing my face with cold water and using a washcloth to lightly exfoliate and stimulate circulation and lymphatic drainage. Apply a moisturizer with SPF. I don't even use an eye cream.
My approach isn't for everyone. I have friends who love all the lotions and potions and 10-step skin care systems. And, their skin is amazing! For me, as I am approaching the back half of my story, I am looking to simplify many things including my skincare. I want less products that do more — that do it all!! I have found my miracle cream with tretinoin.
If you are pregnant or breastfeeding, please consult your physician before using any prescription or retinol-based skincare products.