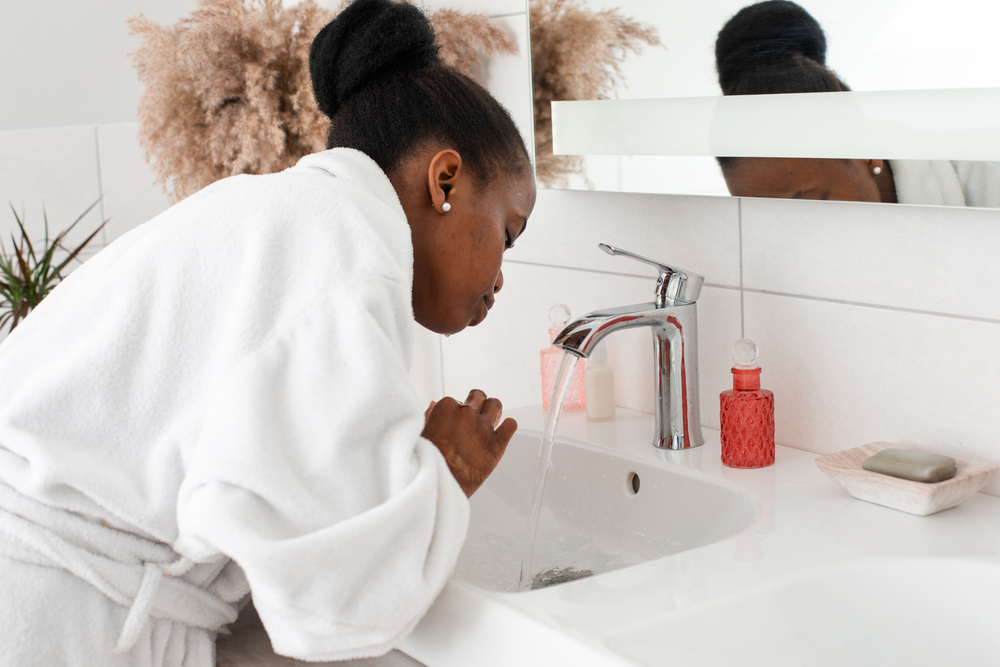 Puberty… we've all been there, and guess what? Eventually, our kids will be there, too. (Gasp!) I know our babies are growing quickly, and while we want to hold on to them for as long as possible, the real goal in this thing called motherhood is to raise them into well-rounded adults.
But back to this thing called puberty. It's a natural stage of development for our tweens, and you will begin to notice the changes happening with them both emotionally and physically. As we all know, puberty can strike at different times causing all sorts of different skin reactions. So, what can you do to help your tweens deal? Prepare them, of course. Cue the skincare routine.
I know some of you may be thinking, "Really, a skincare routine? They are just kids!" Hear me out, though. Is it ever too early to install healthy habits into our children? I don't think so, and a good skincare routine is just that — a healthy hygienic habit. If your preteen has a basic skincare routine down, they will have a good foundation to start from if or when any real skin issues do occur. The key word to remember here is basic. Keep it simple.
Listen, your tween is just getting started, so you don't want to overwhelm them with too many steps or products. When I say keep it basic, I mean just that. Two steps and they are done. This simple two-step routine will make it easier for your tween to actually follow through with and can be easily added to their daily morning and nighttime routines.
Step 1: Cleanse
No matter the skin type, you want to pick a cleanser that's gentle and hydrating — something that will dissolve dirt and oil to help unclog your tween's pores. While cleansing, remind them not to scrub but to gently cover their entire face using circular motions. The key word here being gentle.
Step 2: Moisturize
Since we have just unclogged our pores, it is important to pick a lightweight moisturizer that is oil-free, so we don't go clogging those pores back up. If you get your tween a moisturizer that also contains sunscreen that is a win-win and one less step they have to take in protecting their skin.
I know I said this is a two-step routine — and on a daily basis it is — but maybe once a week you are going to want to bump it up one more step. What's this extra step you ask? Exfoliation.
Step 3: Exfoliate
Depending on how sensitive your tween's skin is, they should exfoliate once or maybe twice a week. Exfoliating one to two times a week helps to keep those pores unclogged.
Why keep things so basic you ask? As I mentioned earlier, having a basic skincare regimen is a great way to ensure your tween will actually follow through with their routine. It is also a great way to figure out what actually works for their skin. It is easy to be influenced by what's trending on social media and having the motherly urge to buy it all for your kid. Or getting caught up in the excitement of sharing your skincare must-haves with your mini, but by keeping things simple, it's easy to determine what ingredients and formulas work for them. All skin is different and skincare products are personal.
During these beginning stages of trying to find what products work for your tween, I highly recommend going with clean and gentle products. It's the best way to pinpoint what ingredients are actually working. It's also a great way to figure out which ones are causing irritations if any occur. As their skin changes, you can always build a more personalized skincare collection that targets their specific skin needs.
Still feeling a little overwhelmed about what products to use?  Brands like Kidskin are created strictly for young skin. Mind-blowing, right? Well, at least it was for me. It took the stress out of finding products even my 8-year-old could use without causing irritation to her skin.
During this tween stage, your kid may be showing an interest in makeup. I know mine is a sucker for blush. It is a fun way for them to find their own style and express themselves. As exciting as learning and experimenting with makeup is, it is extremely important to teach them the correct way to wash their face after. Makeup and skincare should go hand and hand. As we have all learned over the years, leaving makeup on your skin for too long can be damaging, causing blockage in your pores and sometimes even worsening acne.
Skincare doesn't have to be complicated, just remember these few tips:
Use a gentle cleanser.
Moisture your skin.
Exfoliate once a week.
Protect your skin from the sun.
Practice clean makeup habits.
Get Them Excited About Skincare
And don't forget to make it fun! There are so many cute skincare accessories out there. From spa headbands that hold their hair back to mini fridges to house their new skincare products. While these items are not necessary, they can be an added incentive to encourage your tween to get their skincare routines done. Create a cute little basket to gift them their new skincare products, and clean out their own small space in the bathroom or in their bedroom to display all their items. These are all fun and easy ways to get them excited about adding new routines to their schedules.
As I mentioned, all skin is different and what works for one may not work for another. A little research and trial and error will help you find what products work best for your tween. If you ever feel like your tween is struggling with their skin, don't be afraid to reach out to a professional. Their pediatrician or a dermatologist are all great resources to guide you through any tough skin issues. You are not in this alone.