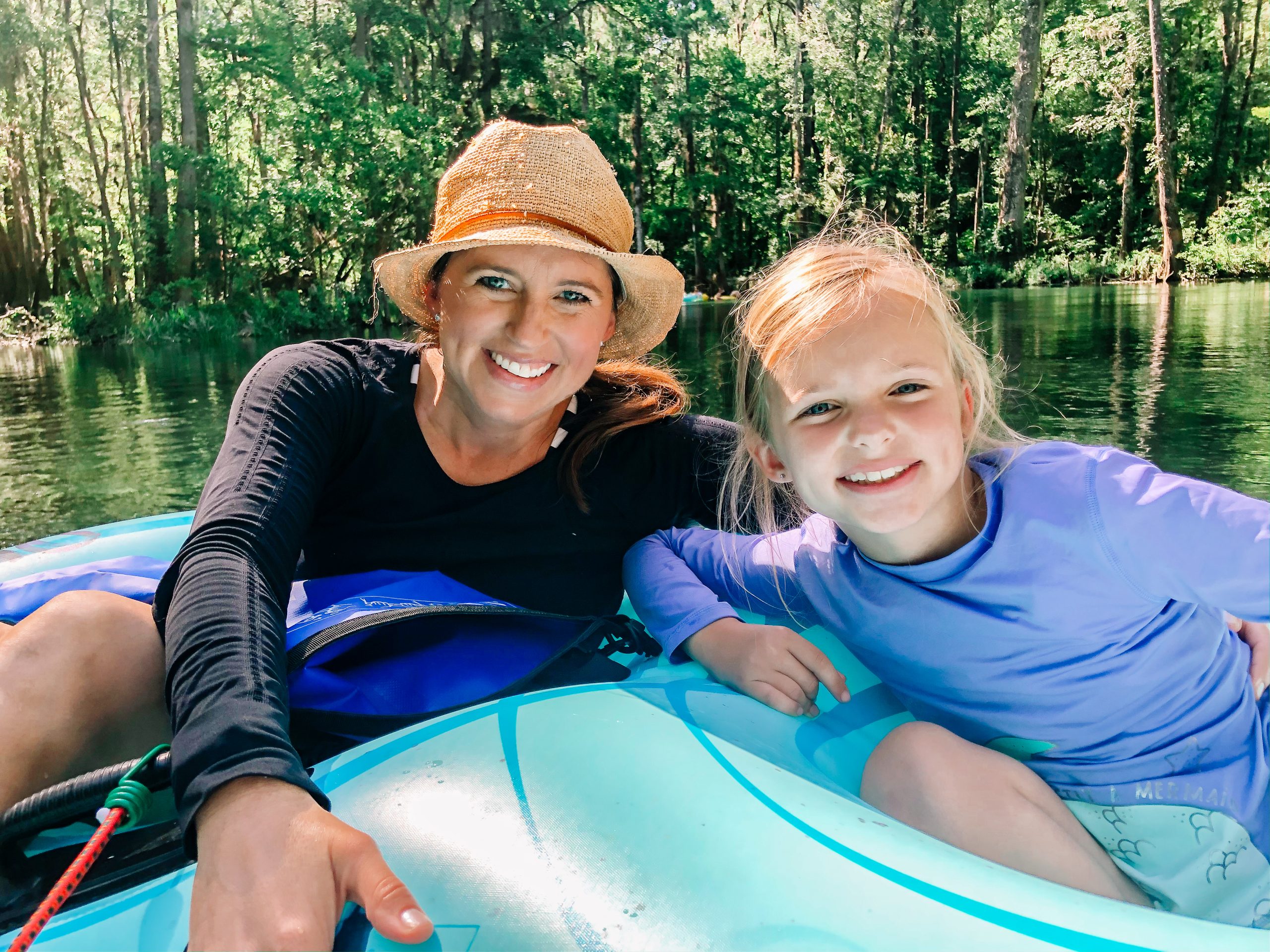 We are some lucky ducks here in Florida! We have endless sunshine, beaches, and many theme parks. Did you know there are also over 700 natural Florida springs with crystal clear waters and native wildlife to see?! After a bit of research, I've come up with 10 amazing springs to enjoy right here in our great state!
We recommend a few items when going to any spring: water shoes (rocks can be slippery), bug spray for hiking, pool noodles/life vests to help kids stay up in the water as the depth of the springs can change quickly, and if you have them, wetsuits — the water is very chilly, and even though they loved the springs, my kiddos started shaking within a few minutes of swimming!
Blue Springs
This state park is located in Orange City, Florida. Known for its status as a manatee refuge during the winter months, you can see hundreds of manatees in one day if you time your visit right! During the winter months, you cannot swim inside the protected manatee area, though you can paddleboard and kayak near the area, and one might just swim underneath you! During the summer, the springs are open for swimming. There are also trails, boat tours, and a snack bar.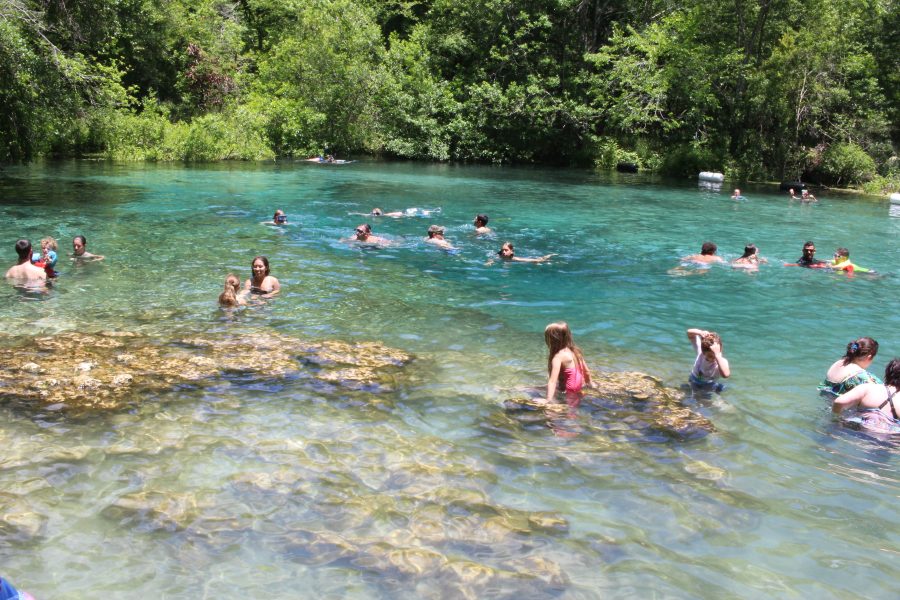 Ichetucknee Springs State Park
This beautiful spring and river is just west of Jacksonville. Here you can spend an entire day relaxing and enjoying nature's best. Between tubing down nature's lazy river, swimming in the head spring (there is a shallow area for littles, though it is somewhat rocky), and viewing the beautiful Blue Hole (strong swimming skills are needed if you want to go down into the Blue Hole), you cannot go wrong no matter which adventure you choose.
If you want to tube the river, you can bring your own tube (provided it's not wider than 5 feet in diameter) or rent one from inside the park. If your kids are sensitive to cold water, renting a tube with a bottom on it could prove helpful!
Gilchrist Blue Springs
Located a mere 20 miles from Ichetucknee Springs, Gilchrist boasts a large swimming area, picnic tables, kayaking, and a short nature trail with a 350-year-old Cypress tree! While it is a short quarter-mile spring run, you can kayak from the spring into the Sante Fe River and check out all the wildlife!
DeLeon Springs
Known for its restaurant called the Old Spanish Sugar Mill Pancake House, DeLeon Springs is a great day trip from Jacksonville. You can make your own pancakes until you are stuffed, swim in the springs (there is a shallow end, but the depth varies depending on where you enter the springs), take a ride on the Fountain of Youth boat tour (tickets can be purchased at the window of the restaurant), or take a hike!
The restaurant is open 9 a.m.–2 p.m. Monday–Friday, and 8 a.m.–2 p.m. on weekends and holidays. Reservations are available on a limited basis for parties of 10 to 16. They book up far in advance, so be sure to plan your visit well ahead of time — you don't want to miss out on this unique experience!
Three Sisters Springs / Crystal River Area
Located on the west coast of Florida, Three Sisters Springs in Crystal River is another protected area for manatee viewing in the winter. This is the big draw, and why you'd come here over other springs. The Crystal River area is the only place you can legally swim and snorkel with the manatees. There is no kayak or paddleboard launch point in Three Sisters Springs, rather you must launch from nearby Kings Bay or Hunter Springs (which has a fun playground and picnic area) and then paddle into Three Sisters Springs. Hunter Springs does not rent paddle crafts, but there are vendors outside the parks whom you can rent from or take a kayak tour and the hard part is done for you!
My daughter and I took a clear kayak tour and were able to see several of these chubby mermaids up close. There are also tours that allow you to swim and snorkel with the manatees as well — very carefully and responsibly, of course!
Rock Springs at Kings Landing
Known as Nature's Theme Park, Kings Landing lets you paddle a gorgeous section of Rock Springs Run called the Emerald Cut. Pristine blue-green waters and trees so amazing you think you are in the jungle abound. You can either bring your own vessel (paddleboard, canoe, kayak, etc.) for a small fee or rent one from Kings Landing. Several different tours are available, or you can go exploring on your own. There are even luxury cabins you can rent and sleep in right next to Rock Springs Run! Reservations required.
Kelly Park Rock Springs Run is also nearby, and has a 20-minute tubing run and swimming area that is fun as well, though this park is currently at half capacity, so go very early!
Silver Springs
The spring known as "Florida's First Tourist Attraction" is just east of Ocala. With over 4,000 acres to explore, there is fun for multiple generations! Glass-bottom boat tours are a great way to see the pristine waters of the Silver River — there are two options available. Hiking, kayaking, stand-up paddleboarding, camping, visiting the museum and restaurants is also a fantastic way to pass a day or a weekend.
Silver Glen
Found in the Ocala National Forest, Silver Glen boasts a very large swimming area (with lots of fish), kayak rentals, hiking, and picnic areas. This spring will lead you out to Lake George, and almost the entire way out to the lake is clear water. Boats can also come dock just outside the roped-off swimming area. This spring has a beach-type entrance and part of it is shallow water, which is great for the younger kids. Fun fact: Since you are in the Ocala forest, you may see signs of bears while hiking!
Alexander Springs
Not too far from Silver Glen is this beautiful first magnitude spring. First magnitude means it is one of the largest springs in the state and discharges at least 64.6 million gallons of water daily. Alexander Springs is very popular for scuba diving, and like Silver Glen, it boasts a large swimming area.
Weeki Wachee Springs
Yep, it's that Weeki Wachee! The one with the mermaid show — and it's now open after being closed during COVID. Not only can you see the show, but you can swim in Weeki Wachee Spring (there is a shallow area that is great for young children), enjoy the water slides that empty into the springs (known as Buccaneer Bay), paddleboard or kayak down the Weeki Wachee River, and enjoy picnic areas and food trucks and cafes. There's something for everyone!
Have you been to any of these gorgeous Florida springs? Which is your favorite? Should there be a different one on the list? Let us know in the comments below.