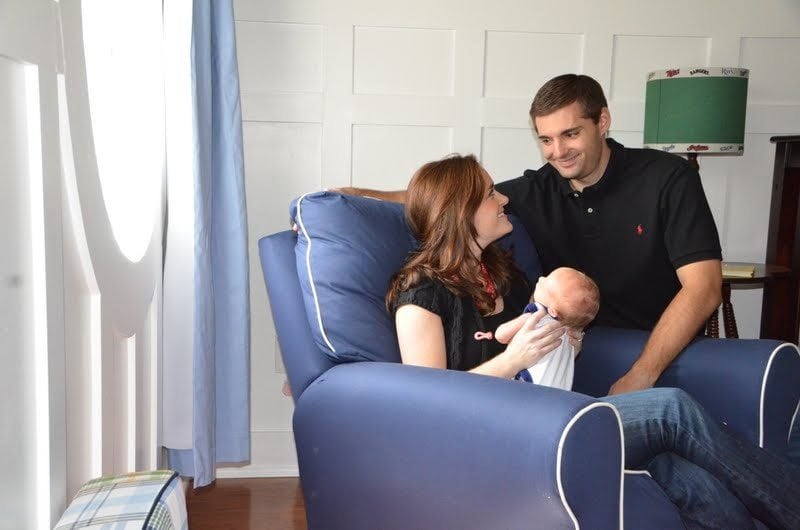 With the birth of our first baby, I loved registering for all of those sweet baby items you absolutely needed: a wipe warmer, a specially scented trash can for poop, and a glow-in-the-dark thermometer for nighttime temperature readings. Okay, I made up the last need, but you get it.
Turns out, I didn't actually end up needing many of the baby items that I thought were required for the job.
The one saving grace that someone gifted us with from our baby registry was our baby monitor. And admittedly, I used this. Regularly. I loved feeling close to our baby boys when I was actually all the way downstairs. I would fall asleep to their subtle breaths, and I would find it difficult to fall asleep when I was away from them without those sweet noises.
I loved to crank the volume buttons up from green to red and think to myself in the middle of the night after a pee, "Ahhh, yes, they are still breathing." I loved to hear the subtle snores and the loud BANG! drop of animals off the bed (while I rushed up to make sure it wasn't a human), and no, it was just Jags Dog that fell off the bed, again.
My heart feels full when this little mini-computer of love shows full green bars and clear reception for an overnight session of surveillance.
But I'm now facing one weird conundrum in motherhood that I didn't expect as our firstborn turns 6 years old… when does monitoring my "baby" become weird?
Our boys are now 3 and 5-and-a-half, and I admittedly still listen to the baby monitor every single night. I have never missed a night (while at home) of monitoring our boys. I'm not just laying there awake, waiting for them to make a sound, but I like the feeling of being close to them during the nighttime hours.
About a year ago, the sad day came when our monitor hit the hay. You would think that would have been a wonderful time to officially cut the cord, but then something happened: Our youngest son had a febrile seizure at night. And all of the confidence I had in thinking I was ready to be monitor-free disappeared in a flash. I still needed the monitor. Actually, I needed to buy another monitor!
And I still need the monitor a year later. When will I no longer need it? Well, when our boys are in college, I bet I will wish that I could still listen in on that monitor.