Jacksonville mom Chalonda Hill nervously listened to the news that her newborn son, Priest, would need to be admitted to the NICU at UF Health Jacksonville just minutes after delivery. Priest was Chalonda's first child born premature, and he needed extra care and observation for his first few weeks of life.
After delivery, Chalonda was producing more breast milk than her son needed — described as the equivalent of two big coolers of milk. Chalonda was on a regimen of pumping every three hours, but the more milk she collected, the more she wondered where it all would go. A neonatal nurse caring for Priest suggested milk donation. At first, Chalonda was skeptical, but after the nurse explained how simple the donation process would be, along with the benefits for other NICU babies, Chalonda decided to try it.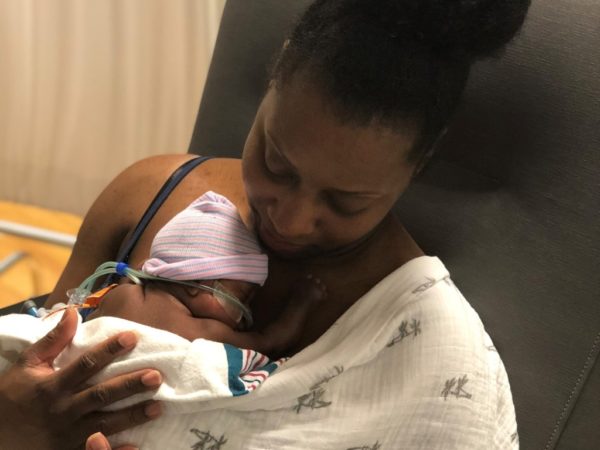 Since Priest was still in the NICU, she dropped off her donated breast milk every time she visited him. She felt good about donating, knowing little ones like her son were getting the nourishment they needed. She encourages other moms to consider donating, as the process is convenient and the milk is "perfectly OK" for other babies to ingest.
Other moms may have similar questions before they decide to donate. Anuta Ciurte, RN, lactation consultant with UF Health Jacksonville, helps answer some of the common questions about breast milk donations.
Why donate human milk?
"Human milk saves lives," says Ciurte. "Babies can digest it more easily and still get the nutrients they need, even while in critical condition." Necrotizing enterocolitis, or NEC, is the most common gastrointestinal disease in infants, especially those in the NICU. Human milk contains sufficient antibodies to fight off infection and lower NEC risk.
Where can breast milk be donated?
Mothers' Milk Bank of Florida started this initiative in Orlando, but the interest in donating has increased across the state. UF Health Jacksonville and UF Health North began accepting donations in January. Moms can drop off donations 24/7 and can even schedule curbside pickup. After that, UF Health Jacksonville and UF Health North take care of the rest.
Is the milk screened?
All donated milk is screened. UF Health Jacksonville and UF Health North ship all donations to Mothers' Milk Bank of Florida, which follows guidelines from the Human Milk Banking Association of North America to test and pasteurize. Each donor is required to complete medical history paperwork and blood tests. The donated breast milk is also tested for bacteria and nutrient levels, then pasteurized to kill any bacteria or viruses. UF Health Jacksonville and UF Health North purchase the donated breast milk to give to babies in the hospital.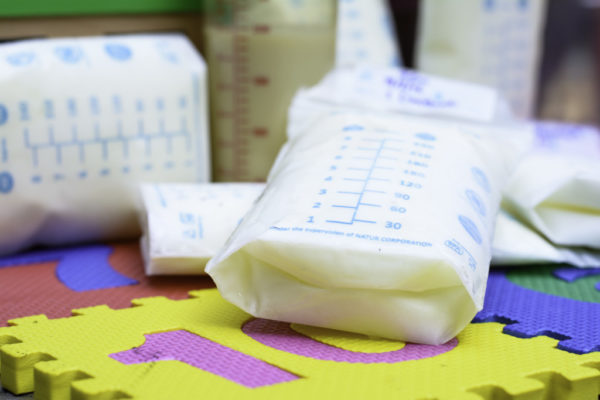 Which babies are eligible to receive donated breast milk?
Babies in need of donated breast milk must have a prescription based on their condition, including preterm birth, allergies, immunologic deficiencies or hypoglycemia. UF Health Jacksonville offers donated breast milk to all premature babies in the NICU, or babies born before 34 weeks. Babies born at full term are also eligible for donated milk to bridge the gap until their mother's milk comes in.
"The most exciting part about this program is that moms are donating to infants right in their community in Jacksonville, instead of being sent to another state," Ciurte said.
Why is there a need for donated breast milk?
Some mothers are unable to provide a sufficient amount of milk for their baby due to the following circumstances:
Mothers requiring medications that can be harmful to infants when passed through breast milk
Mothers who've had twins or triplets and physically cannot produce enough milk for multiples
Mothers who have chronic infections or conditions that prohibit breastfeeding
Mothers who have breast infections affecting milk production
Mothers who physically cannot produce enough milk
The staff at Mothers' Milk Bank of Florida and providers at UF Health Jacksonville and UF Health North are overwhelmed by the positive response and donation efforts from mothers in Northeast Florida and Southeast Georgia. Ciurte notes donor numbers are steadily growing and the program has helped to raise awareness about the milk donation process.
"The long-term goal is to have UF Health Jacksonville be a fully certified milk bank location," Ciurte says. "The multiple drop-off centers are so much more convenient for mothers."
Visit milkbankofflorida.org for more information about the milk donation and pasteurization process.
For questions about the UF Health Jacksonville drop-off location, call (904) 244-2223.
For questions about the UF Health North drop-off location, call (904) 427-6455.