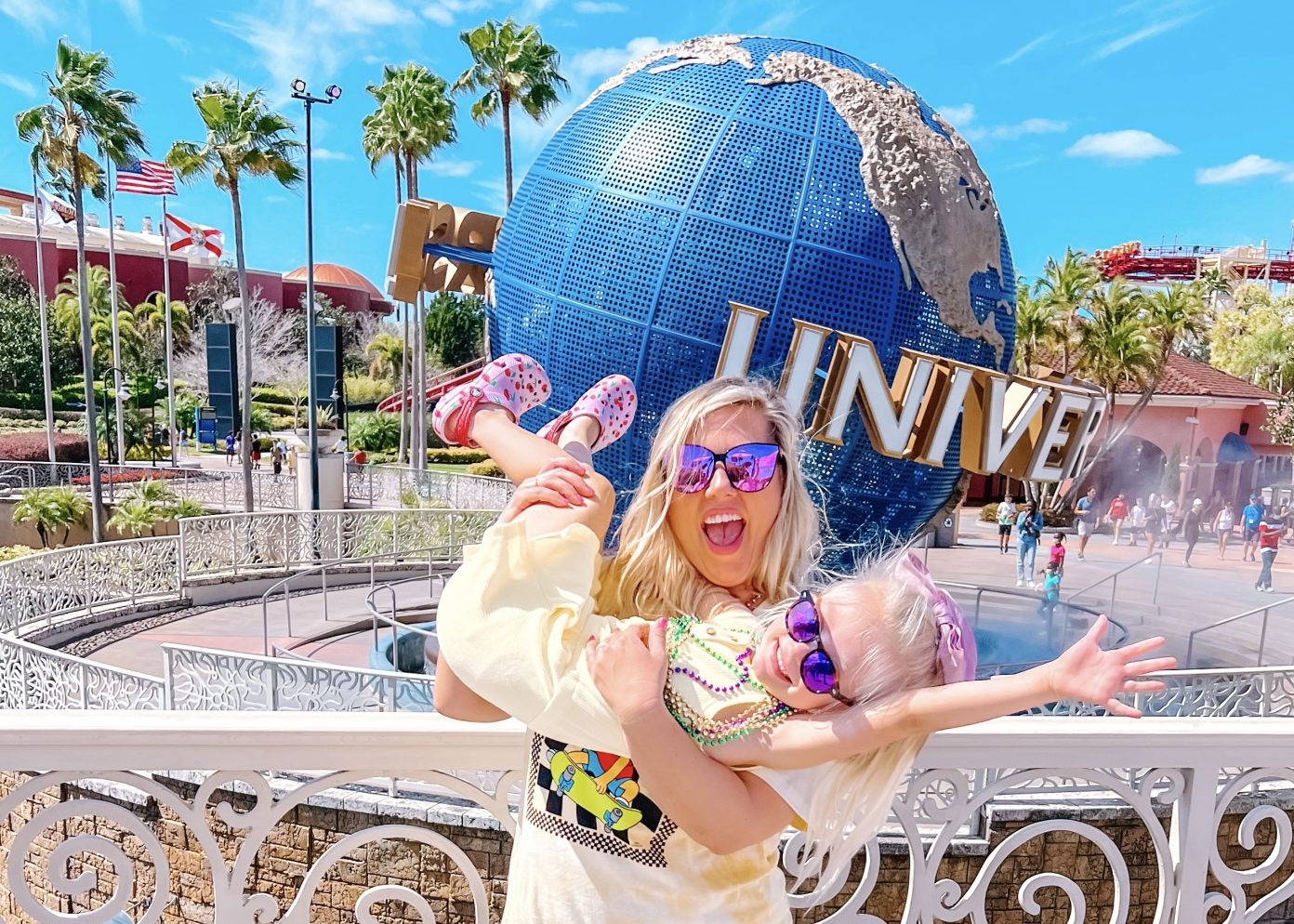 Call us brave, call us crazy, or call us your guinea pigs… we visited Universal Orlando with a preschooler and an infant. Multiple times. And we survived! Dare I even say it was easy AND we had fun? Okay, fine, "easy" may be a stretch, but it wasn't nearly as bad as it could have been (thanks to suggestions from Insta-friends and fellow-crazy parents). Preparation and knowledge are key, and I'm here to lay 'em on ya!
My husband thought it would be fun to do a weekend in Orlando for my birthday back in March. Pre-pandemic, we were Disney Annual Passholders and have been counting down the days until we could visit the parks again, but the annual passes we wanted weren't available at that time so we decided to give Universal Orlando a go. We hadn't been since before our oldest (5) was born, and we thought she would also enjoy Universal Studios and Islands of Adventure (because she is obsessed with dinosaurs and Jurassic Park). So we did what any sane parents would do: purchased annual passes for the three of us, loaded up the double stroller, packed an obnoxious amount of things in the diaper bag, and sought out for a weekend of fun with our 5-year-old and 2.5-month-old.
We've been several times since March and it gets easier every time (for now… I'll report back when the baby becomes mobile). SO! If you're planning or considering a visit to Universal Orlando, here are a few tips I'd highly recommend. A park bag packing list is below, too!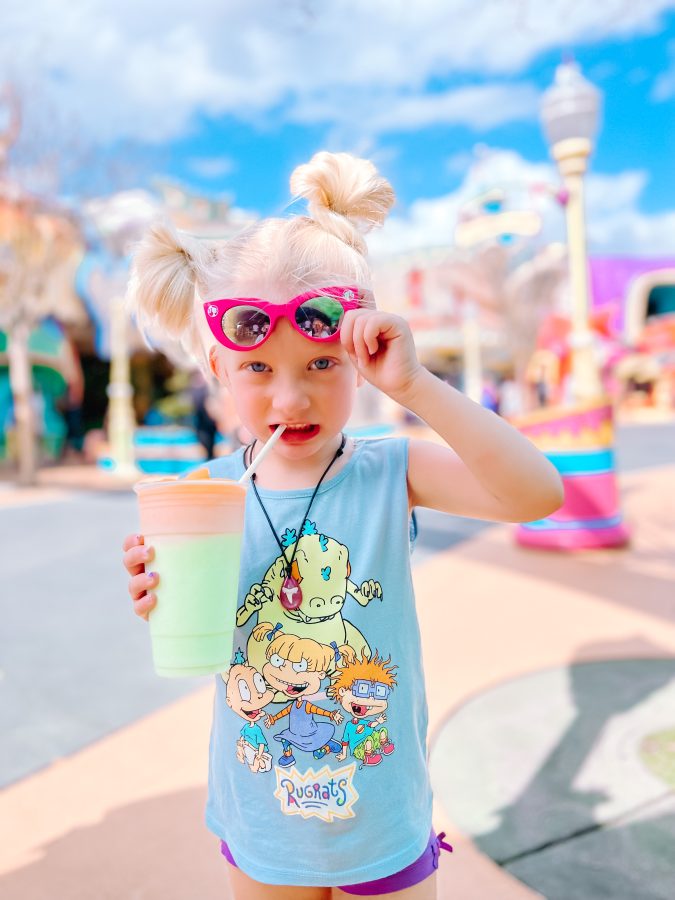 Universal Orlando Tips From Mama B (That's Me!)
Note that these are things that worked for us, so try what you think will work best for your family and children.
First and foremost, be prepared to not get to do too much. I know, you're spending all this money and want to pack in as much as possible, but trust me. If you go in with a must-see, must-do list, you're going to be disappointed because it won't happen (especially if you're only there for a day). Just relax, embrace it, and have fun with what you can do.
With that said, if you know there's one particular ride or world you want to visit, make that your first priority once you enter the park. This way you get to do your no. 1, and the rest after that is just fun.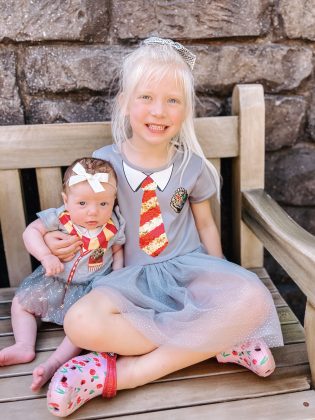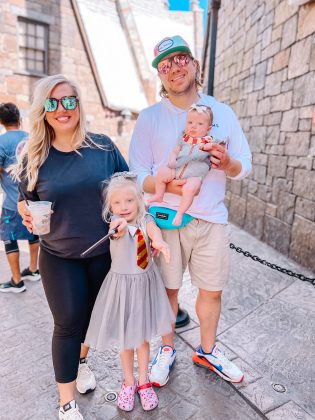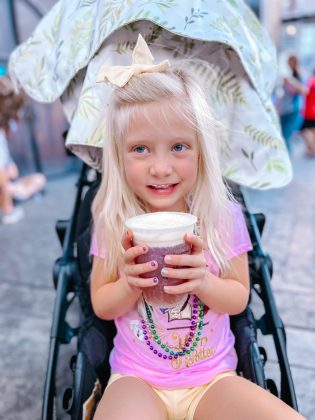 Go with the mindset that you're going for the kids, not for you. Let them have fun and revel in their excitement with them. Once you can do this, your day becomes so much more light and exciting.
Let them be excited. It's going to get frustrating (trust), because they'll want to stop at everything, see everything, ride everything, and buy everything, and you'll just want to get to the next thing. But try to enjoy the excitement through their eyes! It truly is so much more amazing.
Take advantage of Child Swap so both parents can ride. This is a GAME CHANGER. Most rides offer it, but you can check to see if so on the map, on the Universal Orlando app, or ask an attendant at the ride's entrance to make sure. Basically, upon entering the line you'll let the staff member know you're doing child swap. They'll hand you a slip that you'll pass off to another staff member further in line, who will provide the next steps. Once it's your turn to ride, the parent riding first (and any children who are able to ride) will go, while the other parent waits in a designated room or area with the baby or younger kid(s). Once the first parent is finished riding, they'll allow you to switch off. Additional perks:

 Most Child Swap areas have private rooms with seats and AC. It was so nice to be able to give my feet a rest, cool off in the air, and nurse the baby or change her diaper (most have changing tables) without having to fight the restroom crowds or find a bench in the park.
They'll allow the older kid(s) to ride with both parents, so they'll get to ride back-to-back!

Take a [double] stroller. Several moms suggested wearing the baby in a carrier, but I was afraid we'd both get too hot so we kept her in her car seat and pushed a stroller. I'm glad we did! We were able to store our things in the stroller, the oldest could ride when her little legs got tired of walking, and the baby had somewhere to sleep.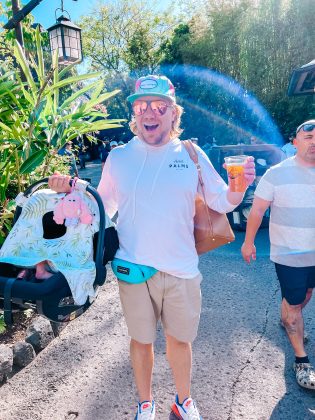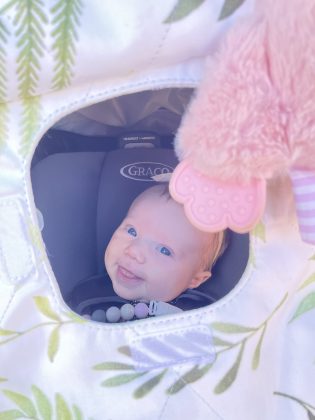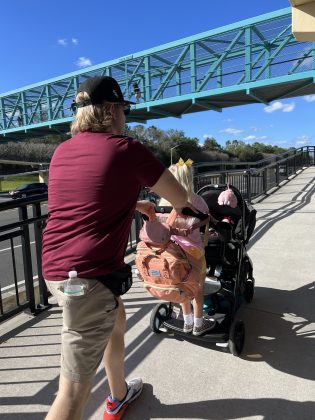 If the baby is young enough, carry her in her car seat when going on a ride. She'll be able to sleep, you can put her down when you're stopped in line waiting, and it makes hand-off easy when you reach Child Swap. (And you don't have to worry about waking them up when you park the stroller.)
Take (or wear) a swimsuit and/or a complete change of clothes (especially for the kids). You can get pretty wet (even soaked) on a few of the rides, and walking around in soggy sneakers is no fun for anyone. Flip flops are great to throw in the diaper bag if you're not planning on wearing them the whole time.
Download the Universal Orlando app. Not only will you have a map of both parks at your fingertips, but you're also able to check wait times, see if the ride is currently open, check if the ride offers child swap, see which rides accept Express Passes, order food in advance and more.
Go all-in with the Premier Pass if your budget allows. It's the priciest ticket option, but if you plan to go fairly often and can swing it, it's worth it. In addition to no blackout dates, you get Universal Express (Express Passes) after 4 p.m., early park admission, and (this is a game-changer) free valet and prime self-parking. Valet = no searching for a parking spot, hiking a mile from the lot to the park, AND you get to go through a private security checkpoint with little to no line.
Wear a fanny pack or small cross-body purse to keep your valuables in (money, credit cards, phone, sunglasses, etc.) and keep everything else in a diaper bag or under the stroller. This way when you park your stroller to go on a ride, you can leave everything in it and have your valuables with you on your person. (This is the one that I use and love it.)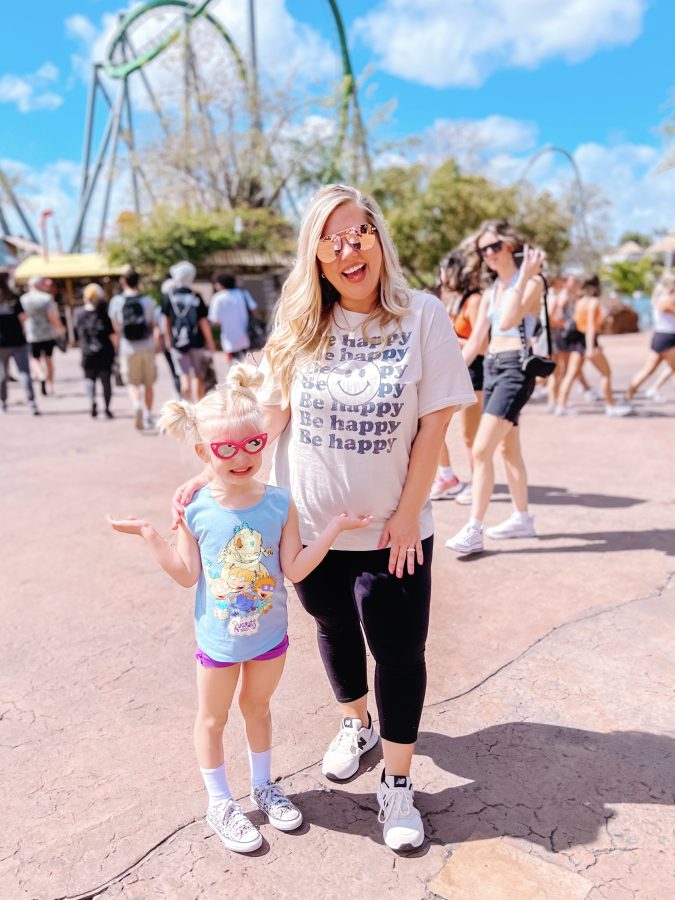 Don't forget to feed the baby (likely more frequently if it's a hot day). It's easy to get caught up in the fun and the rushing to the next ride, especially if baby is sleeping. Take time to sit and feed him/her to keep hydrated and fed. I always encourage my husband to take our oldest on a nearby ride while I sit and nurse the baby. Gives her something to do to keep her from being bored or irritated, and allows me a little break, too.
Best advice I got: Lower your expectations. When you're traveling with kids, you just never know what can happen. Tantrums, scared of rides, too hot, tired, don't want to walk… you know the drill. If you go in with low expectations and are just ready to roll with it, it can only go up from there!
Other tips: Take snacks, water, a portable fan, and a portable charging bank from your phone to make the day a little easier.
OH! And Jurassic World has the best beer! I mean it. The Isla Nublar IPA is so good and you can only get it there. Cheers!
What to Pack
As for what to bring to the park, these are items I have in my bag or stroller every single time and actually use. Park bag packing list:
Car seat cover to keep baby cool and out of the sun
Sunscreen (for adults and kids)
Portable charging bank and phone charger
Portable fan (I like to clip one onto the stroller or car seat for baby)
Snacks and [lots of] water
The diaper bag essentials
Extra baby essentials (change of clothes, pacifiers, etc.)
Comfy shoes
Swimsuit or change of clothes
Band-aids (for blisters or any minor boo-boos)
A small bag to keep everything contained in the bottom of the stroller (helps when going through security and leaving it unattended when on a ride)
Hair ties
Hand sanitizer and/or anti-bacterial wipes
A good attitude!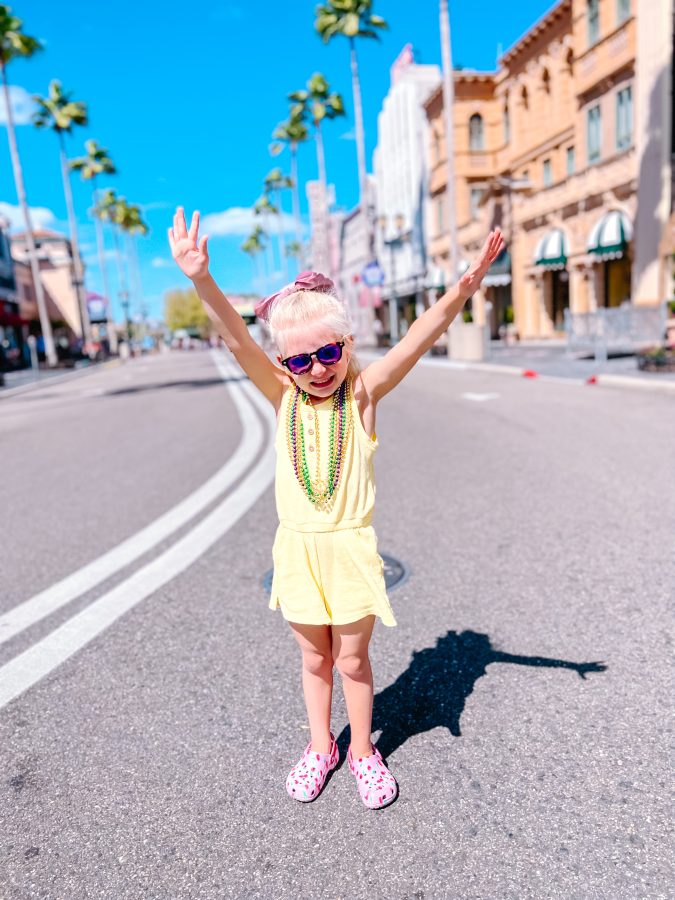 I hope this helps! It's always ballsy (can I say that?) taking the kids out in public, especially if a baby is involved and especially to a busy theme park, but it can be done and it can be fun. Besides, the earlier the kids are exposed the sooner they'll learn the ropes, which will only help everyone in the long run.
If you have a helpful tip that I didn't mention, drop it in the comments to help out other mamas. Have so much fun, and perhaps I'll see you there!