In February 2008, my twins had just turned two years old. As a stay-at-home mom, preschool had not even yet crossed my mind. We were in a good place. The kids would play all morning and seemed to nap endlessly in the afternoon. It wasn't until early that summer, I began to realize my need for a break, and so I began my search for a preschool. I very quickly found out that all the schools I loved had WAITING LISTS! WHAT?
Yep, all the parents that knew to register in February got the spots…probably one of the craziest parenthood lessons up until that point. So much so that I made a point to let as many other moms as possible know the scoop! And here I am again letting all you Jacksonville moms know, it begins NOW!
Registering for Preschool and VPK
Most of the preschools I am comfortable with all have registrations starting at the end of January or beginning of February (some have already opened enrollment). I have a relatively large list of preschools that I am OK with. Really I think most of the preschools close to me are great, and I could see my kids going to any of them. In the end, there is a perfect school for my kid; it just depends on what our priorities are.
What, as a mom, is important to me? Where do these priorities rank? I think my main goal initially was to find a place where my children were getting socialization (as opposed to staying at home with a sitter). I just needed a safe, happy environment for my kids to be around other kids while I got a break. My priorities NOW involve preparing the kids for Kindergarten in a nurturing environment –  it is important to find a preschool that will help your child gain the skills needed to be successful in Kindergarten!
What Are They Learning
Academics – How will your child gain the knowledge that will have him ready for Kindergarten? There are many different methods to teach children basic colors, letters, and other academic knowledge.
Social Skills – Will your child learn to play well with other children, follow directions, and take turns?
Communication Skills – Listening and speaking are important skills for learning to read.
Independence – What basic skills will your child be able to complete by herself? Zipping her coat, tying her shoes, dressing herself?
Other Factors that are Important to Me
Schedule – How many days a week do you want your child in school? Half days or full days? One of the schools I liked required my children to attend four days. I was just not ready for that when they were two years old. Recently I have learned of some VPK programs that are two full days instead of five mornings, a nice option for some. Also, the time of drop-off and pickup can differ at schools and some just work better logistically for certain families. For example, a 9 A.M. start is pushing it for some families so a 7:45 A.M. start might not be a good idea!
Cost – As a single income family with tuition to pay for multiple kids, we needed a program that was reasonably priced.
Proximity to Home – By the time VPK rolls around, how far do I really want to drive every day? Some schools are worth it to drive the extra mile or the extra fifteen miles.
Full-Time/Part-Time, Wrap Around Care – It is important to me to have a flexible, wrap-around care option. I have taken advantage of drop-in care on occasion to go on field trips, attend early doctor appointments, have a late lunch, and to volunteer in the community past the hours my children are in school. Working parents obviously would need wrap-around care. Some schools end wrap-around care at 3 P.M. or simply do not offer it.
Security – Make sure you are comfortable with the way the school handles pick-up, door locking, etc. Some schools have higher technology video surveillance or strict visitation policies. It is important that you as a parent feel safe and that your child feels safe in his learning environment.
Free VPK – Even though my two-year-old is not eligible for VPK now, will there be a program available when she is ready? If you are putting your child in a program now that does not offer free VPK, would you be able to pay tuition for that year or would you consider switching programs to get free VPK?  We do not have it factored into our budget to pay for the VPK year!
Other Random Things I Did Not Realize Would Matter – Does the school have a one-year-old program when my infant will be ready next year? How does the school handle food allergies? Does the Potty Training Policy work for me? Are there scholarships available? Do we have friends there to arrange a carpool? Can I walk my child into the classroom?
What You Should Do:
Attend an informational session. Listing of VPK providers by Zip (Remember there are many great schools that do not offer VPK! Be sure to check out our Guide to Schools).
Tour the school yourself (during school hours to see teachers interacting with students).
Talk to other parents.
TRUST YOUR GUT!
Don't stress – The year that my twins were on waiting lists, we ended up getting into a wonderful school!
VPK Info for Duval County – There is a single point of entry for registration for everyone in the state of Florida. You scan and submit documents, complete the application, and once everything is reviewed, you receive the certificate by email. Even if you pop into an Early Learning Coalition office, they direct you to a computer where you can generate your VPK certificate online! You will need:
Proof of residency
Proof of child's age
Your child's SSN
VPK Info for St. Johns, Putnam, Nassau, Baker, Bradford, and Clay Counties
**Note:  Your child is eligible for VPK even if the provider is not in the same county where you reside!
And Then Comes Kindergarten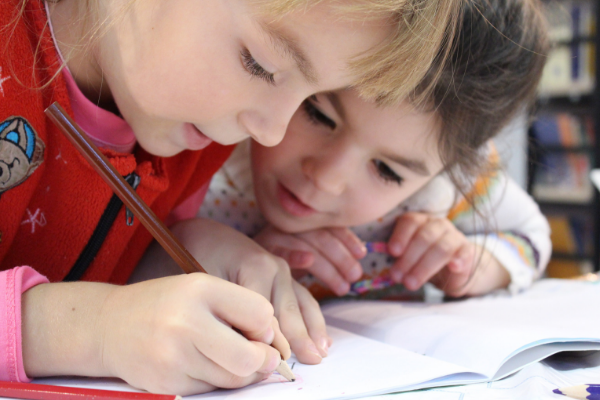 After preschool, we then have to decide where we want our children to go for Kindergarten (unless you are redshirting like Jessica did)! Public school, private or homeschooling? My kids are in public school, so as a bonus I am listing pertinent information for registering your children!
Similar to preschool most schools offer informational sessions and tours in January and February, and most schools will allow you to schedule a time to visit if you miss their open sessions. I personally suggest allowing your future Kindergartner to come along, too. It may be difficult to keep him in line, but it will help make him feel more comfortable when school begins in the Fall! To register you will need:
A birth certificate or valid evidence of date of birth
A Florida certification of immunization or exemption
A physical examination (physical must be no more than 12 months old at the time of the student's enrollment)
Proof of residence
To find your school:
Plugin your address and your school pops up. You can register directly at the school you are zoned for and online or by mail for magnet and choice schools. Please note that charter schools have different applications and deadlines. If you are looking for Early Education Centers and private schools, check out Jacksonville Mom's Guide to Child Care, Preschools, & Schools in Jacksonville.
Duval County Magnet Application– Due February 29!
St. Johns County School Finder
Technically there is not a deadline to register, but it will be easier for the administration to register prior to class placement. At our school, this happens in July! Another tip: extended day programs fill up fast, especially for Kindergarten, so try to secure spots as soon as possible.