They (whoever they are) say that breakfast is the most important meal of the day. What is failed to be mentioned is, that brunch is. (Go ahead and try to change my mind.) People who brunch are my favorite kind of people. It's a no rules situation of what you can put on your plate, or in your glass situation. Want some eggs benedict with a beer on the side? Do it. Bottomless mimosas while your kids eat Nutella pancakes the size of their face? Sign me up. Jacksonville has been BOOMING lately with great restaurants and the expanding list of places that offer brunch. We have UPDATED this list for all of you to get your own "Brunch Bucket List" started. Thanks to our OG contributor Cheryl Leddy, who began our hopes and dreams of such a list… I got the chance to expand it (as well as my waistline.) Take a look below and be sure to let us know your favorites.
Beaches/Intracoastal
Another Broken Egg: A great spot for southern-inspired brunch and lunch! With one of a kind menu items like the lobster and brie omelet and amazing pancakes like the lemon blueberry goat cheese pancakes (you can also get a pancake flight and try a few flavors at once!), we are SOLD on this gem located on 3rd Street in Jax Beach.
Beach Diner: With five locations in Jacksonville and Fernandina Beach, Beach Diner has been serving breakfast and lunch for many years. They have an extensive menu, but the best part is, you can enjoy breakfast all day long! Many locations also offer delicious Reina Cookies for a special treat afterward–the most amazing cookie ever. They are open daily 6:00 am – 2:30 pm.
Cantina Louie: Now with various locations (Atlantic Beach, Southside, and Nocatee are just a few), Cantina Louie does not disappoint. Boasting authentic, affordable Mexican street food, you definitely want to add this to your brunch bucket list. Sunday brunch includes homemade tamales (available only while they last!), and the must-try Breakfast Torta. The kids will love it here! Sunday brunch from 10:00 am – 2:00pm.
Casa Marina: Located right on Jacksonville Beach, this beautiful hotel has a delicious Sunday brunch with incredible ocean views. However, the best part might be the unlimited poinsettias and mimosas included in the price of brunch! Brunch is served 10:00 am- 2:00 pm on Sundays.
Cinotti's Bakery: Located in Jacksonville Beach, Cinotti's Bakery has delicious doughnuts, pastries, and breakfast sandwiches (lunch too). But what they are famous for are their amazing, seasonal pumpkin doughnuts which come out towards the end of September. If you live in Jacksonville or the surrounding areas, do yourself a favor and try one of these at least once in your life! They open early, at 6:00 am, Tuesday through Saturday.
Culhane's Irish Pub: Aside from being an awesome Irish pub, this place serves a mean brunch with great drink specials ($5 Bloody Mary's & $6 Mimosas!). Some favorites include MJ's Biscuits N' Gravy and Kearney's Corned Beef Hash. Be sure to check out the special Kid's Brunch Menu too! Located in Atlantic Beach and Tinseltown. Saturday & Sunday 9 am  – 2  pm.
Jax Beach Brunch Haus: A staple down in Jax Beach for brunch, but a great option nonetheless! It has great options for vegetarians and vegans so you are sure to find something you can "Sunday Funday" with. Open 7 days a week 7am-2:30pm.
Metro Diner: Metro Diner has been a staple in our household forever. The original location in San Marco has grown to now nine, soon to be 10 locations in Northeast and Central Florida. Known for their Chicken and Waffles, Guy Fieri of Diners, Drive-Ins, and Dives gives it his seal of approval! Breakfast starts at 6:30 am.
North Beach Bistro: One of Atlantic Beach's hidden gems, this bistro packs a mighty punch! Bottomless Mimosas $12 with any lunch or breakfast item on Sunday from 11am-3pm.
TacoLu: Located in Jacksonville Beach, TacoLu is famous for its tasty tacos! If you haven't known me around these parts, tacos and are the BEST of friends. Tacos for breakfast are basically my love language. TacoLu, if you need a mom who can also be your brand ambassador, I'm available. Not only can I eat Huevos Rancheros, but I can also acceptably drink a margarita before noon. They serve brunch both Saturday and Sunday starting at 10am.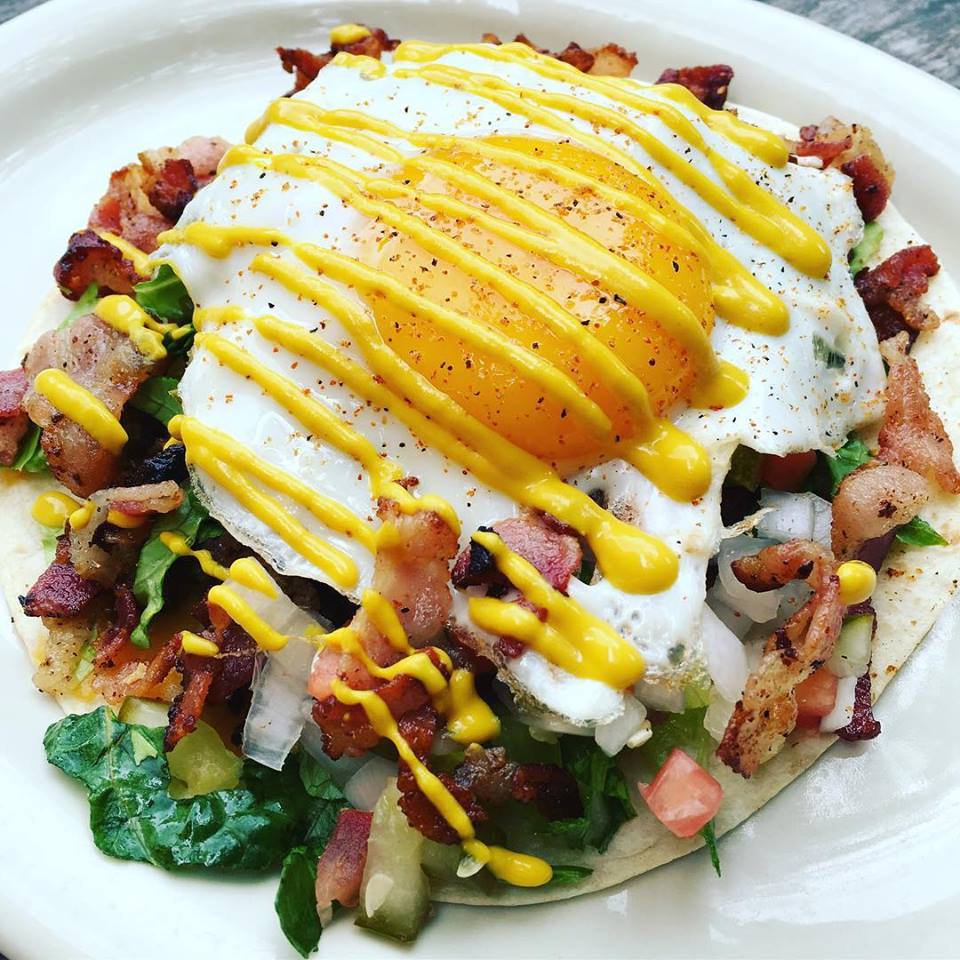 Trasca & Co Eatery: Voted Best New Restaurant in 2015, this is Italian eatery in Ponte Vedra has some amazing pizza, sandwiches, craft beer, and coffee. And guess what else? Brunch! A very family-friendly place with breakfast Panino's that are delish! Served Saturday and Sunday from 10:00 am – 2:00 pm.
Southern Grounds & Co: Located in Neptune Beach, this coffee shop livens up the Courtyard at the Beaches Town Center. When the weather is perfect this is a favorite spot for breakfast favorites like homemade oatmeal and the grits bowl with a poached egg. The kids will love the Fluffernutter and Nanna sandwich! You can usually find one of our contributors here at all times. Open daily at 6:30 am.
Whiskey Jax (Beaches): Located in Jax Beach, this lively restaurant offers Sunday brunch in addition to their popular Vegan Night (on Tuesdays). Definitely try the avocado fries! Brunch is served from 11am-2pm on Saturdays and 10am-2pm on Sunday.
Downtown/Riverside/San Marco
Black Sheep: Located in historic Five Points in Riverside, Black Sheep uses fresh, local ingredients to create fabulous dishes. Enjoy views of Riverside, Downtown, and the St. Johns River while eating at their rooftop bar. Black Sheep is perfect for an adult morning out, pregame brunch, or with the whole family. Recently updated menus that are sure to please. Brunch begins at 9:30 Saturdays and Sundays.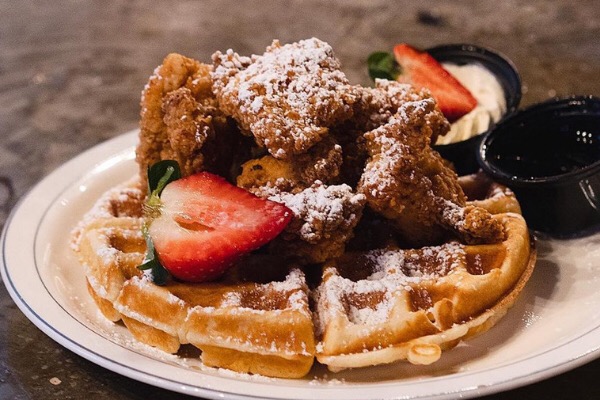 Blue Fish Restaurant and Oyster Bar: Local seafood, an option to jump into a buffet or order off the menu, and some delicious drinks are all served up here! Blue Fish gives options, including that they serve brunch on both Saturday and Sunday from 10:30am-2:30pm.
Brick Restaurant: With SEVEN different types of benedicts to choose from, among a variety of other delicious options, Brick offers brunch both Saturday and Sunday. There is also a delicious drink called a "Champagne Mojito", that you won't be disappointed in ordering. Serving brunch from 10am-3pm.
Cool Moose Cafe: Cool Moose Cafe is a neighborhood restaurant that serves a fantastic menu. Located in the Kings Street area of Riverside, this restaurant has a laid-backNew England charm that makes it "cooler" than most. This is a great restaurant to go with the family or catch up with some friends. Closed on Mondays, they begin serving breakfast at 7:00 am Tuesday through Friday and 8:00 am on Saturdays and Sundays.
Community Loaves: From a delivery bakery to one of the best spots to brunch in town, this is a Murray Hill gem! Seasonal breakfast and lunch menu served daily until 5pm on weekdays and 2pm on weekends. Brunch specials every weekend.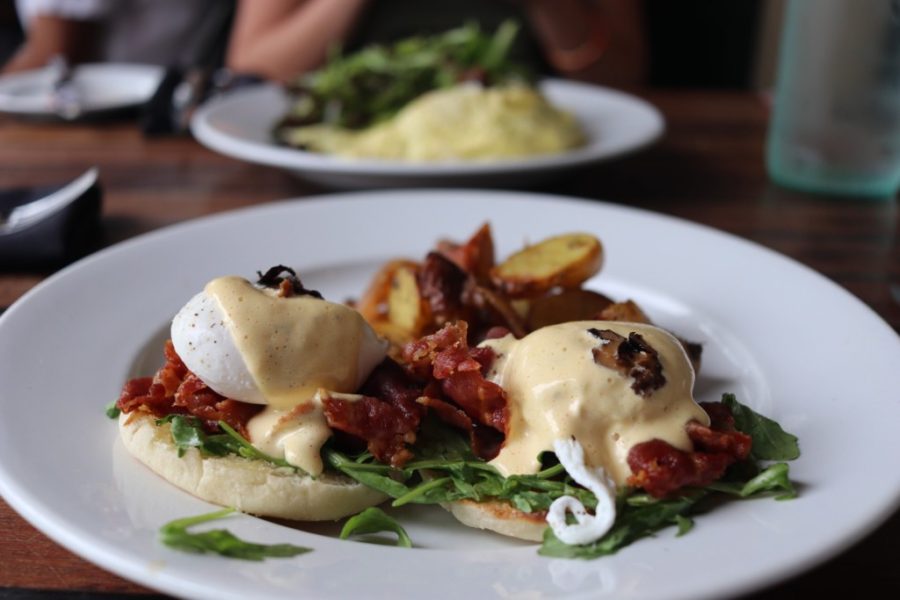 Orsay: This Avondale gem is a favorite among brunching locals in Jacksonville, with or without kids. Without kids, it is easier to enjoy a delicious cocktail (duh!) and the fresh, lite, killer omelets. You can't go there without eating the Wild Local Shrimp and Anson Mills Grits. They are so amazing that my mouth is watering just thinking about them. Brunch begins at 11:00 am on Saturdays and Sundays. Believe me, it is worth the later start.
Rue Saint Marc: Does Sunday seem too long to wait for brunch? I feel that in my soul. Rue Saint-Marc does Saturday brunch to make your dreams come true. Start out with a French 75 to drink and move right to the Croque Monsieur, fancy French food without being pretentious, and it's TOTALLY focused on the delicious.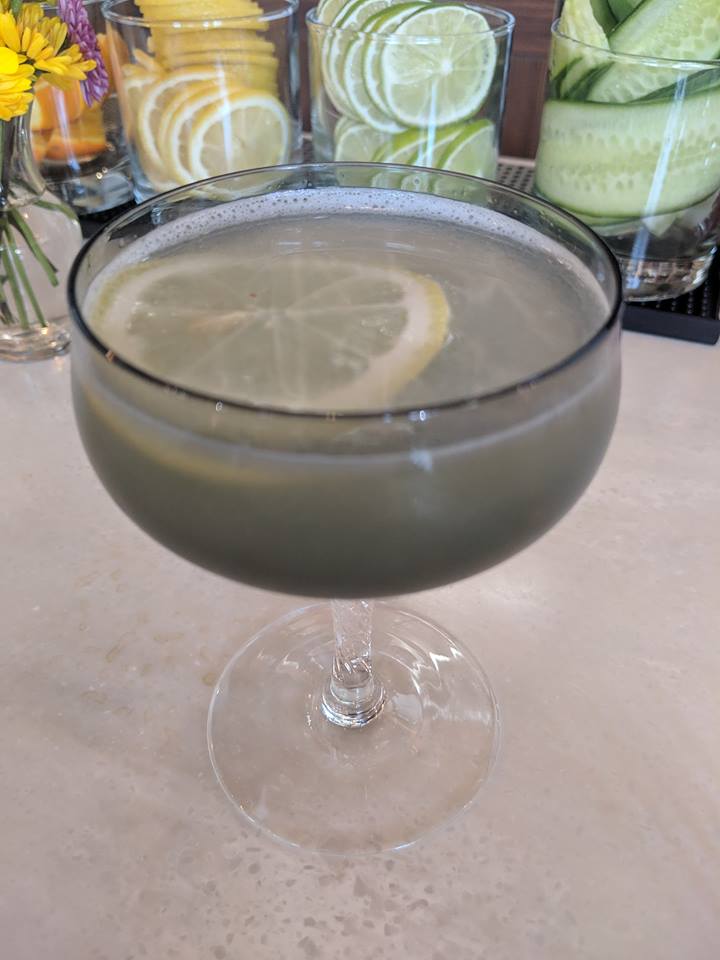 Taverna: Located in quaint San Marco, Taverna has a delicious brunch that is for adults and kids alike. You cannot go here, though, without trying the Lemon-Ricotta Pancakes–AMAZEBALLS. So good, no syrup is needed, but encouraged. Brunch is served Saturday and Sunday beginning at 10:00 am.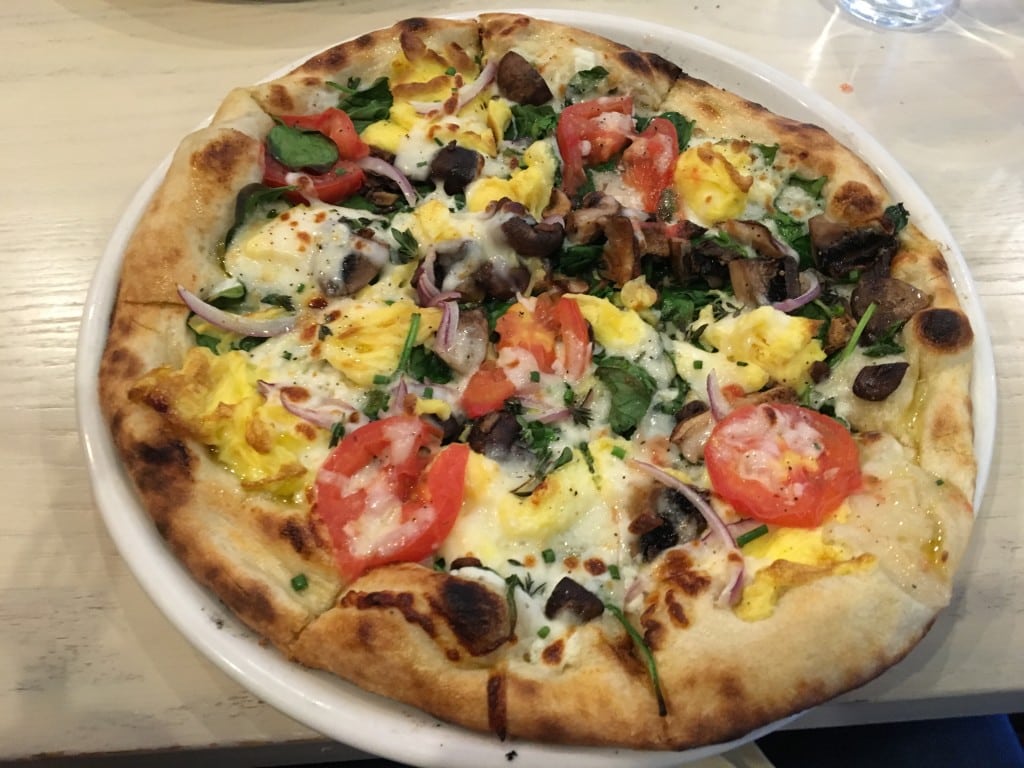 Town Hall: With a Sidewalk Sipper, and shrimp & pimento cheese grits on their menu, it's amazing if you haven't had the chance to check out this new(ish) spot in San Marco. Avocado toast fanatics, rejoice! They've got you covered there. The atmosphere is calming, clean-lined and it'll make you want to re-do your own house.  This place is a great go-to for a date night spot, (note to self, find a date) but, even better for a brunch one. They serve it up on Sundays from 10am-2:30pm.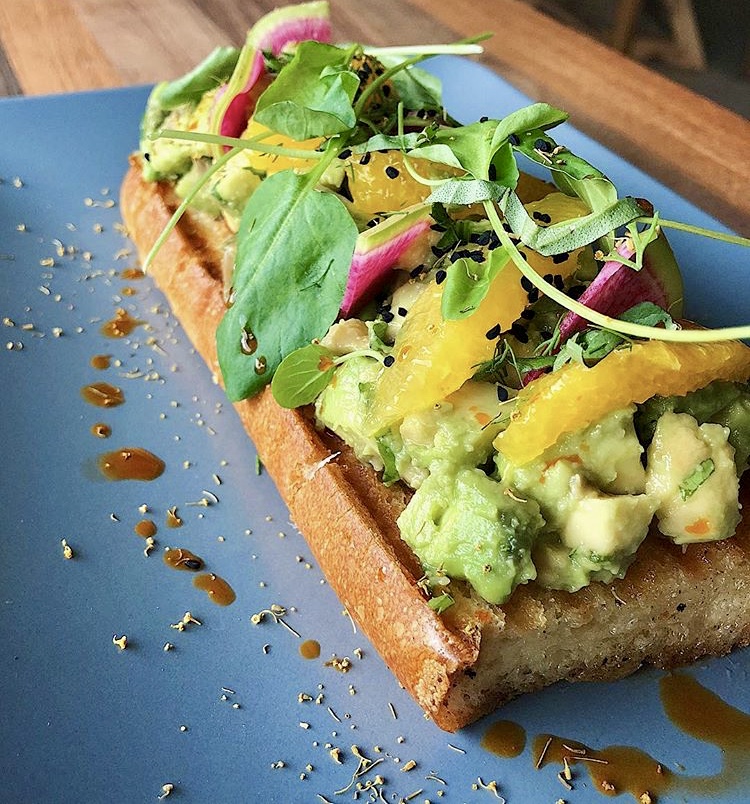 Uptown Kitchen and Bar: Located in historic Springfield, and depending on your location it's worth the drive on the weekends because it is that good. Their breakfast menu is full of fresh ingredients. They also have an amazing biscuit selection (hello, Surf & Turf Biscuit with Cajun shrimp, sausage gravy, fried egg) and their amazing Ciabatta Pimento Cheese Egg Sandwich. You cannot go wrong at this establishment. Breakfast starts at 7:00 am Monday through Friday and at 8:00 am on the weekend days.
Village Bread: Village Bread has three different locations around Jacksonville. This is a great breakfast (and lunch) restaurant that is ideal for children as it is pretty quick as well as tasty. Hours vary depending on the location, with most spots opening by 8:00 am.
Wicked Barley Brewing Company: One of Jacksonville Mom's favorite spot to bring the whole family. Check out our full review here. A gorgeous outdoor patio is a great place for brunch. On Sundays from 11am-2pm., enjoy $12 bottomless mead or cider "mosas" with the purchase of an entree!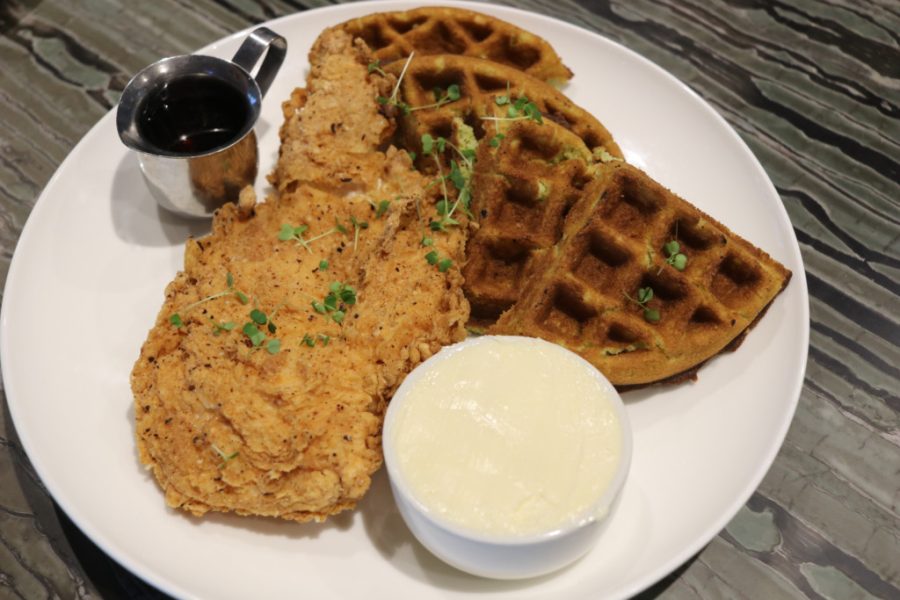 Orange Park/Clay
Grumpy's Restaurant: Rated "Best Breakfast 2018" by News4Jax, this hot spot in Orange Park has been doing breakfast right since 2001. Most of the meals come in under the $10 mark which means you can take the whole family out without breaking the bank. Lots of the classic breakfast foods and some great combo's to ensure you get all your desires met.
Just-A-Pinch Cafe: Want southern comfort food with, wait for it… "just a pinch" of Hawaiian? This is the place for you. The menu is oh so familiar but with amazing additions, you are hard-pressed to find elsewhere. Pineapple Upside Down Pancakes, Teriyaki glazed meats and yes they have Spam. This place is fun, funky and delicious! Open 8am-3pm Tuesday-Sunday.
Spring Park Coffee: If you happen upon this little gem in Green Cove Springs, you will not be disappointed. Serving up in house brews of Brass Tacks Coffee Roasters, and made in house biscuit sandwiches, it's a true gem. Be sure to follow them on social media, as they do a "name of the day" for free coffee.  Open Daily.
The Urban Bean Coffeehouse Cafe: Sometimes you just want the local coffee house feel, but with GREAT food to pair with it. The Urban Bean serves everything from a breakfast flatbread to what they affectionately call Oat Pots, and they all go great with their in house specialty drinks. The drink list goes above and beyond just coffee, be sure to check out their sparkling refreshers too!
Wicked Batter: Three Words: Apple Cider Donuts. Do you need more motivation to head over to this place? There's also cinnamon buns that sell out FAST! With a solid selection of bakery items to choose as well as breakfast and lunch, Wicked Batter is open daily from 8am-6pm.
Ponte Vedra/Nocatee
Barbara Jean's Restaurant and Bar: One of the few waterfront restaurants in Jax (Ponte Vedra), Barbara Jean's is known for their coastal southern cuisine. Located in Ponte Vedra Beach and offering picturesque views of the Intracoastal Waterway, it is a local's favorite for a sunset dinner, brunch, cocktails on the back deck, or a relaxing lunch with waterfront views. A great spot for the kids as well!
3Palms Grille: Any place that has a Lobster flatbread paired with $3 Mimosas's is my kind of spot! With a wide array of delicious items to choose from, a kid-specific menu and a personal favorite of the Fried Egg BLT (it comes on a homemade biscuit). The location is gorgeous and a nice spot to bring out-of-towners.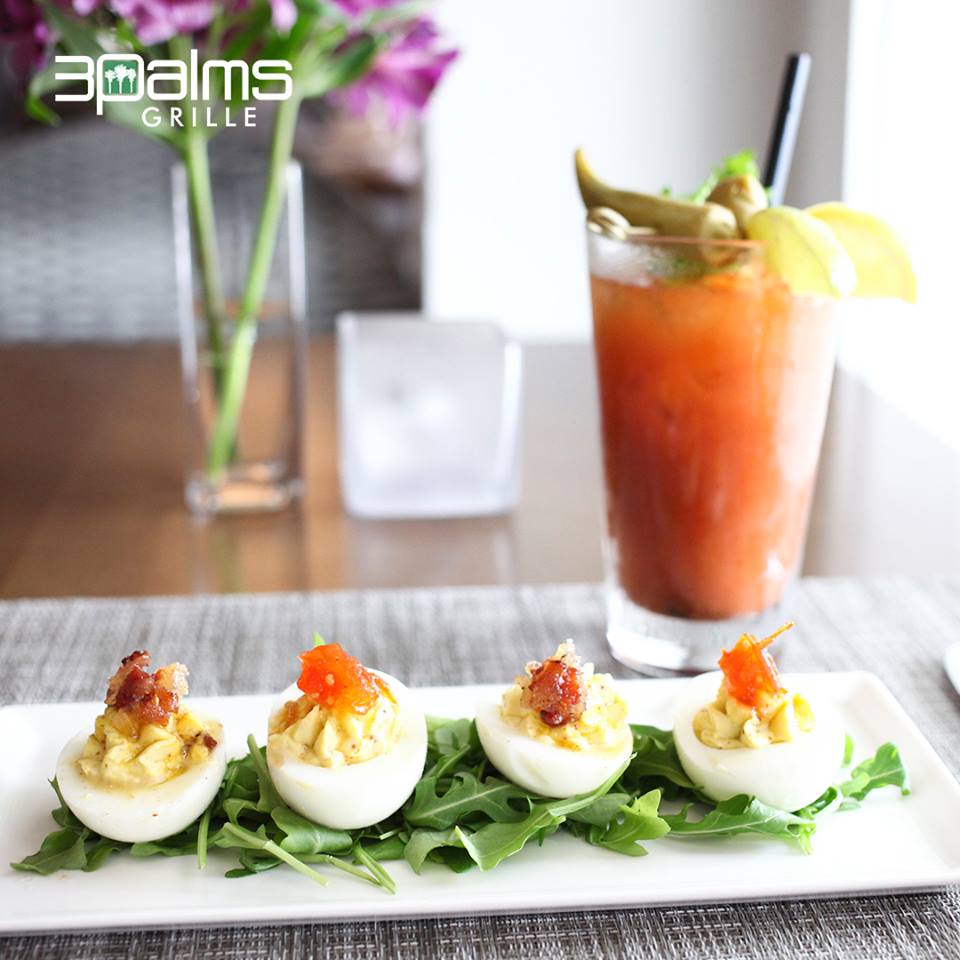 Nona Blue Modern Tavern: With no meal going over a $17 price, Nona Blue serves up some classic brunch fare. The Belgian waffle is hard to beat, because who doesn't love a waffle? Especially one from Belgium. An easy to get to location right in heart of Ponte Vedra, with excellent shopping right nearby. This makes it a great go-to Sunday brunch spot. Serving from 10am-3pm on Sundays only.
South Kitchen & Spirits: With now two locations, the newest being in Nocatee, South is KILLING the game in southern comfort food with a flare! From the moment the Bourbon Butter Glazed Biscuits hit your mouth, to the Cuban Eggs Benedict, just thank me by inviting me with you.
Valley Smoke: What if I told you there was a place you can take your boat to (if you don't have a boat pretend you do) and eat beignets that come with a coffee caramel sauce? This place exists, and you will LOVE the atmosphere that Valley Smoke has. It is truly amazing for people of all ages, and tastes. Brisket Hash and Eggs is sure to get you out of bed and ready to take on the week, and the pricing of their menu is such a great value! Open for brunch Saturday and Sunday 11am-3pm.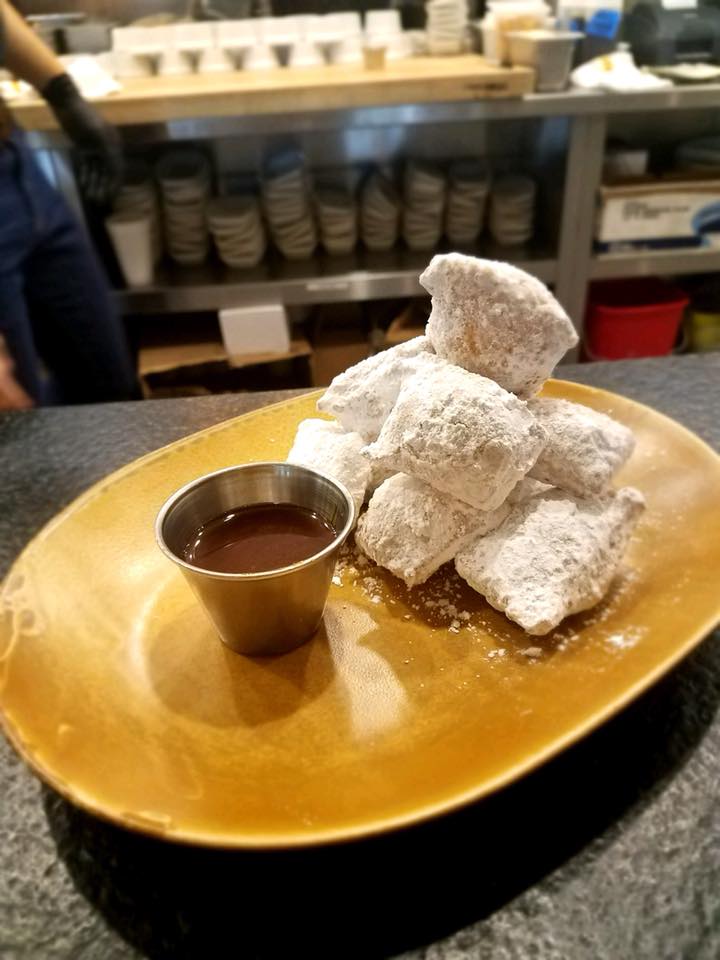 Vernon's at Sawgrass: Located inside the Sawgrass Marriott Resort in Ponte Vedra, expect the BEST Farm to Table Brunch at Vernon's. With a rotating theme every Sunday, the whole family will enjoy an extensive brunch buffet. Vernon's is definitely on the fancier end, but with a "Kid's Zone" buffet and activities, it is perfect for the whole family.  Sunday Brunch 11am – 2pm
Southside
Florida Cracker Kitchen: Are you a fan of a place you can eat a breakfast burrito while washing it down with local beers? This place is your new favorite spot then! Local southern favorites reign king here and then some classics you don't see much anymore (Monte Cristo, anyone?) The taproom is kept running with Florida made brews, which is great for when you aren't a mimosa kinda person. (Wait, those people exist?!) Life tip: There's a Bloody Mary TRUCK too…
TimWah Dim Sum: Sometimes the eggs benedict won't cut it and that's where TimWah comes in. Authentic Chinese dim sum and right here in the Bold City. Carts come right to you filled with things that are too pure for this world. Like the Soup Dumplings that'll change your life. Go hungry and be sure to invite a group!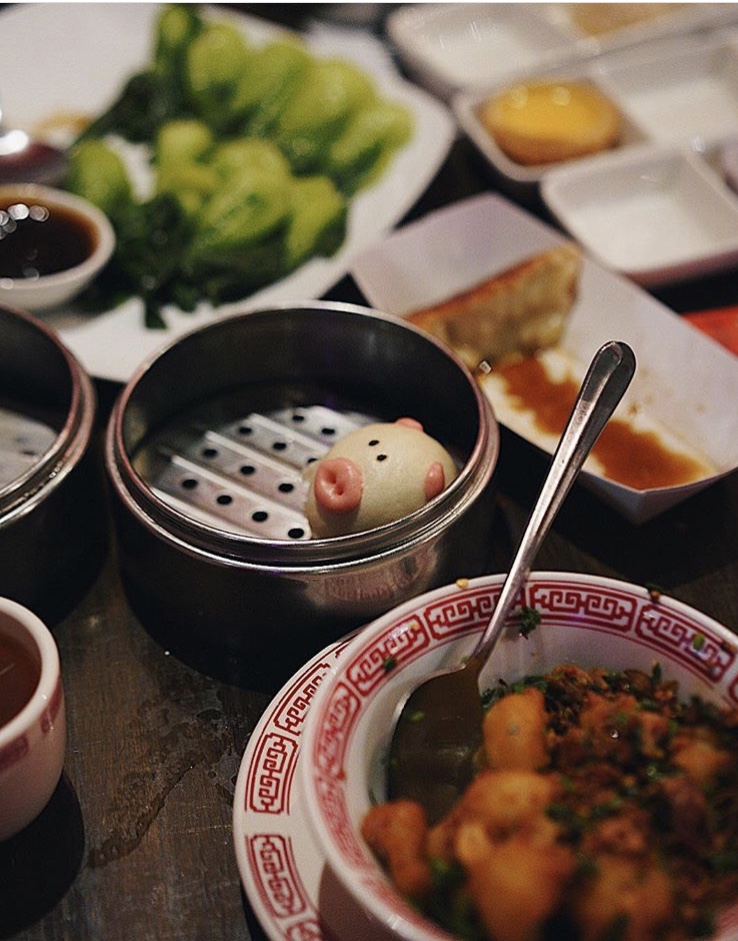 What local breakfast and brunch restaurants do you frequent? 
For more food posts follow me on Instagram @AllieLuvsFood