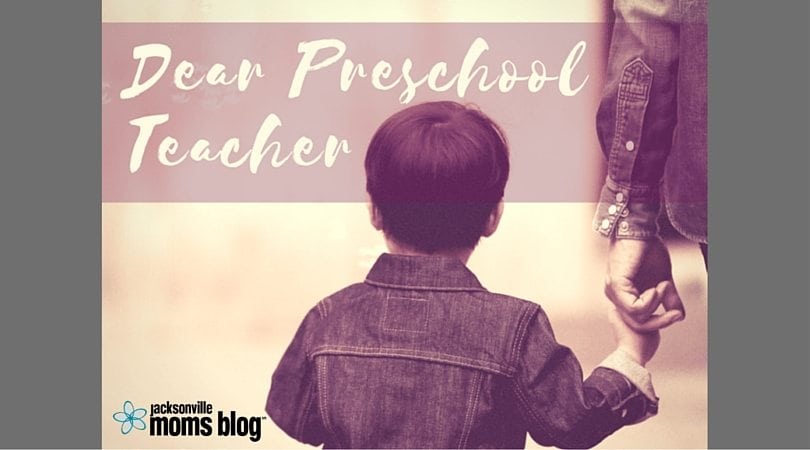 Dear Preschool Teacher,
I know that in the few minutes daily that we greet each other there's no way of conveying to you how I truly feel. I'm lugging a baby on one arm and passing my other one to you. Before I see you in the morning, things are pretty hectic around here. I'm usually doing a million things – all while chugging down my cold coffee and thinking of what errands I need to get done (while I only have one of my kids in-tow). Half of the time, I show up at drop-off looking like a disheveled hot-mess with my "yoga" clothes on (which, let's face it, are pretty much pajamas and I'm not headed to a yoga class) and my hair in a messy bun on the top of my head (because I didn't have time to wash it), and sunglasses (because, well, the dark circles).
This all has been very new to me, as my very first-born, my two (now three-year-old), has started his first "school" year with you. Granted, though, it's not full-time and is only half days, this milestone has been somewhat difficult and emotional for me. As this year comes to an end, I need you to know that none of this difficulty is because of you. In fact, you are quite remarkable. You have helped my son grow so much in one year. You've strengthened his confidence, taught him how to build relationships, share, listen, and allow him to be creative and imaginative on a daily basis. As a preschool teacher, you go above and beyond.
I want to thank you for everything you do "behind the scenes." I'm certain there are many times when much of your work is done from home. I know how precious your non-working hours can be, and you have a sweet family of your own to tend to. Your selflessness is immeasurable. Let's be honest, I thank you for changing my son's diapers (no one likes that job), the whole potty-training phase, and now rushing to take him when he does that dance and "has to go."
Thank you for the days where things may not be going right; for consoling him when he misses us – letting him know everything will be just fine, and for comforting him when he's not feeling well and waiting for someone to pick him up. Thank you for being brave and willing to walk into a classroom full of snotty-nosed children and risk your own health, and for wiping away my son's tears when he gets bumped into at the playground.
See, these are some of the things that I worry about. I worry not because you are incapable, but because my "baby" is in someone else's hands. This year has been such a big deal developmentally… for both of us.
Thank you for teaching him silly dances and songs, and the weekly arts and craft projects that he proudly shares with us. These precious gifts have been like a weekly mini-Christmas to his Dad and I. When my child sits at the dinner table and says, "Mama, will you do an airplane and choo-choo train like my teacher does?" it brings me joy knowing that he is being treated as if he were your own.
Thank you for offering such a big, bright, genuine smile when he walks into the room. Please know that your smile comforts me, too. When you wrap your arms around him and greet him for the day, it puts my heart at ease. When I kiss him goodbye and slowly walk away, sometimes I don't see my baby. I get a vision of a "big kid" standing tall and confident, his heart jumping for joy to see you and his friends. The thought alone brings makes my eyes well up but know that nothing makes me happier than to see that a room full of love surrounds my sweet boy. When he leaves for the day, you make him feel missed, and I notice that.
He is in caring, loving hands and I need to say, thank you. In this day and age, it's much harder to put your trust in others, and you have allowed my son (and myself) to feel safe and reassured, knowing that the world has wonderful people like you in it. I know your job isn't easy, you take on so many kids in just one day, and mine just happens to be one. Thank you for making him feel like the only one. My heart is sad to leave this school year without you, and I know my son will be heartbroken, too. You will be missed, and we will never forget the first teacher who started it all.
With gratitude and love,
A Once Worried Mama