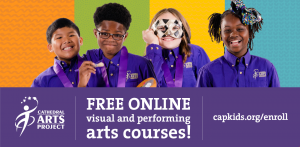 226 N Laura St, Jacksonville, FL 32202, USA
The Cathedral Arts Project is the leading nonprofit provider of quality, comprehensive and ongoing instruction in the visual and performing arts for school-aged children in Duval County.
This year, CAP is offering free online courses in art as therapy, dance, music and theatre for children in grades K-12.
Courses are six weeks long and will be offered on a quarterly basis. Enrollment for Quarter 2 courses is now open! Here are a few things to note:
Courses in all four disciplines are available to any student, no matter what school they attend!
Each course includes live online instruction, pre-recorded content and opportunities for individual meetings with teaching artists during office hours.
Capacity is limited to ensure quality instruction and maximize time with teaching artists and classmates.
CAP will provide free supplies to students in Duval County, which will be available for pick-up. Students outside of Duval County may still participate, but must provide their own supplies.
For more information and to enroll for FREE, visit capkids.org/enroll!