Thanks to BodyArmor for partnering with Jax Moms Blog and City Moms Blog and allowing me to review their product! All opinions are still my own!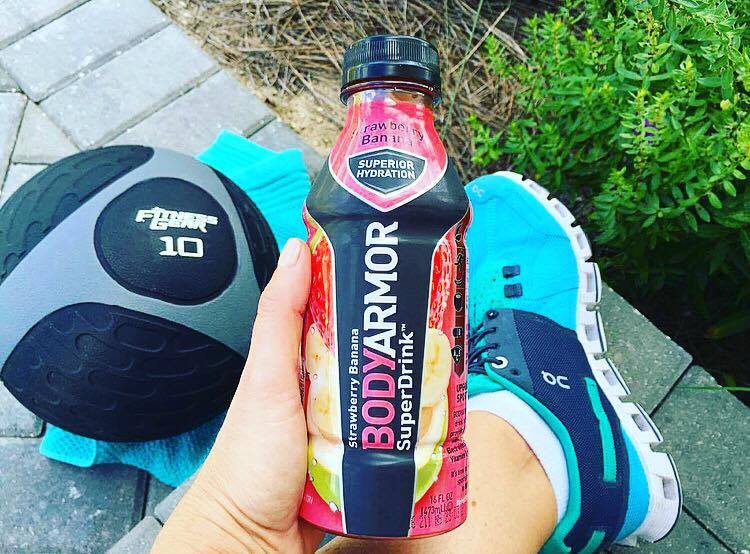 When you're training for something as vigorous as a marathon, you need proper nutrition. When you're training for a marathon in the hot Florida heat in the dead of summer, you need superior nutrition. Enter BodyArmor sports drinks. The alternative sports drink company recently reached out to Jax Moms Blog to review their numerous sports drinks. Because I am six weeks out from a marathon, and it is August in Florida, it was the perfect time to test out the product. Here's what I think:
One of the biggest draws to BodyArmor sports drinks is that there is no artificial junk in them. Have you ever had a sports drink mid-workout, and it left that nasty coating on your tongue, making you thirstier? Not with BodyArmor. The drinks are all made with natural flavors and sweeteners including cane sugar; electrolytes from coconut water (key when doing anything active in this heat); vitamins including B3, B5, B6, B9 and B12; and vitamins A, C & E.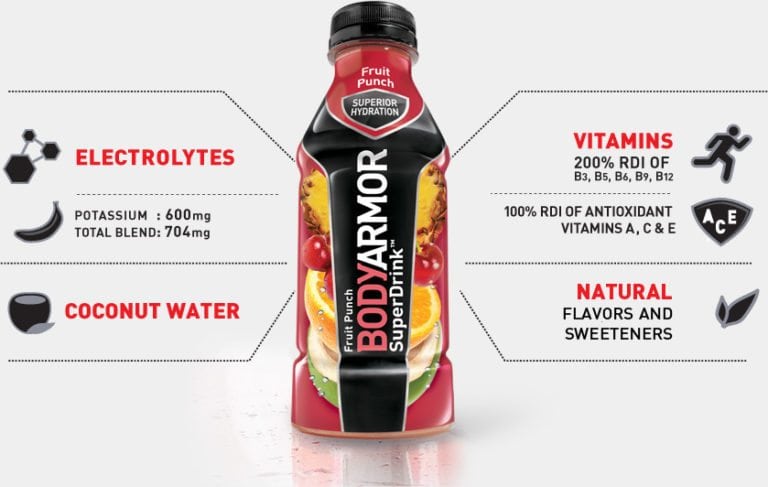 In addition to the high-quality nutrients, BodyArmor sports drinks are also gluten free, certified Kosher and have no caffeine.
BodyArmor's "All-Star Lineup of Superior Hydration" includes such flavors as:
Fruit Punch
Orange Mango
Tropical Punch
Strawberry Banana
Grape
Lemon Lime
Mixed Berry
Blackout Berry
I was given a six-pack of flavors including Fruit Punch, Orange Mango, Tropical Punch, Grape, Mixed Berry and Blackout Berry. Since I had so many flavors to sample, I opted to give a few out. My husband plays basketball and is frequent gym goer so I sent him to a recent game with Lemon Lime. After drinking it post-game, he told me he loved the flavor and how refreshing it felt. Also not a fan of the tongue-coating, my husband said that his BodyArmor was much lighter, less syrupy and didn't have that fake sugar taste he was used to. Win!
I gave a fellow marathon trainer the Blackout Berry, and she opened it immediately to have a taste. Being the athlete that she is, she knows how important nutrition plays in optimal performance. Always looking for high-quality ingredients, she loved that there were no unrefined sugars and had coconut water instead of other iffy ingredients. Her review on the taste–"yummy!"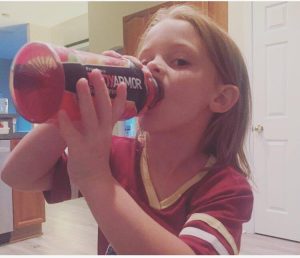 My final BodyArmor giveaway was to my two daughters. My oldest is about to start the 100-mile club at her school, and she loves swimming. My youngest tries to keep up with the big kids on the playground and everything her sister does. In this current 90-degree weather their faces turn red instantly and they often go through their water and steal mine while out playing. Because of the high-quality and minimal ingredients, I knew BodyArmor would be a good choice for those red-faced days. If you peruse BodyArmor's website there is a whole section on the drink and hydration for children. They didn't know why I was giving it to them but they loved the taste. In fact, every time I opened a bottle my daughters would fight me and each other for a sip. I let them split the Tropical Punch and Grape. Then every time they saw a bottle in the fridge they asked it they could have it. Eventually, I had to say, "No, this is for research!"
I ended up having the rest, ya know, for research. My favorite flavor was the Mixed Berry. I'll echo everybody else's statements here and add that Body Armor truly felt like it was helping me replenish my electrolytes and carbs without giving me a shot of sugar and that tongue coating I dislike so much. Overall, I was impressed that Body Armor was able to provide delicious flavors while also packing in the nutritional punch and fuel needed to recover post-workout.
For more information, visit their website or store locator. Some Targets have great deals on BodyArmor 12 packs or $5 for 5 (which I saw yesterday at the Beach Target!). You can also follow them on Facebook, Twitter, Pinterest and Instagram!