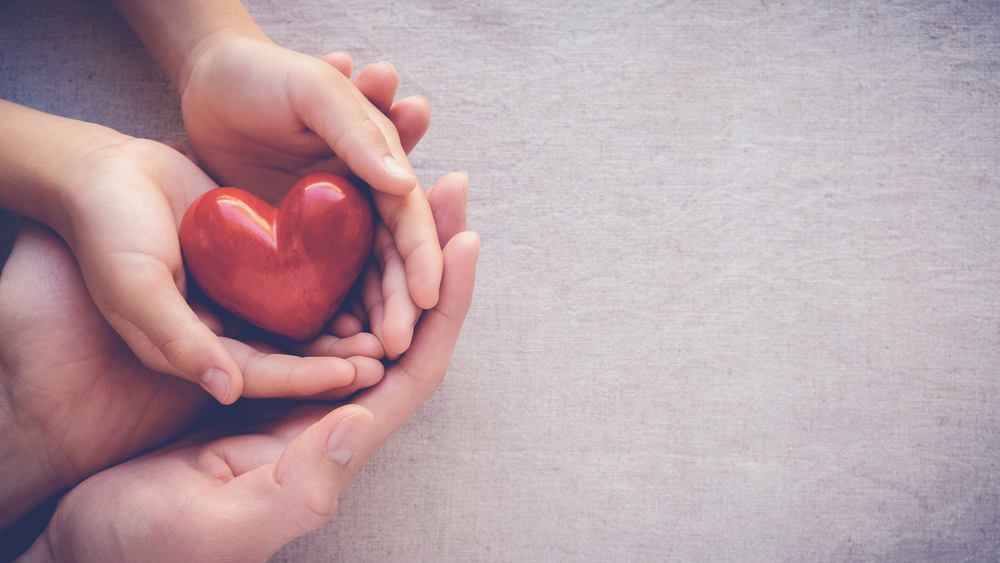 I was in college the first time I tried to donate blood. There was a blood drive on my campus, and I showed up tired, not having eaten much that day and generally run down — a pretty standard condition for my college days. All I remember was feeling super dizzy, starting to sweat and having to stop halfway through. I felt so embarrassed and weak, and any time blood donation came up in the years that followed, I said I wasn't able to donate for health reasons. Which was really a mental health reason — I was scared.
Fast forward 10 years later being pregnant for the first time, and my OB had to take several vials of blood. I started to get so nervous and sweaty, I just knew I was going to pass out. Thankfully, I made it through without any issues, and each time blood was drawn after that, it became so much easier. Two children, two C-sections, and many blood draws later, I realized it wasn't such a big deal. Once I became a mom and I started hearing the birth stories of others, I began to realize that many women end up needing blood transfusions while pregnant as well right after giving birth. I had several close friends who have received blood transfusions and wouldn't be here today if someone hadn't taken the time to donate. I realized I wanted to donate blood, but I wasn't sure where to start. Also, I had two small children and not a lot of free time, so while it seemed like a good idea and the right thing to do, I just didn't make it happen.
Until one morning, I took the kids to Pump It Up, and I saw this big red bus parked in front.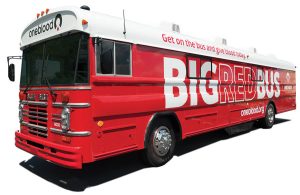 They were hosting a blood drive, and your kids could play for free with the Pump It Up staff entertaining them while you donated blood. I decided to give it a try, and I learned so much that day. It was such a simple and quick process. I checked in with the One Blood staff, filled out a quick form, and then had my vitals taken. Everyone was so kind and patient, though I was a little anxious. When it came time to actually have the blood taken, the needle didn't hurt at all, and the nurse sat with me, talked me through the entire process and then chatted with me while the blood was drawn. The actual donation time was only about eight minutes, and afterward, I was treated to juice, cookies and a few quiet minutes to relax — which for parents is always a welcome treat. I was worried I would feel tired and run down all day, but I felt completely normal. The reaction I had in college was most likely from not being properly hydrated and/or not having eaten enough before trying to donate. Since that morning, I've been a regular blood donor, and I've never had any issues.   
How You Can Donate
If you have been thinking of becoming a blood donor, or you've done it before, but haven't had a chance in a while, please consider donating. According to the American Red Cross, every two seconds someone in the United States needs blood. Each donation can save three lives, and it is essential for surgeries, cancer treatment, chronic illnesses, and traumatic injuries. Blood donors help patients of all ages, including children, and when patients receive blood, it was given in advance from generous donors.
Jacksonville offers numerous locations to donate in all parts of town. There are One Blood donation centers where you can book an appointment in advance, or there are often blood drives with the Big Red Bus at businesses and schools. My children's school even hosted a blood drive recently for teachers, staff, and parents. It was a great teaching moment for my children, who at ages 5 and 7, joined me on the bus and witnessed the entire process. They were so interested in what was happening, and it was a great lesson for them in helping others. Of course, they were also big fans of the free cookies and juice.
One Blood has also partnered with some wonderful local businesses to encourage donations. Most weekends you can stop by local restaurants, stores or theaters and receive free meals, gift cards or movie tickets simply for donating blood. Visit One Blood Promotions for details.
Giving blood saves 4.5 million lives each year in the U.S., yet fewer than one out of 10 people in the U.S. donate. Donating blood is safe, quick, and easy, but fear of needles, feeling weak or believing others are donating enough keep people away. I used to be one of those people who was too afraid to donate, but becoming a parent and realizing how many people I know were saved from a blood transfusion convinced me to try it. And I'm so glad I did.