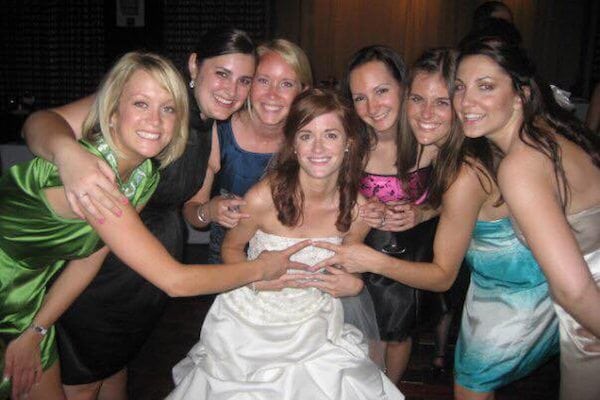 I know what you're thinking: This almost 32-year-old alumna woman needs to move on from her sorority days. And I have. I am no longer involved with my local chapter, and many, though not all, of my sorority sisters and I have grown apart as we raise families. I no longer wear my Formal mixer T-shirts to sleep, and my collection of paddles, pins and paraphernalia are stored away somewhere in the attic.
Some sorority sisters were involved in my wedding, and another joined me across country from my hometown to experience college with me in Florida. But my core crew is no longer a residence hall filled with sorority girlfriends — it is now a home filled with stinky boys.
Sororities in college certainly live up to their party reputation. We knew how to have fun whether at a social, at a softball game against a rival sorority or after we graduated dancing at each other's weddings. But there were many great skills that I learned from being active in a sorority such as being organized, leading meetings, having crucial conversations and time management.
Being in a sorority has also done one very surprising thing in my life: It has helped me to make mom friends.
Bid Day: Nothing was more fun than sorority recruitment! Hundreds of women showed up to find their best-fit group, and after three days of recruitment events, the new women would join their sorority sisters. Finding mom friends and friends for my young children has felt really similar to the feelings I had on Bid Day. At playdates, with dozens of moms around, I have used these skills to be sure to talk to everyone in the room, to make all new moms in our moms group feel welcome and to link moms together who share similar interests. No official Initiation ceremony has occurred, but it's super fun and exciting to click with new mommy friends and form a mom tribe.
Philanthropy: I loved being involved with Ronald McDonald House in college through my sorority. It was so rewarding to give back to our local community and to do so with girlfriends. Now, in my post-college days, our moms group has partnered with several charities, including Betty Griffin House and The Jay Fund, to raise money with fellow moms of our community who want to help make a difference.
Socials: Ok, yes, we partied in our sorority days. But us moms know how to party, too! With several moms' nights out per month, my mom friends and I rotate local restaurants and wineries and take time to chat and to get to know each other better. Socials were the best part of being in a sorority and have also been the most fun part of having and meeting new mommy friends.
Sorority House: Man, I miss the days living on the sorority hall. Friends were at your fingertips, ready to chat with you in a second's time. We played pranks on each other, we supported each other through breakups, and we shared some late-night snacks. Some of my best sorority memories happened in our residence hall. In my role now as a mom, I still get my share of pranks and late-night snacks in with my men. Helping my sons through breakups, well, that is something I will worry about in the years to come, I'm sure! Because I personally crave daily social interaction, you will always find the boys and I at the park or outside riding bikes, looking for new mom friends to chat with.
When you're a mom to young children, your life revolves around them. When I was in college, my life revolved around my sorority. As our priorities as moms shift, remember to always take time to focus on friendships with fellow moms. Many of us would not survive the days of diapers, sippy cups and potty training without them!
Pi love!