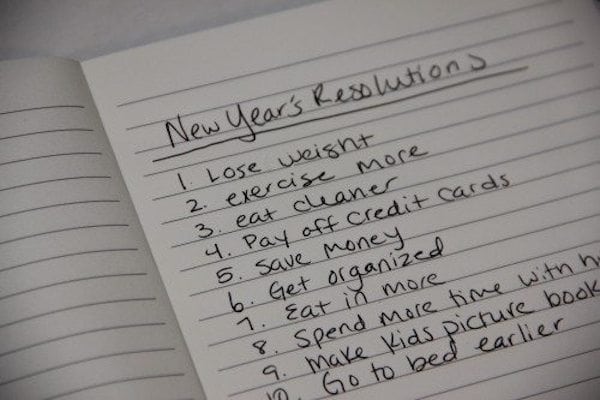 "I'm going to exercise more this year." "I'm going to save more money." "I'm going to spend more time with family and friends." "I will get organized." "I will learn something new this year." "I will quit [insert bad habit]." "I will pay off my debt." "I will volunteer more of my time this year." "I will make healthy food choices." Blah, blah, blah, blah, blah.
Did I miss any? I feel like this short list encompasses 99.9% of resolutions made EVERY year by EVERY person. I know I made most of these resolutions for myself each year, as did 99.9% of my friends and family — that is, until three years ago.
Three years ago, I asked a friend about his resolutions for the upcoming new year, and he told me he hadn't made resolutions in a quite a while. I was surprised to hear this because he is a super dedicated, goal oriented, goal reaching and exceeding person. "What do you MEAN?!!!?" I asked in my high pitched, shocked, Southern accent. (If you know me, I know you can hear me say it.) He said for the last several years he has adopted a word, one word, to encompass how he lives his life for the year. That upcoming year he had chosen his word: attitude.
I let it sink in. He continued to explain that attitude is everything. It's how you deal with challenges, people, the day as you wake up, your goals, your achievements, your failures, etc. Attitude is about having a growth mindset and choosing to learn from your experiences. People with the right attitude are optimists, have healthy lifestyles, less stress, greater self-confidence, more success and enjoy life more. I could see how this word had already transformed his perspective, and it wasn't quite 2016 yet. He was already living his new word, and I could hear it in his voice. I immediately loved this "no resolution" resolution. Great ideas like this, to me, are "slap your mama good" as my cousin taught me to say. Well, Mama was officially slapped.
I knew instantly I would adopt this strategy for issuing in 2016, and I was excited. Excited to not make the same ol' lame promises to myself that would be another foregone conclusion — broken before February 1. As I was searching myself for my word, I had an epiphany: resolutions assume we are flawed, that we are less than what we should be. They focus on inabilities, insecurities, imperfections. So much of our world already encourages self-loathing and intolerance for differences in others — social media, print magazines, political climate, mommy wars, and even harmless resolutions. I wanted to shift the paradigm on how to approach living a better life than just making a resolution.
Choosing My Word
My word came to me after quite a bit of reflection, and when it did, I was happy it already complemented my perspective on friendships. It seemed like the perfect word for me in that moment. I wanted to give more of myself and focus that giving on things that yield the greatest amount of joy in my heart. I feel the greatest joy enjoying family time together when my dear husband is home from work travels, strengthening my personal relationship with God, volunteering at my son's school, writing for Jacksonville Moms Blog, exercising, cultivating honest friendships (new and old), strengthening my relationship with my parents, my brother and his fiancé, and my in-laws, and a few other things. But, this type of focus is what offers me the greatest reward in my heart. What makes my heart warm, what makes it grow, what makes it more giving. My word was reciprocation.
I focused on giving all I could to those things that reciprocated the same amount of love I was putting into them, and it was transformative. I attribute this practice to making me more patient, more forgiving, more accepting and appreciative of differences in others and having more gratitude for life's gifts because I was focusing on love. I focused on self-love, not loathing, family love, God's love, passion for my hobbies, passion for my son's school and my incredible village of friends. I was able to find more happiness and fulfillment with just one word. And guess what? I chose the same word for 2017. More growth, gratitude and fulfillment followed.
I am choosing a new word for 2018. Actually, it's two words, partially inspired by fellow contributor Candace's 2017 resolution. It's a brave way for me to live this next year, and I am beyond excited. I look forward to writing about it and how it changed me in 365 days. Living your life according to one word is nothing new. But the practice was new for me and established a new benchmark on how to love myself and others and live a more purpose-driven life. And I am happier for it.
What will your word be?