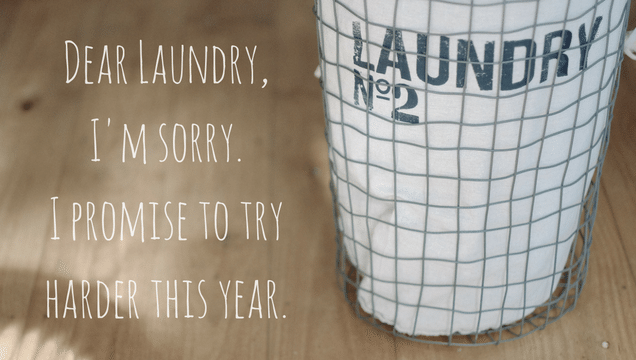 Dear Laundry,
Let me start off by saying, you have been so kind to me. You have always been available when I was cold, uncomfortable or tired. You let me stretch you out when I was too cheap to buy maternity clothes, and you were right there with me after the birth of my two boys. For this, I will always be grateful.
I am writing you this letter today because I haven't always been kind to you in return. As a new year is approaching, I want to express sincere hope that I will change my ways and treat you more fairly.
Before the new year, our typical schedule together was as follows:
I woke up, before the boys, energized to start the day, and threw you into the washing machine feeling triumphant.
The boys woke up, needed to eat and get ready for school. I did hear your cry for help to move you to the dryer, but I chose to ignore it. And I'm sorry.
I ran out the door, late to bring my 4-year-old to preschool and left you cold, wet and confused. Hours passed, I know, with no further action. Four hours later, when you came to mind, I moved you to the dryer, but it was too late. You smelled of mold, resting uncomfortably somewhere between wet and dry, and I could just tell that you were so disappointed.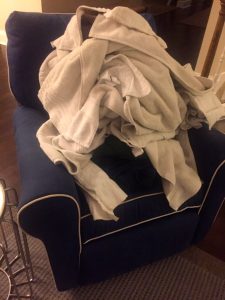 If you recall, the following day, I really tried to make an effort. After throwing you into the washing machine again and immediately moving you to the dryer, I was hopeful that our relationship had improved. And then it was dinnertime. And bath time. And then bedtime. I left you in the dryer for not just hours, but days, and I am feeling just so ashamed.
You have my word that in this new year, I will try harder. I will listen for beeps, try to detect mold smells earlier and aim to iron you immediately and put you back into the closet where you deserve to go — not on the living room sofa.
In the meantime, I sincerely thank you for sticking by my side during these days of having two boys under the age of 4.
Forever yours,
Mom